Review: LG GS505 Sentio
Form Basics Extras Wrap-up Comments
Is It Your Type? Body The Three S's Touch
Jul 2, 2010, 1:30 PM by Eric M. Zeman @phonescooper
LG's Sentio brings touch power to T-Mobile in an affordable package. It covers the basics, but misses the mark in a few places. It might suffice for younger users, but advanced users will find it limiting.
AD article continues below...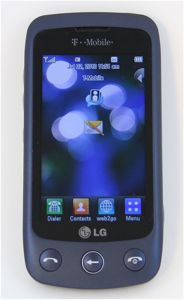 The LG Sentio is a middle-of-the-road feature phone for T-Mobile. Similar to the recently-reviewed Vu Plus, it has a touch display and uses the standard user interface developed by LG for touch devices. If you insist on having a touch device, the Sentio does OK, but there are other non-smartphone devices that do better. It's one device that earns its $70 price point.
No messages