Motorola Rolls Out Eco, Touch and PTT Phones
Article Comments 7
Jan 6, 2009, 12:00 AM by Eric M. Zeman
updated Jan 6, 2009, 11:00 AM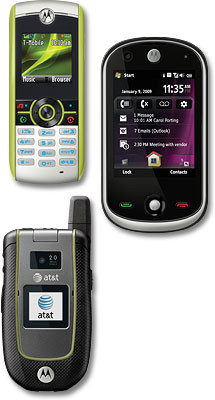 Today Motorola announced three new handsets that will become available through several different carriers over the course of the next few months.
Renew W233: According to Motorola, the W233 is the first phone made from recycled water bottles. It has a carbon neutral footprint for those who are interested in keeping their carbon consumption to a minimum, it also cost 20% less to manufacture. In order to offset the energy used to produce, ship and power the W233, Motorola is making investments in renewable energy programs. The bar-style phone has dual-band 850/1900 GSM/EDGE radios, is rated at nine hours of talk time, and uses CrystalTalk for good call quality. It can support microSD cards up to 2GB and has basic messaging features.
SURF A3100: The A3100 is a touch-based replacement for the Ming device that has been available in Asian markets. It runs Windows Mobile Professional 6.1, but has a new user interface created by Motorola that allows users to interact with most features of the phone on the 2.8-inch display. It has quad-band GSM/EDGE as well as 850/1900/2100 tri-band HSDPA 7.2Mbps 3G. It also carriers stereo Bluetooth and Wi-Fi. Other features include a 3 megapixel camera with autofocus and VGA secondary camera, support for 32GB microSD cards, and a-GPS. It will be available in select Asian markets during the first quarter. No North American release date has been set.
Tundra VA76r: This mil-spec, ruggedized clamshell is bound for AT&T's network and offers push-to-talk service via AT&T's Kodiak technology. It is the first phone from Motorola to offer CrystalTalk Plus, which uses a second microphone to filter out and reduce background noise. The Tundra runs Motorola's MOTOMAGX platform, and carries quad-band GSM/EDGE and dual-band 850/1900 HSDPA 3.2Mbps. It also has a 2 megapixel camera, stereo Bluetooth, aGPS and support for a 4GB microSD card.
Tundra??
Sooo i heard that the motomagX platform wasnt compatible wit any 3g chips. Hence the Rokr MotoZine and Razr2 V8 all not having 3g but running that OS. I know the Razr2 V9 and v9m still use synergy but use 3g chips
A reliable source told us a while ago that this phone might be the first and last Magx phone with 3G. They were having trouble with 3G + Magx, which is why this model has been so delayed (we first reported on it about a year ago.)

The trouble they ...
(continues)