Samsung R470 Pops Up On FCC Site
Article Comments 6
Jan 2, 2009, 4:57 PM by Eric M. Zeman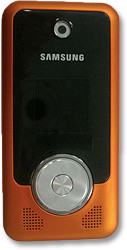 Today new documents seen on the FCC site revealed an unannounced phone from Samsung. The R470 is a dual-band CDMA clamshell with Bluetooth. Photos reveal that the R470 has a dedicated camera key, USB port, microSD slot, dual displays, headphone jack, external control pad, and external speakers. The draft user manual references "easyedge", which is a data service offered by U.S. Cellular.
T-Mobile
T-Mobile will get this first then US cellular and then tracfone


My source is www.tcomussc/usb/mp3/wma/usa/fcc.gov.com.org
it doesnt work.

This phone is CDMA, how can it be used on T-Mobile because i dont think this phone has a GSM verison, and i highly doubt Tracfone would get this.
USCC is getting this.
US Cellular is getting this, I have seen it. It also comes in red and purple will be available for $49.99 on a 2 year contract. Comes out on Jan. 9th. Most stores should have a demo by now.
The wheel on the front looks like the LG Chocolate I and II from Verizon.