Review: LG Fathom
Article Comments 6
Jun 1, 2010, 9:09 PM by Philip Berne
The LG Fathom uses a fast processor and speedy 802.11n networking with the aging Windows Mobile OS. Is this a proper ride into the sunset for Microsoft's business system? Find out in our LG Fathom review.
Advertisements article continues below...
Form
Is It Your Type?
Is It Your Type?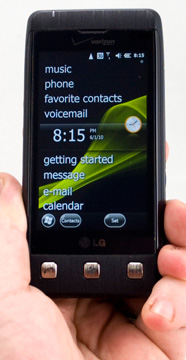 The LG Fathom is an odd mix of some old school and new school technology. The phone uses a fast, 1 GHz Snapdragon processor and 802.11n networking, a speedy combo indeed. For the OS, it relies on Windows Mobile 6.5.3, a recent update to the aging system, and a resistive touchscreen, replete with stylus in tow, instead of the capacitive screen you'll find on most advanced smartphones today. So how did these flavors mix together? Read on to find out.
Body
The LG Fathom has an appealing look, well suited for business class travelers. It seemed a bit thick, but the screen is also narrow, so this may be a matter of proportions. LG calls this slate blue, but I saw almost no blue in the phone's materials; it seemed much more black. The phone is mostly dark plastic. There's a speckled pattern on the back that's subtle and adds a textural look. The face gets some dark grey metal accents with a brushed texture, and these small strips are my favorite part of the phone's design.
Beneath the screen you'll find a trio of buttons. There are Send and End keys, but they look nearly identical. The phone icon on the Send key is tilted about 30 degrees up, otherwise it was tough to discern the two. In the middle there's a Windows key that opens up the Start menu. Of course, there's almost always a software Windows button on screen, but I'll get to that later.
On the right side of the phone you'll find a microSD slot with a nice groove, making it easy to pry open. There's also a two-stage camera button, and the stages are well defined, so focusing a shot then releasing the shutter is an easy action. Finally, a task manager button. Here's where I remembered why I don't miss Windows Mobile, an OS I haven't seen recently in an unadulterated form, especially since Windows Phone 7 was announced. Windows Phone needs that task manager so badly, LG should have made the button bigger.
On the left side you'll find a headphone jack, a poor placement for the 3.5mm port. My earbuds stuck out sideways, making the phone less comfortable to pocket with headphones attached. There's a good volume rocker on the left side. The microUSB port is also on the left, along with a reset button. I've hardly seen a reset button get its own labeled port on the phone's exterior before. Not a good sign.
On the back is the battery cover, easy enough to remove. If you want to gawk at a real Verizon Wireless / Vodafone SIM card - a rarity - it's hiding beneath the battery. That SIM lets you roam internationally and use the most common 3G radio band in Europe.
There's also a stylus. It's a small, thin, telescoping rod that hides itself near the back of the phone, stuck in sideways on the right side. There are two bumps that catch your finger, so it's easy to withdraw without looking. You'll be using it quite a bit if you buy this phone.
The Three S's
Screen
The resistive touchscreen on the LG Fathom is packed with pixels, but it doesn't satisfy. The 3.2-inch display is a WVGA screen with 800 by 480 pixels. In terms of clarity, the screen is great. Text looks sharp and pictures and colorful. Besides problems with the touch capabilities, I also had trouble using the screen outdoors. In any amount of bright sunlight the screen fades dramatically and is difficult to read. Plus, it is a bit on the small side for my taste. I appreciate a small device, but this phone is already too thick to be considered small, so a larger screen would be appropriate.
Sound
My phone calls sounded very good on the LG Fathom. The earpiece produced a clean sound with very little static or extraneous noises. On my callers' end, they said I sounded good. When signal reception was a problem - not too often - some issues cropped up, including a digital hissing and some sound drop outs. But this wasn't frequent enough to worry about.
There is a clear, loud speakerphone on the LG Fathom. I was easily able to hold conversations while driving with all the loud road noise around me. The speaker also sounded pretty good playing music. This also helped with ringtones, and the Fathom was able to produce some loud rings, easily heard from my pocket or across the house.
Signal
The LG Fathom was at least as receptive to Verizon Wireless' signal as any other Verizon phone I have on hand, perhaps more so. While other phones registered one bar, or no signal, the Fathom managed to keep hold of a couple bars. My calls always went through. Data could stall from time to time, but this didn't seem related to signal strength.
I was excited to try the 802.11n Wi-Fi on the LG Fathom, since few phones come with this faster networking standard. Unfortunately, the Fathom could never connect to my home Wi-Fi network. I got cryptic error messages every time I tried. Changing the settings was a confusing chore, and never produced working results.
Battery
Battery life on the LG Fathom is pretty good. That thick shell hides a large, 1500 mAh battery, and the phone managed more than seven hours of talk time, which is inline with LG's own estimates. In regular use, the Fathom lasted me more than a full day, and without too much Web surfing or heavy use you could probably go a few days without charging the phone.
The Fathom uses a microUSB port for charging, and the phone comes with a plethora of world adapters for the included charger. When I plugged the phone into another microUSB charger I keep on hand, I got an error message telling me I should use the intended charger instead. The phone also failed to charge while plugged into my Macbook Pro. Of course, I didn't realize it wasn't charging until I grabbed it to take on a day of testing, only to find it wasn't sleeping, it was dead. This all seems to defeat the purpose of USB; after all, the "U" does stand for "Universal."
Touch
It is ironic that LG chose to use a resistive screen with the Fathom. Resistive technology certainly has its place. It's better for handwriting recognition, for instance. But the Fathom runs Windows Mobile 6.5.3, an incremental improvement over the aging WinMo 6.5. Key improvements in the new update include touch-friendly buttons at the bottom of the screen and, for the first time, native support for capacitive touchscreens. That's right, Windows Mobile 6.5.3 is mostly built for capacitive touch phones, but LG chose to use a resistive screen. Bad choice.
The touch experience on the LG Fathom is awful. It's not just the resistive tech, which requires you to press hard on your choice, as it registers pressure. The screen just is not accurate or responsive. Those large touch buttons at the bottom required a precise, hard hit or they would fail to register. Often, the phone didn't register taps at all. When the camera starts up, for instance, there's a silly message about the aspect ratio and you have to hit a radio button to make sure it never pops up again. I tried tapping with my finger and with the stylus and I could never get that button to "x" out. The "Favorites" button in Internet Explorer had similar trouble; it wouldn't respond to either touch or stylus tapping.
Windows Mobile 6.5.3 is made for touch, and its ruined by this choice of screen tech. It's impossible to enjoy the new settings menu designs that allow for some small bit of swiping, or the Today screen with its large fonts and huge, finger-sized selector, since none of this works properly with fingers on the Fathom. The only way to enjoy a proper, fast response is to use the stylus, and even then it doesn't work well.
Basics
Menus
Even if LG hadn't screwed up the Fathom by using a resistive screen, it was probably already a lame duck with its dated Windows Mobile interface. A few new buttons and better touch response can't save this sinking ship. The new WinMo 6.5.3 update does offer some nice improvements for WinMo fans, like those touchable buttons at the bottom of the screen. Sometimes they seem useless. Why does that bottom row need a Windows Start button, when the phone has a dedicated, hardware Windows key already? But sometimes they were useful and contextual. On the Today screen, for instance, when you have Music selected, you get a "Library" button below; when you have Message selected, you get a "Compose" button beneath. The buttons persist throughout the OS, and though they take up screen real estate, it's well spent. Or at least it would be if the touch response was much better.
The phone has a clever lock screen. Instead of just using the normal slide, the Fathom also gives you a small area in which you can write a single letter to jump to a specific app or feature. Write an "i" and you go to Internet Explorer. Write a "P" and the phone pops up. It actually worked pretty well, and went beyond gimmick to a useful shortcut. I wish I could program my own shortcuts into the writing area, but instead it draws from a small list of available actions.
There is no Back key on this phone, and I actually miss it. Microsoft's newest phone, the Kin, only has a Back key, so clearly it's important to Windows Phones. Sometimes you get a Back key on screen, but sometimes it's just an OK key. The difference? Hard to tell. OK doesn't actually quit a program. This is especially confusing in the email app. When you finish a message, don't press OK, because that actually closes the messages and saves it to Drafts. Instead, you want the tiny picture of the envelope.
You can now rearrange applications in the Start menu by dragging them wherever you'd like. In the past, you could only send an app to the top. Welcome to 2008, Microsoft.
Truth be told, I don't hate Windows Mobile. I think it looks better and is better organized than Symbian or BlackBerry phones. But those devices aren't made for touch - with a couple exceptions - and in the touch arena, Windows Mobile just can't compete. It's an OS designed for your IT manager, not for you. There are too many options and settings to deal with, and it seems like basic systems don't work properly without expert guidance. The music library doesn't automatically find songs until you dig through a menu to tell it what to do. The Wi-Fi never worked for me, and the setup procedure requires an MCSE certification. Even setting up Gmail Sync, which should have been exceedingly easy, didn't work properly the first times I tried, then magically seemed to connect.
When I started the phone for the very first time, the first thing I saw was an error message. That's Windows Mobile in a nutshell.
Calls / Contacts
Making calls on the LG Fathom is very easy. With the slide closed, you can just press the phone key and the dial pad opens immediately. With the slide open, just start typing a name into the Today screen and the address book pops up and starts searching your contacts for you. Once you're in a call, all the most important features are available as large buttons on the calling screen. It's easy to turn on the speaker, add a connection for a three-way call or mute the phone quickly, without any menu digging. You can also jump into your contacts list or open a note pad.
The Fathom uses Verizon Wireless' Visual Voicemail app. Verizon's voice mail is among the better looking visual message systems for voice mail. It worked great and was easy to use after the initial setup.
My contacts synchronized perfectly from Gmail using Google Sync as an Exchange service. You can set favorite contacts to appear on the Today screen as one of the tabs. Tap on a contact and a pleasant looking bubble pops up that lets you call, send a message or jump to your inbox to see messages from that person. There could be more quick jump options, like email or even navigation directions, but it was still fast and easy to use the shortcut.
The address book could be a little glitchy. Sometimes contacts simply disappeared and wouldn't even show up with a search. My own contact card disappeared mysteriously, only a moment after I had been editing the listing. Browsing the contact list, only names starting with "#ABC" showed up, and the Fathom wouldn't register my taps on the subsequent letter taps. I restarted the phone and all was well. This sort of bugginess and unreliability was unfortunately common on this phone.
You can add up to ten phone numbers per contact. You can also add three email addresses and three IM accounts. From the contact card, you can send an email, but you can't start an IM chat or jump to any other complicated action, so these fields are really wasted.
Messaging
The LG Fathom comes with a basic assortment of messaging apps, and even the apps that are included feel dated and lack features. Most important is email, and the Fathom can handle Exchange, IMAP and POP accounts. There's also a Verizon Wireless email app that will do more of the setup for you if you use a popular email service, but you'll also pay a monthly fee for the privilege. This seems like a cynical way to take advantage of naive buyers, because the Verizon email app offers no advantage over the free Outlook email on the phone.
Email on the Fathom can be an annoying chore. Instead of downloading an entire message all at once, Windows Mobile only plucks a small portion from the server. You have to tell the device to download more, then wait a while as it synchronizes again. Want to see an attachment? Wait even longer. I like the HTML email capabilities, the good email search options and the ease of selecting and managing my email messages. But all that stopped being impressive three years ago. Now I just want my email fast.
The Fathom has IM support for AOL, MSN and Yahoo. The app couldn't connect to my Yahoo account, but MSN worked fine. The Verizon Mobile IM app on this phone is the same old instant messaging app I've been staring at for years on Verizon's phones, and it's in serious need of a visual overhaul.
Text messaging is also available on the LG Fathom, but this app could also use some work. Messages come through one at a time, not in the threaded, conversational format I prefer. The messaging app won't search your contact list as you type a recipient name; you have to dig through the address book to add someone to your message. I tried sending MMS messages to the phone, and though I did get a message saying the Fathom was trying to download the image I sent, it never successfully completed the download, so I never saw the MMS message.
The keyboard on the LG Fathom is great. It's one of the better keyboards you'll find on a side-sliding QWERTY phone. It's almost as good as the keyboard on the HTC Touch Pro2, one of my all time favorites, though the keys are a bit smaller on the Fathom. Too bad this wonderful QWERTY isn't connected to a much better phone. Hopefully LG will keep the design intact when Windows Phone 7 is released. Even the onscreen keyboard on the Fathom is pretty good. The on-screen keys pop up in portrait mode when the keyboard is closed. They're a nice improvement over the standard Windows Mobile design. Though the screen still had some responsiveness issues, the keyboard gave me the least trouble of any feature when it came to touchscreen problems.
The LG Fathom completely ignores social networking. There is an official Facebook app available for download from the WinMo Marketplace, but nothing comes preloaded. Unlike the HTC Touch Pro2, a very similar Windows Mobile phone on Verizon Wireless, the LG Fathom doesn't integrate your social scene into the phone. No contact sync, no calendars or photos albums mixed in with your own material. The Facebook app is actually pretty good. Besides keeping up with your status feed, you can upload pics and even grab phone numbers from your friends that list them. I always prefer tighter integration with the address book at least, but I didn't need to use the mobile Web site once I downloaded this app.
Extras
Music
The LG Fathom uses the abysmal Windows Media player for music. It's all bad. The interface design is lousy and music can be difficult to control. Some album artwork didn't come through, and the phone read my files off the microSD card incorrectly, so I ended up with dozens of empty system files showing up as music in my library. The library won't find music files until you give it very specific instructions on where and when to look, and even then it often forgot where to find my library. In could go on and on, but instead I'll just warn against using the LG Fathom as a music phone. Verizon must know the score, because The Network didn't include its own V Cast Music Store on this phone. If you want to listen to music, hit yourself in the head with a hammer and enjoy the sound of your ears ringing. It's more pleasant than dealing with the Fathom.
Camera
Camera
If the LG Fathom had a touchscreen that actually worked properly, the camera interface would be pretty good. It looks good. There are on-screen controls to manage brightness, macro mode and other settings. The full settings menu resembles a rotating dial like you'd find on a real camera, and you get some nice options, like ISO control or a panorama mode, among a few others. Unfortunately, a bad touchscreen kills the experience. The buttons rarely respond as they should. The rotary dial jumps around and moves back and forth through the settings because it can't understand finger input. Am I really supposed to break out the stylus just to use the camera?
At least the camera has a nice button. The two-stage trigger makes it easy to find the halfway spot for auto focus, then click the rest of the way to snap a picture. The camera also opens quickly, but I couldn't start shooting right away. First I had to read the message about screen ratios. I clicked the "Don't show me this message again" box, but the joke was on me, because the check mark disappeared as soon as I lifted your finger. I had to acknowledge the message every time.
Image Gallery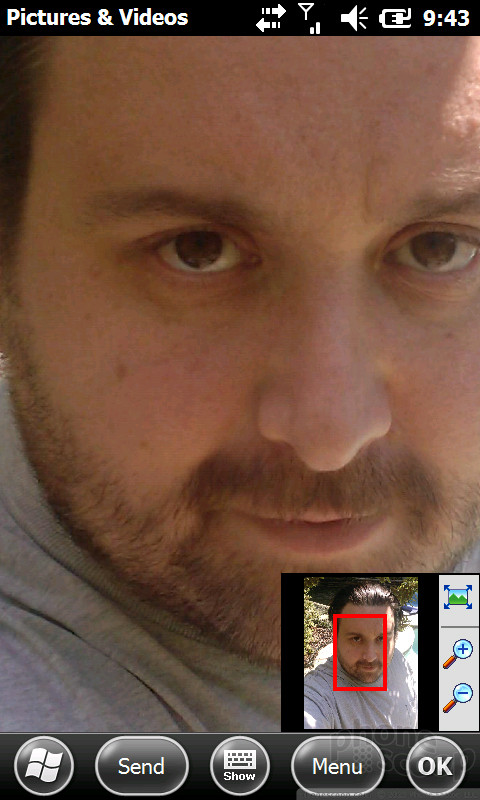 The image gallery is basic, but the touchscreen didn't get in the way or give me any trouble, which is a rarity on this phone. It was easy to enlarge pics and flick through images in an album. There is a slideshow mode to display pics, and images looked good on the Fathom's screen. You can zoom in, but finding the controls requires a jump into the menus, and when the zoom buttons show up on screen, they are laughably small. I needed a zoom to find the zoom buttons, and a stylus to press them.
There are some limited editing options for photos. You can crop or rotate pics, and there is even an enigmatic auto correct feature. Auto correct didn't seem to do much, but it did improve lighting and dynamic range just a little bit.
You can send photos from the gallery, but only with email or MMS. You cannot upload photos to Facebook, Twitter or other social networking sites directly from the image gallery. The phone is unaffiliated with popular online photo repositories like PhotoBucket, Picasa or Flickr. Welcome back to 2006, Microsoft.
Image Quality
Photos
Photo quality from the LG Fathom's 3.2 megapixel camera was not very good. Without zooming in, images looked okay, and could certainly be usable for quick sharing on social networks and multimedia messaging. But looking at the images up close revealed a number of problems. The camera is very blurry. Indoors, I saw noise dominating my images, even in spots that seemed well lit. Outside, colors faded and looked drab. The camera has auto focus capabilities as well as a macro mode, but neither of these seemed to help. The Fathom still seems to aim like a fixed focus camera, shooting the background instead the subject inside the framing brackets. Close up shots are beyond the camera's capabilities.
Video
If the photos were not good, video was downright horrible. Even on the camera's viewfinder, videos looked remarkably blurry, with no way to adjust the focus before or during a recording session. I cleaned the lens before every take and still got the same result. I wouldn't even send these videos as MMS messages, let alone post to YouTube or other social sites.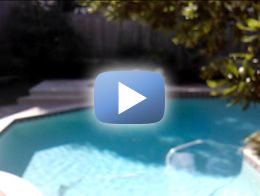 3GPP / MPEG-4 format (viewable with QuickTime)
File size: 2.3 MB
Browse / Customize
Browse
The LG Fathom runs the latest version of Internet Explorer Mobile, which is an equivalent of IE6. Because of its heritage, some sites, like Facebook, will get nasty with you and tell you to upgrade to a new browser as they've dropped official support for IE6, but most sites work just fine. I could view CNN and the New York Times in their full desktop layout without reverting to their mobile format.
Navigating pages in Internet Explorer could be herky jerky. The touchscreen made swiping around pages a chore. Sometimes kinetic scrolling made pages sail by, sometimes they came to a crawling stop. Often, I would try to scroll and accidentally plant my finger on a link, which caused the new page to open. On the other hand, sometimes tapping did not work at all. Even though I got a haptic, vibrating response from the phone and a visual cue from the browser, nothing would happen when I hit a link.
I wish the keyboard was more accomodating for Web browsers. In both the on-screen, software keyboard and the sliding hardware keys, key symbols are hidden under the function key. If you want so much as a period, let alone an @ symbol, you have to press twice.
Customize
There are a few themes and even some new features to customize Windows Mobile. Themes change the color of the device, and there are a good number on board for a variety of color schemes. You can remove the new fangled Windows Phone Today layout for an old school screen, and then you can add notifications and widget-like features to the older look. You can also rearrange the Start menu apps easily, a feature that was been lacking in older builds of WinMo 6.5. You can change what the buttons do, assign different sounds to a large number of very specific events, and fine tune your wired and wireless connections. If anything, Windows Mobile might offer too many customization options, when you dig deeper into the system. Like with Windows, experienced users can tweak to their hearts content, but novice users might get confused, especially when something goes wrong.
Extras
Bluetooth
The LG Fathom comes loaded with Bluetooth profiles. I had no trouble connecting to my handsfree earpiece or my Bluetooth stereo speakers. I was able to send files to Windows 7 laptop, but the phone couldn't manage to send my pictures properly to my Mac over Bluetooth. Besides that small issue, I had no trouble with Bluetooth on the Fathom.
Clock
The LG Fathom gives you the time wherever you need it. There's a medium-sized clock on the lock screen, a clock available on the Today screen, and there's always a clock in the menu bar up top. You can also set a variety of alarms and reminders with the phone.
GPS
The LG Fathom gets the most recent version of VZ Navigator. It's received an interface update from previous versions, plus a host of new location based features. The turn-by-turn navigation worked well, but I wish it was easier to manipulate the maps and move between the different mapping screens. The app is still not very touch friendly, a problem compounded by the bad touch response on this phone. Once it's found your location, VZ Navigator automatically loads local events, movie times, gas prices and more and offers this info on the app's home screen. It's a useful feature, and I'm glad it was automatic and fast.
Other Extras
Even though the OS can feel a bit dated, the LG Fathom does get a few of Microsoft's newest Windows Phone features. Microsoft MyPhone offers a cloud backup for your phone's information, including pictures, as well as some other nice cloud-based features. You can lock or wipe your phone remotely with MyPhone, or find its location. The phone also gets the App Marketplace. This is a dwindling app store, and an incomplete look at what's available for Windows Mobile. For instance, the screen shot app I used for this review was not available, even though the same developer offers apps through the Marketplace. With Windows Phone 7 just around the corner, and no compatibility between apps on Windows Mobile 6 and the next generation operating systems, I fear the WinMo App Marketplace has already become a ghost town.
Wrap-Up
The LG Fathom does not get everything wrong. Battery life was pretty good, as was call quality and signal strength; LG has nailed some of the basics for a cell phone. But if you're looking for a business smartphone, you want more than basics. Windows Mobile can offer plenty of great business features, especially to Exchange users and folks tied tightly to a Microsoft infrastructure for security and provisioning.
The problem is there are other phones on the market that offer the same features but look and perform much better. I'm thinking mainly of the HTC Touch Pro2, which is a better device in every way, and also offers the global roaming capabilities you'll find on the LG Fathom. The Touch Pro2 may be bigger, but the Fathom is already a chunky phone, so a little more bulk is worth the benefits. The Fathom has the vaunted 1GHz Snapdragon processor on board, but for what purpose? It didn't help make the phone any more responsive, it didn't improve Web browser or other processor intense features. The media features might have seen some benefit from this chip, but Windows Media Player is so bad that you won't notice performance improvements.
Worst of all, the touchscreen problems I found on the LG Fathom are a dealbreaker. Windows Mobile 6.5.3 is designed to be more touch friendly, but on the Fathom, the touchable features, like the new on screen buttons and the swiping system menus, were rendered nearly useless by a screen that wouldn't react properly without a stylus in hand, and even then was unreliable. The touchscreen is such a fundamental part of the Fathom experience that I can't imagine dealing with the frustration of using this phone as my primary device, so I could never recommend it.
Charging thru USB
I read with concern in your report that you could not charge the Fathom when it was plugged into your Macbook Pro's USB port.

I was wondering if you had the LG device drivers installed? I am not an expert on LG devices, but I know from experience that Motorola devices will not charge unless you have their device driver installed.

If installing LG's drivers fixes this issue, then I am OK. If one can never charge this phone by using an USB port (instead of a discrete charger), then that is a show stopper for me.
Problems with the Wi Fi...
You seem to have some problems getting your review phones to connect with your home Wi Fi...

What's going on there?
I blame Apple. I use a Time Capsule as my Wi-Fi router. 90% of devices can connect, but a few have trouble. Honestly, I'm glad I have a difficult router, it proves to be a tougher test for these phones.
I don't remember the last time a review made me lol...
"hit yourself in the head with a hammer and enjoy the sound of your ears ringing. It's more pleasant than dealing with the Fathom."

Ouch! Good one.

Sorry to see that the Fathom is the best LG could come up with...
Epic Fail
Wow LG... just, wow.

This is supposed to be the parting gift to Windows Mobile 6 users, but it seems LG has applied their recent formula of "throw a bunch of parts together to make a phone". Kitbashing is only useful if you live in a Mad Max post-WWIII world where mankind is "surviving" on what is left. This is not a good business model for today's businesses, who need to make GOOD products that we will actually buy.

All those issues should have been addressed or fixed before releasing the phone. It's like they stopped caring about their products. Come on, LG, you can do better than this!