Review: LG Fathom
Form Basics Extras Wrap-Up Comments 6
Is It Your Type? Body The Three S's Touch
Jun 1, 2010, 9:09 PM by Philip Berne
The LG Fathom uses a fast processor and speedy 802.11n networking with the aging Windows Mobile OS. Is this a proper ride into the sunset for Microsoft's business system? Find out in our LG Fathom review.
Advertisements article continues below...
Is It Your Type?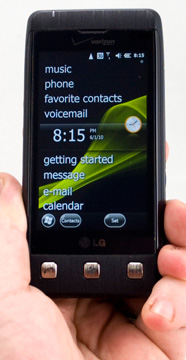 The LG Fathom is an odd mix of some old school and new school technology. The phone uses a fast, 1 GHz Snapdragon processor and 802.11n networking, a speedy combo indeed. For the OS, it relies on Windows Mobile 6.5.3, a recent update to the aging system, and a resistive touchscreen, replete with stylus in tow, instead of the capacitive screen you'll find on most advanced smartphones today. So how did these flavors mix together? Read on to find out.
Charging thru USB
I read with concern in your report that you could not charge the Fathom when it was plugged into your Macbook Pro's USB port.

I was wondering if you had the LG device drivers installed? I am not an expert on LG devices, but I know from experience that Motorola devices will not charge unless you have their device driver installed.

If installing LG's drivers fixes this issue, then I am OK. If one can never charge this phone by using an USB port (instead of a discrete charger), then that is a show stopper for me.
Problems with the Wi Fi...
You seem to have some problems getting your review phones to connect with your home Wi Fi...

What's going on there?
I blame Apple. I use a Time Capsule as my Wi-Fi router. 90% of devices can connect, but a few have trouble. Honestly, I'm glad I have a difficult router, it proves to be a tougher test for these phones.
I don't remember the last time a review made me lol...
"hit yourself in the head with a hammer and enjoy the sound of your ears ringing. It's more pleasant than dealing with the Fathom."

Ouch! Good one.

Sorry to see that the Fathom is the best LG could come up with...
Epic Fail
Wow LG... just, wow.

This is supposed to be the parting gift to Windows Mobile 6 users, but it seems LG has applied their recent formula of "throw a bunch of parts together to make a phone". Kitbashing is only useful if you live in a Mad Max post-WWIII world where mankind is "surviving" on what is left. This is not a good business model for today's businesses, who need to make GOOD products that we will actually buy.

All those issues should have been addressed or fixed before releasing the phone. It's like they stopped caring about their products. Come on, LG, you can do better than this!