Review: HTC myTouch 3G Slide
Form Basics Extras Wrap Up Comments 16
Music Camera Photos/Video Browser/Customize Extras
Apps
You know the drill here. The Android Market is up to 50,000 apps. You want apps, the Android Market is your path to nirvana. Given the sheer volume, there's very little that isn't available. The Slide also comes with T-Mobile's App Pack. This service recommends a bunch of different apps for a number of different categories, such as entertainment, fitness, music, news, etc. I couldn't discern any rhyme or reason as to why T-Mobile selected the apps in these categories that it did. Some were free, others cost money. Some were rated well, others poorly.
Bluetooth
The Slide supports both stereo and mono Bluetooth headsets. I had no trouble pairing with a number of different devices. Sound quality of phone calls through mono headsets was good, as was quality through stereo headphones and speakers. I was also able to pair the Slide with my computer and pass files back and forth with no problems. The Bluetooth file manager worked like a charm.
Clock
The clock and weather apps have been really downplayed on the Slide. They are there, and can be added/customized as you'd expect, but they aren't front and center out of the box. A number of different clock faces are available, and you can always check the time quickly with a quick press of the lock key. it also has the desk clock app, which can be used when the phone is sitting on a desk or charging at night. It lets you see the time, weather, and a few other bits of data.
AD article continues below...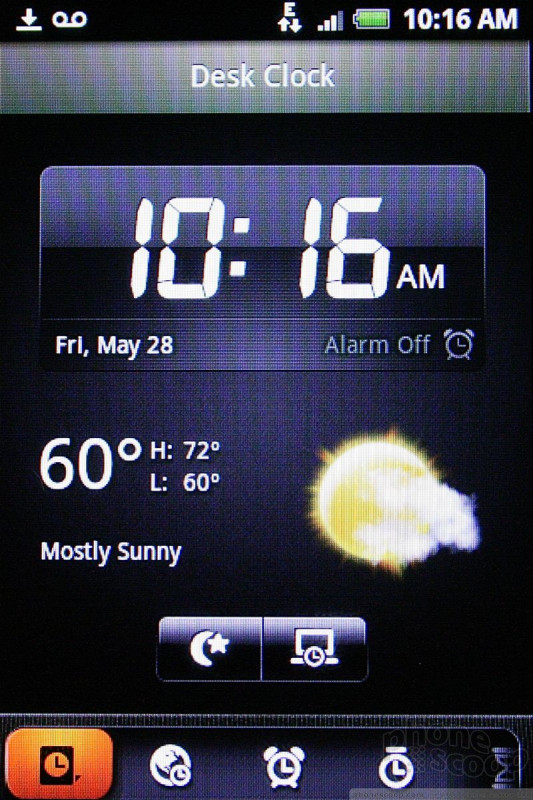 Genius Button
OK. Instead of offering Google Search as the native search function, the Slide has the "Genius Button." Press it, and rather than a simple search box, you get a voice-activated search tool. There are four main categories: Call Someone, Send Message, Search Web, and Find a Business. Basically, the app wants you to say the word "Call" then add a contact name. Or say "Send" and then choose a contact name. Or "Search" for something on the way, etc. Once you get the hang of it, I suppose it works OK. I found the voice recognition to be less than accurate, and it often looked for the wrong thing. That just wastes time and ticks me off. I much prefer a regular old Google Search box. Thankfully, you can choose to add the regular Google Search tool to the home page.