HTC myTouch 3G Brings Android 2.1 and QWERTY Goodness to T-Mo
Article Comments 8
May 3, 2010, 11:00 PM by Eric M. Zeman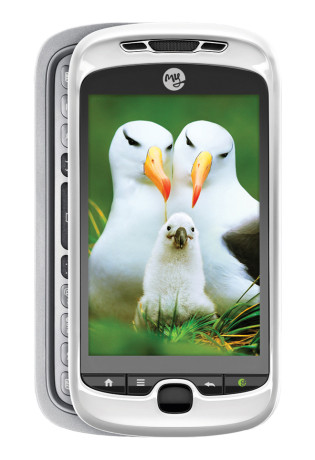 Today HTC and T-Mobile announced the myTouch 3G Slide, an Android 2.1-powered phone with both a touch screen and full slide-out QWERTY keyboard. This addition to the myTouch line features several new software programs that borrow heavily from HTC's Sense user interface concept. It has the 'Faves Gallery,' which takes advantage of Android's APIs to deliver all the status updates and recent communications of a users' top 20 contacts and display them via an on-screen widget. It also has myModes, which lets users customize different profiles for different activities such as work and play. Users can create up to 10 different profiles. The last special feature is called the Genius Button. This hardware button is tied to a set of voice-activated and -controlled functions, such as voice commands, search, and message dictation. The myTouch 3G's hardware features a 3.4-inch HVGA touch display, optical trackpad, and microSD card support. Radios supported include quad-band GSM/EDGE, 1700MHz UMTS/HSPA, Wi-Fi, stereo Bluetooth, and GPS. It also has a five megapixel camera with video capture. The myTouch 3G Slide will be available in June.
Processor?
i can haz 1ghz pleez?
Meh, I don't think it would make a world of difference on this device. I think the gadget world has become obsessed with Snapdragon. There's a place for other CPU's too.
wow
nice phone...i wanna see all the specs though