Review: Kin Two
Form Basics Extras Video Tour Wrap-Up Comments 6
Is It Your Type? Body The Three S's Touch
May 22, 2010, 12:14 AM by Philip Berne
Microsoft's new Kin Two on Verizon Wireless is a social networking magnet with a style all its own. Did Microsoft sacrifice too many features to bring this youthful smartphone to the masses? Find out in our full review.
AD article continues below...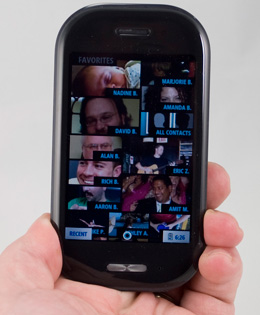 The Kin Two is clearly meant for the Sidekick crowd, and I'm not just saying that because Danger, the team behind the original Sidekick, is now part of Microsoft. The phone screams hipster in almost every way. The minimalist front face, the offset fonts on the keyboard, the magazine style interface, and even the unique, tubular packaging are all self-consciously cool. And like the cool kids in high school, the Kin Two can be attractive and fun, but it also lacks depth and substance.
Private Video
The video is marked private.

On a side note, things are not looking good for the Windows Mobile line and I'm not expecting Windows Phone 7 (or whatever they're calling it this week) to be any better.

I recently switched from an Touch Pro 2 (Windows Mobile 6.5) to an HTC Driod Incredible (Android 2.1) and I couldn't be happier. I have no plans to look back either.
Excellent review. Can't say I'm surprised, though. This phone is designed for teeny-boppers.

But I don't think Win 7 Mobile will be anything like it, and I do think the software will be on much higher end spec phones.
My sincere apologies. The two YouTube videos should now be available and working properly. Enjoy!
Not that bad...
Kin Two is no where as bad as this guy is making it out to be. Yeah it's not perfect but claiming things like the call button is to small to hit is bull. Looked like he missed it on purpose if you ask me.

Then stating "If you want to post a tweet you have to go to the Twitter web page" Bull freaking crap. On the main screen you click where your name is and the txt box appears and has Twitter, Facebook and MySpace listed. You can post to all three at once or pick which one you want to send it too.
Yup, right on both counts, so I'll clarify.

I did miss the button on purpose in the video as a way of visually demonstrating my point. But I still think it's too small, and my hands aren't huge. However, that may not be a problem for everyone.

...
(continues)
Microsoft's Extensive Focus Research?
"No calendar, no instant messaging, no navigation; I can live without if the target audience really doesn't use these features, as Microsoft's extensive focus research has shown."

No instant messaging?
Their "extensive focus research" doesn't appear to have been that extensive.