Motorola Tunes In Another ROKR
Article Comments 3
Dec 2, 2008, 9:57 AM by Eric M. Zeman
updated Dec 2, 2008, 10:42 AM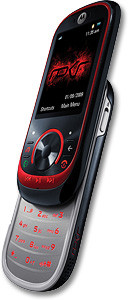 Motorola announced a new ROKR phone today, the EM35. The EM35 is a slider aimed at the music-loving crowd, and has high-quality audio processing, along with dedicated music control buttons, built-in stereo speakers, stereo Bluetooth, FM radio with RDS and built-in internal antenna, and a 3.5mm stereo headphone jack. It has quad-band GSM/EDGE radios for network connectivity; a 3.1 megapixel fixed-focus camera with video capture, and runs Motorola's Linux-Java platform. Other features include the FastScroll navigation wheel to zoom through menus and pre-installed widgets for accessing Web-based content. It also has a new music application that enables users to listen to music while connected to the music store. Motorola said the device will be available by the end of 2008.
Bla bla bla another ROKR
When is Motorola going to learn that phones like this will not save their company? I have not seen one good authentic touch screen device that can compare to samsung, sony or nokia.
Supposedly Moto has a high end Android device in the works for sometime next year. Personally, I wouldn't ever want to see Motorola die, because they are the inventer of the cell phone, so they have a special place in the industry. They just need to r...
(continues)