Review: LG Rumor Touch
Article Comments 18
Apr 23, 2010, 9:16 PM by Philip Berne
PhoneScoop reviews the LG Rumor Touch. Is this phone more than a Rumor with a touchable face? Find out if faster networking and a spec boost make this the Rumor to pass around in our hands-on review.
Advertisements article continues below...
Form
Is It Your Type?
LG Rumor Touch review
Is It Your Type?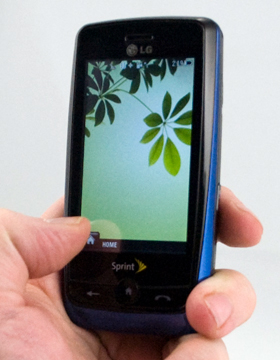 The LG Rumor Touch is a definite step up from the original LG Rumor, adding not only a touchscreen and a new interface, but a feature boost all around. The phone now has 3G networking, a 2 megapixel camera and more social networking support. But even these upgrades aren't enough to overcome some significant flaws. The Rumor Touch has all the messaging bases covered, so did the new touchscreen and enhanced features round out the package?
Body
With the slide closed, the LG Rumor Touch looks like any unassuming tablet phone, except that it's a little more squat and much more thick. The slide mechanism is solid, and the phone snaps open with a sharp clack. The QWERTY keyboard hidden beneath is a generous, 5 row layout, with a full line for number keys up near the top half and a full row for the space bar, shift keys and other symbol keys down at the bottom. The back of the phone has a subtle soft touch finish with a nice pattern painted onto the plastic. It isn't a standout phone, but it feels solid and tightly constructed, never cheap.
Beneath the touchscreen you'll find three buttons; a back key, a home key and a phone key. The home key was a bit confusing at first. It jumps to a blank standby screen or a shortcut list, but not to a main menu, which would be my preference. All three keys are real buttons, not touch buttons, and I much prefer the real thing.
The LG Rumor Touch feels decidedly more left-handed than right. The slide opens to the left, which means that the three main buttons are on the left side when the keyboard is exposed. The camera button is on the left side, as well, meaning right handers must hold the camera inverted or shoot with their left hand. The right side of the phone gets the power / lock key, the microSD slot and the 3.5mm headphone jack. So, if you're holding the phone in your right hand while listening to music, the headphones will be jabbing into your palm, but it's more comfortable in the left hand. I don't think any of these design choices are negative, in fact I'm sure left handed people might be looking for a phone that fits their preferred grip.
Kudos to Sprint for holding manufacturers to standard ports, especially on feature phones like the LG Rumor Touch. Besides the standard 3.5mm headphone jack, the Rumor Touch also charges via a microUSB port at the bottom of the phone.
The Three S's
Screen
Without complaining about the touch response of the display on the LG Rumor Touch (more on that later), the screen was not very impressive. It had a plastic look and feel to it. Colors could be washed out, especially in outdoor light. Larger graphics had jagged edges, especially on rounded lines where you'd expect a smooth curve, but text was fairly legible and I had no trouble reading Web pages or menu labels.
Sound
The LG Rumor Touch sounded okay during calls. On my end, callers could sound a bit muffled through the earpiece, and I had to line up correctly with my ear or lose quite a bit of volume. But on their end, my callers said I sounded fine, with no consistent problems to speak of. The speakerphone sounded digitized, with a slight buzzing to voices, but it could sustain a loud enough volume to be heard over some engine noise, or across a small room. Ringtones were also sufficiently loud to be heard through clothing or in a bag.
Signal
I was left wanting for signal with LG Rumor Touch. The phone reported a consistent 3-4 bars which is about half of its full salvo. This didn't affect calls, though, as I never dropped a call or lost a call going through in all my time testing the phone. Data was a bit sluggish in the sub-par Web browser, but I'm hesitant to blame low network signal, since it didn't seem to cause problems elsewhere. Like most lower-end messaging phones in this range, the Rumor Touch lacks Wi-Fi. GPS signal reception was good, and the phone didn't take a full minute to achieve a first fix in navigation sessions.
Battery
Battery life on the LG Rumor Touch also left something to be desired. It delivered mediocre results in my talking test. I managed just over five hours of talking time, which is less than I like to see. Still, the phone could make it through a couple days' use between charges without too much Web browsing or navigation, and in standby it waited patiently for a fews days between tasks.
Basics
Calls / Contacts
Wherever you are in the LG Rumor Touch interface, pressing the Phone key below the screen will always bring up the dial pad. Making calls was easy on the Rumor Touch, and it even had a few nice tricks up its sleeve. As you start typing digits, a matching phone book entry will pop up with a drop-down menu. It's tiny and difficult to tap correctly, but that's a running theme on this phone. When you're in a call, the Rumor Touch gives you easy access to key features. You can fire up the speakerphone or mute the phone in a hurry, and it wasn't difficult to add a third party for a conference call.
The Rumor Touch uses voice dialing from Nuance. It worked well in my tests, and was able to dial the numbers I called out, or pick entries out of my phone book as I commanded. You can even perform some simple interface tasks with the voice software, though it's much more useful for handsfree calling.
The phone has an unusual contacts shortcut menu called the Hello UI. Basically, you get to drag pictures of your contacts around on a series of four tabbed screens, letting you set up a set of shortcut pages instead of the normal single page. When you tap a contact, you get a circular window of options about how you want to get in touch, by phone e-mail, text, whatever you like. There are even two themes for this menu, one more staid and one silly with butterflies. Both look very good, and don't require much leg work from the janky touchscreen. Too bad they're hidden deep within the contacts menu, these contact buttons could be effective desktop widgets on the home screen.
Even for more basic call logs, the LG Rumor Touch does a nice job gathering information together. The logs are well organized and make it easy to jump back into a missed or previous call. You can tap a contact and view your history with that person, including call logs and recent text messaging conversations. Sprint offers its own wireless backup to store your numbers online in case you lose your phone, and if you're somewhat courageous, you can even draw contacts from a Google or a Microsoft Exchange account. After looking up contact numbers in the e-mail app, I was able to transfer them to my phone's dedicated address book, albeit slowly and not en masse.
The address book itself was nothing too deep, but it provided some good shortcuts. You can add plenty of e-mail addresses and phone numbers for each contact, and you can tap on those numbers to jump right into a new message or dial a new call. You can even tap an address to open up Sprint Navigator, which is a rarity on feature phones. Overall, its an impressive set of calling and contacts features, even though it's missing some of the smartphone basics.
Touch
The cheap, resistive touchscreen on the LG Rumor Touch nearly ruins the experience of using this phone. It's too bad, because the addition of faster networking, an even larger keyboard and new, dedicated social apps would have been enough of an improvement over the LG Rumor2 to warrant a look. Touch didn't add anything good to the mix.
The touchscreen suffers from the classic symptoms of cheap resistive technology. Often swipes are misinterpreted as clicks, and you end up selecting when you want to read more of the list. Some taps don't register at all, but sometimes the phone would give a haptic jiggle and I'd see the button change onscreen, even though nothing would happen.
The haptic feedback on the LG Rumor Touch is the worst I've ever felt on a phone. It's almost uncomfortable. Instead of a solid, reassuring buzz whenever you make a selection, the phone has a minor seizure and shakes uncontrollably. It repeatedly vibrates in small pulses, and the vibrations seem to creak the plastic shell. There are three different vibration styles you can set, at varying levels of intensity, but none of them felt good or added a pleasant visceral layer to the touchscreen experience, as they are supposed to.
In general, the touchscreen on the LG Rumor Touch is not very responsive or pleasant to use, and the poor menu design doesn't help the issue.
Menus
If the touchscreen on the LG Rumor Touch was a high resolution, finger friendly capacitive display, perhaps the menus, with their tiny buttons, long lists and iPhone-like effects would make more sense. But the touchscreen stymies the user trying to tap small icons or drag through long shortcut lists. Press the Home key, and you aren't taken to a home menu screen, but rather a standby screen, then press again to get a customizable shortcut menu. But if you want a list of apps, you'll be tapping or dragging. It's like you rang the doorbell, but instead of letting you inside the house the Rumor Touch sticks you in the garage.
The main menu is an ugly list of options. It's poorly organized and confusing. For instance, where's my music, under Entertainment, or My Stuff? Right, under Entertainment. How about Sprint's exclusive NASCAR app? Thats under My Stuff. These could have been more intuitive. You can customize the shortcut list to your heart's content, including adding Web bookmarks and application shortcuts, but if you add too many you'll have to start scrolling, and scrolling is never pleasant or even reliable on the Rumor Touch's screen.
When you quit an app, you get the option to send it to the background or simply exit. If you send an app to the background, you can then open it much faster the next time, or you can shuffle between open apps by digging until you find the Application Manager (it's hidden under My Stuff, better create a shortcut). Too bad, because this ersatz multitasking is a nice feature, and a dedicated hardware shortcut would make this feature much more accessible. Also, the App Manager could be buggy, and it was sometimes impossible to exit out of apps, dragging down the phone's performance.
There are a few little niceties built in. New alerts pop up as bubbles on the otherwise spartan standby screen. It's a cute look. There's also a cutesy contacts feature under the address book called Hello. Overall, the LG Rumor Touch's interface isn't unattractve, and it can range from slick and polished to adorably cute. But it can also be difficult to control with even my dainty hands, and the attractive design doesn't work well on the unresponsive touchscreen.
Messaging
Messaging options have long been solid on the LG Rumor family, and the Rumor Touch adds more support for social networking. There are built in apps for Twitter, Facebook and MySpace. None of these are especially powerful or feature rich, but they all offer better than average options for keeping up with status updates. You can upload pics directly to Facebook, but no such luck for Twitter pics. There's even a catch-all social network for more targeted networks like Black Planet, Asian Avenue and Glee, among others; a group that usually doesn't get their own dedicated app.
Beyond social networking, the LG Rumor Touch does a nice job with e-mail. The e-mail app is fairly basic, but it can handle a range of account types, including Microsoft Exchange accounts for corporate types. It had no trouble setting up my Gmail account. I also liked how easily the e-mail app integrated with the rest of the system. If you need to send an e-mail from another app, the Rumor Touch has no trouble opening the separate e-mail app and starting up a message. Certainly a feature I'd expect from a smartphone, but still a nice bonus on messaging feature phones.
The LG Rumor Touch lacks any instant messaging support. Not even the big three, AOL, MSN or Yahoo. Look elsewhere.
Text messaging comes through in a threaded style, and it looks pretty good on the LG Rumor Touch. Threaded style makes SMS more conversational, which kind of makes up for a lack of instant messaging, depending on how you keep in touch. The threaded messaging still looked a bit clinical, and the phone couldn't display pictures inline with text messages, but it's an improvement over the most basic SMS options.
The keyboard on the LG Rumor Touch is generously spaced with a wealth of keys, but it still wasn't the easiest for long messages. Keys are a bit flat and very slick, so my fingers had trouble finding the right key without some careful hunting. While I appreciate the full number row, I question the inclusion of a smiley key over an "@" key. Clearly the phone is aimed more at text messaging rather than e-mail users. There is an onscreen keyboard if you don't want to slide open the full QWERTY, but I'd avoid it at all costs. It's a basic 12-key alphanumeric keypad, and with the sensitivity problems I found on the screen, it was difficult to use for multi-tap typing.
Extras
Music
The LG Rumor Touch gets some barebones music software, including access to Sprint's music store, but none of it is especially attractive or well designed. The music store lacks even the slightest graphical flourish, and the music player was simple and bare. Sometimes it would display album artwork for my sideloaded tracks, sometimes not, but most information came through just fine, and the music player had no trouble digging up all the tracks I loaded onto my microSD card.
You can play music in the background with no problem, then listen to tunes while you surf the Web or check your Facebook friends. Still, the LG Rumor Touch doesn't offer any dedicated music controls, either hardware controls on the phone itself or software controls for the home screen. When you want to turn the music off again, you have to dig for the music player and the correct screen to pause your tunes. It's a fairly inconvenient problem.
Music sounded fine played through my favorite set of earbuds. Thanks to the included 3.5mm headphone jack, you don't have to worry that LG and Sprint didn't include a handsfree option because any standard earphones will work fine. I also had no trouble playing music over Bluetooth on a set of stereo Bluetooth speakers. The speakerphone wasn't as good at music playback. The speaker is on the bottom, so you have to flip the phone over or stifle the music. Even then, the speaker wasn't loud or clear enough for music except perhaps in a pinch.
Camera
Camera
The 2 megapixel camera on the LG Rumor Touch offers only the slightest upgrade over its 1.3 megapixel predecessor, and the camera interface keeps things very simple for this low-end kit. There are only a few basic image settings, including white balance and some color manipulation. A few of these get settings buttons right on the main screen, so you can increase the brightness, for instance, but most of the good stuff is hidden under the settings menu.
The camera opens when you press the camera button on the side, but only from certain menu screens. Sometimes the camera opens up. Sometimes, you're taken to an imaging sub-menu, and if you press the camera button again, the viewfinder springs to life. Sometimes nothing happens at all. No camera, no imaging menu, just a tone to let you know the phone has registered the button press, it just won't be doing anything about it.
Before you get to the image gallery, there is an autosend option you can attach to the camera app. I'm not sure if it actually works, though. Even when I had instructed the camera to send all my pics to Facebook, it would still ask if I wanted to send pics anywhere. Some pics would later show up on my Facebook page, some would not.
Image Gallery
The image gallery on the LG Rumor Touch is a basic thumbnail grid. There is a built in slideshow. You can move your pictures to and from the microSD card and also send them from the gallery as a picture message, an e-mail or even a Facebook upload. You can flick through pictures with a swiping motion in the viewer mode, and this actually works well, one of the few times the touchscreen wasn't an issue.
There are even some basic editing options hidden deep within the menus. Besides being able to crop, flip and rotate pics, you can apply a few interesting filters, like an emboss filter or a sketch filter. The phone can even take images of faces and warp them into funny looks using some rudimentary face recognition. All fun stuff, but it won't save your pics from the problems of a low resolution mobile sensor.
Image Quality
Photos
Images look about as good as you'd expect from a low-end, 2 megapixel camera. Colors are washed out, even in outdoor light, and bright spots are drastically overexposed. Detail falls prey to noise and heavy blurring. Even at best, images have an oversharpened look that resembles a still image from a VHS tape. Reds are blown out of their boundaries, though the camera handles greens nicely. There is no flash and no auto focus, so the camera is best used under ideal, well-lit circumstances. These images will be useful as MMS messages and simple wallpapers, but you won't want to share them on MySpace or Facebook unless you absolutely must.
Video
Video quality from the camcorder on the LG Rumor Touch was a total mess. My video was dense with blocky pixels and wavy whenever the camera was moving. Colors were drab and washed out. Details were puffballs of fuzziness instead. The camcorder also failed to record my voice narrating the sample video.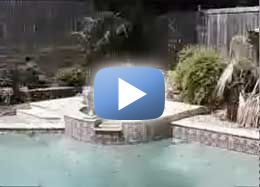 3GPP2 / MPEG-4 format (viewable with QuickTime)
File size: 1018 KB
Browse / Customize
Browse
The LG Rumor Touch gets Web surfing capabilities from an Access Netfront browser, an uninspired and low-end browser. Though the Netfront browser can load HTML pages, it can only display pages as a single column; there's no desktop-style view available. Pages were a complete mess. Our own PhoneScoop.com homepage was rendered a jumble of overlapping frames and headlines. Even the mobile sites looked shoddy on the Rumor Touch's Web browser. CNN's mobile page looked chunky and stilted, with blocky, jagged text and unimpressive images.
Navigating the browser wasn't as bad as I expected. There is some kinetic action to swiping on the screen, so when you flick your finger, the Web page keeps moving smoothly for a while after. It was easy to accidentally click on a link when I meant to swipe, but not an unavoidable problem.
The browser was also relatively fast, for a simpler feature phone. Pages didn't spring to life instantly, but I never felt like I was waiting too long for action on screen. Overall the browser is abysmal, and I wouldn't recommend this phone for people who want real mobile browsing, but as an add-on feature it does manage some competent moves.
Customize
There are a few spots on the phone where you can add and remove shortcuts, but no real customization options for either the menus or the interface design. You can't add widgets or shortcuts to the main standby screen, though this space is used for pop-up bubble notifications. You can customize the main shortcut list, but the entire interface is very list heavy, and this isn't a phone that handles long scrolling action effectively, so some menu style options would have been nice.
You can change the wallpaper on the phone, and this changes the overall look somewhat, but only because the top and bottom edges of the wallpaper picture is still visible throughout most of the menus. It's a jarring, unpleasant look, but at least it adds some needed color to the design.
Extras
Bluetooth
Bluetooth pairing with the LG Rumor Touch is simple and easy. I had no problem pairing with a Bluetooth headset, a set of stereo speakers and my laptop. The Rumor Touch supports stereo music protocols and a few file transfer protocols, so if you want to go wireless instead of using a microUSB cable, you can transfer pics and files over Bluetooth instead.
Clock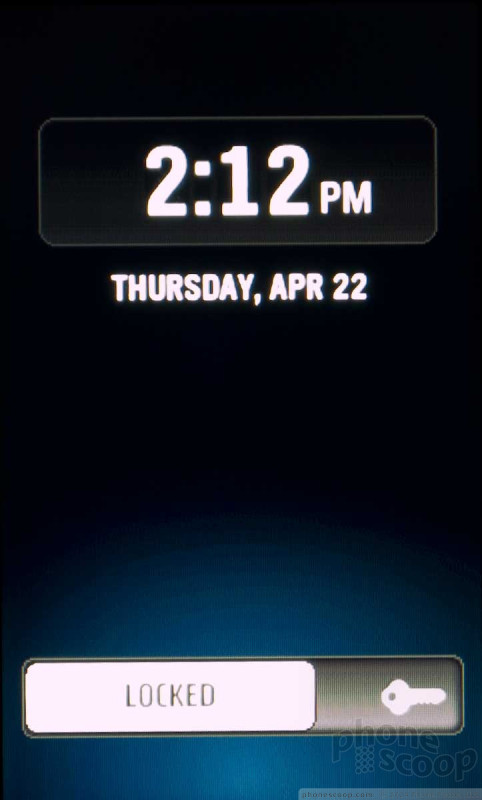 You get a big clock front and center on the lock screen on the LG Rumor Touch, and throughout the main menus a small clock lingers in the notification bar. There aren't any special style options to change the look of the clock, but it was digital looking and easy to read. It was also easy to set up a quick alarm, and the clock app comes with a world clock feature and a stopwatch.
GPS
The LG Rumor Touch uses Sprint Navigator for turn-by-turn navigation. In my tests, the Rumor Touch had no trouble finding me quickly an keeping hold of a GPS signal, even as I drove in and out of the downtown area. The Rumor Touch can also geotag photos automatically. Unfortunately, you can't send location info in any of the social networking apps included with the phone.
Video
Wrap-Up
As a strict improvement over the LG Rumor2, the LG Rumor Touch offers significant benefits, including faster networking, a larger keyboard and better social networking support built in. But it still falls behind with a lackluster, and occasionally frustrating interface design. The addition of a sub-par, unresponsive touchscreen didn't help matters, and much of the long, list-based menus and tiny buttons were more difficult to use because of it. Worst of all, the new interface still doesn't live up to the Sprint One Click interface that you'll find on a phone like the Samsung Exclaim, without the bother of the touchscreen.
That isn't to say there's nothing to recommend the LG Rumor Touch. The phone does a fine job handling calls and contacts, at least better than most feature phones, and the contact list acts as a nice jumping off point for the rest of the phone's features, including messaging, calling and even GPS navigation. The music player is simple, but the hardware is solid, and you can use high capacity memory cards as well as your own headphones, which means the Rumor Touch has some potential. I was even impressed by the new Social Zone software, which gives some proper respect to social networking communities that I haven't seen represented elsewhere.
So, the LG Rumor Touch is a better than average quick messaging device. It won't replace a smartphone, but it doesn't require a smartphone data plan, either. I'd be happier to see this phone polished up a bit without the touchscreen; maybe stock a better camera and Web browser instead. At launch, I'd still check out other QWERTY devices that use Sprint's One Click interface, but when this phone is eventually free with a contract, it will be a better deal.
My stuff
This is just like the MY STUFF menu on EVERY other sprint Dumbphone.. its the stuff that you download from sprint (java apps, etc.), Im not sure why you felt it was so utterly confusing in this particular phone.
this is one horrible review I really wonder where they find these monkeys.