Review: LG Rumor Touch
Form Basics Extras Video Wrap-Up Comments 2
Is It Your Type? Body The Three S's
Apr 23, 2010, 9:16 PM by Philip Berne
PhoneScoop reviews the LG Rumor Touch. Is this phone more than a Rumor with a touchable face? Find out if faster networking and a spec boost make this the Rumor to pass around in our hands-on review.
Advertisements article continues below...
LG Rumor Touch review
Is It Your Type?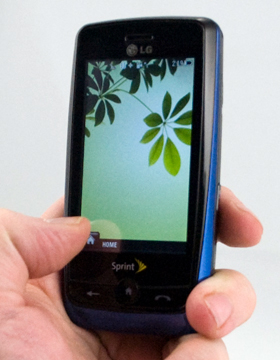 The LG Rumor Touch is a definite step up from the original LG Rumor, adding not only a touchscreen and a new interface, but a feature boost all around. The phone now has 3G networking, a 2 megapixel camera and more social networking support. But even these upgrades aren't enough to overcome some significant flaws. The Rumor Touch has all the messaging bases covered, so did the new touchscreen and enhanced features round out the package?
My stuff
This is just like the MY STUFF menu on EVERY other sprint Dumbphone.. its the stuff that you download from sprint (java apps, etc.), Im not sure why you felt it was so utterly confusing in this particular phone.
this is one horrible review I really wonder where they find these monkeys.