Review: HTC Droid Incredible
Form Basics Extras Wrap-Up Comments 23
Is It Your Type? Body The Three S's
Apr 18, 2010, 11:00 PM by Eric M. Zeman
Phone Scoop offers up a full review of the HTC Droid Incredible, Verizon Wireless' new flagship Android phone. This monster offers a 1GHz engine, an 8 megapixel camera and HTC's Sense UI. Dare we say it's better than the Droid?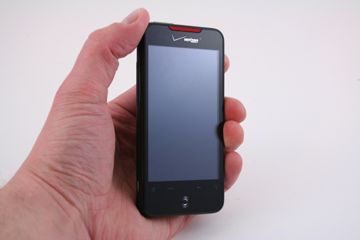 If you're looking for the best Android handset, the best touch handset, heck, the best smartphone, on Verizon's network, the HTC Droid Incredible is for you. With a 1GHz processor running things under the hood, a 3.7-inch display, and an 8 megapixel camera, you know that this is a high-end device. HTC has delivered one of its best Android devices yet, and the Droid Incredible will instantly make Motorola Droid owners feel envy that they've never felt before. HTC and Verizon, however, don't get it 100% perfect, and the Incredible is not without its flaws. Are they enough to make the Incredible merely marvelous?
Droid Incredible Signal Issue - Appears to be Software Prob
I did a far-less-comprehensive review of the Incredible over on my own blog, but noticed the same thing you did regarding signal. Here is the weird part...

Palm Pre Plus
HTC Droid Incredible
Motorola Droid

...All sitting on the seat next to me as I drove 28 miles from one end of our county to the next. Palm Pre Plus rarely dropped below 4 bars, Moto Droid rarely below 3.

The Droid Incredible? Rarely went above 3.

But I noticed the same thing you did. The thing never lost a call.

What gives?

I punched in the service codes on the Palm Pre Plus to take a gander at the RSSI value. (Received Signal Strength Indicator) I also dug down into the Android menus to look at how Incredible and Moto Droid were doing.

Turned out...
(continues)
I just pre-ordered mine
Can't wait to off my Curve!
I pre-ordered mine as well. Do you know if we'll actually receive it on the 29th, or will it ship on the 29th? It would suck if it were the latter, as we won't receive it till the next week.
The camera and your sample pics..
Thank you for those examples. The other reviews I have seen have looked horrible. Grainy and fuzzy.. One didn't even offer to show a photo taken at the highest settings. I was soo disappointed at the camera quality. But those pictures you posted were GREAT. I don't need something equal to a stand alone camera. But I think that is more than enough for what I need as far as quality..

Has anyone else heard or seen other reviews on the camera quality??
Incredible vs. N82/N95 (Eric or Rich)
This is really for Eric or Rich, but how would you say the camera for the Incredible compares to the N82/N95? Those are the best camera phones I have ever used and was wondering what your opinion was. Thanks, Ken
No VZ Navigator??
Why is VZ Navigator not available for this phone or, it seems, the other HTC Droids?

My local Verizon office manager had one up and running today. He showed me the Google Maps app, which can give directions but I wasn't impressed. I didn't see any way to look up anything such as restaurants, movie theaters, banks, etc.

I want this phone but I use Navigator a lot. Not sure what to do.
You can look up all that stuff. I have been using the Google Navigation on my Droid since December. It simply blows away VZ Navigator.
How long can it capture video?
I wonder how long of a video it can record? 🤨
i ♥ android but...
this phone is good but not the best i just cant wait for EVO, EVO is the perfect phone that i have been waiting for and also sprint´s coverage in 4G is awsome, but the best is customer care 😁
Verizon's best phone until the holidays, but it's still an Evo mini
The Incredible truly is incredible, and had me seriously considering jumping to Verizon, but I've decided to stick with my original decision and jump to Sprint about a month after the Evo launches and making sure it sufficiently stomps the next iPhone.

When compared to the Evo, it looks like the only things it lacks are HD video, HDMI out, and of course 4G + mobile hotspot capabilities, which still amounts to an amazing phone. The screen is smaller, but that's not necessarily a bad thing for some people.

For anyone who doesn't want to use Sprint or lacks proper coverage by them, this phone would easily get you through a two year contract and you'll be quite happy throughout the process. I sold a few preorders this morning the sec...
(continues)
oh and of course the front facing camera and kickstand. No video chat for you! 😉
sublimeandetc said:
The Incredible truly is incredible, and had me seriously considering jumping to Verizon, but I've decided to stick with my original decision and jump to Sprint about a month after the Evo launches and making sur
...
(continues)
at least according to the software.. now this might be because they are building the UI for the evo, but it could be the reason behind the weird USB port they mentioned in the review.

Not HDMI, but still video out. the video quality could be chan...
(continues)
Thank you for the review!
can always count on PhoneScoop for all-around solid reviews! Thanks for your labor again.
Incredible Handheld Multimedia Device?
"Signal was sorta iffy with the Incredible, much to my dismay. Sitting next to a Droid, the Incredible captured 2 bars to the Droid's 5 or 1 bar to the Droid's 3"

So, you only tested it in great to good coverage areas?

That's kind of scary. I like my phones to hold calls in less than good coverage areas. Motorola seems to do the trick.
Read the engadget review (or android central) both said that they had no issues connecting calls, and one of them (I forget which) even said it worked in a subway

Motorola will most likely still have stronger coverage. that is their key selling po...
(continues)