Review: Samsung Strive
Article Comments
Apr 16, 2010, 3:53 PM by Eric M. Zeman @phonescooper
Samsung's latest Quick Messaging Phone for AT&T strives hard to offer a well-rounded set of features. It succeeds in some areas, and strikes out in others.
AD article continues below...
Form
Is It Your Type?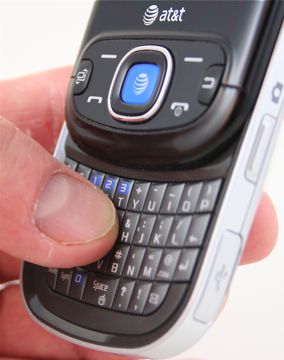 The Samsung Strive is a low-cost phone that AT&T classifies as a 'quick messaging' device. Quick or not, it is a feature phone with a QWERTY keyboard that prioritizes messaging services such as SMS/MMS, IM, and email. The Strive handles messaging in stride, but skips a few steps with other, less fabulous features.
Body
The Strive is a slider that's vanilla in pretty much every way imaginable. It reminds me of a bar of soap because it is so smooth and the edges are nicely rounded. When in your hand, it feels like the inexpensive phone it is. The weight is nice, but the materials are lower grade than what you'd see on a high-end device. I found it to be a little on the bulky side. It's not egregiously thick, but it's no dainty device, either. You'll know it is in your pocket for sure, though it will slip in and out easily.
When closed, the display takes up most of the front surface. It has a full navigation cluster below the display for interacting with the phone. The d-pad, with its bright blue AT&T logo, is easily found. There is a high ridge that makes it stand out nicely from the surface of the Strive. It has the perfect amount of travel and feedback. There are three buttons on either side of the d-pad. The two closest buttons on the left are a soft key and the send key. There is no physical indication that your thumb has found either, you just sort of have to know they are there. Both offer good travel and feedback. An app switcher key is to the left of the soft and send keys. It is raised well above the surface and is easy to operate. On the right side, another soft key, the end/power key and back key mirror those on the left. They all work well.
The only control on the left side of the Strive is the volume toggle. It has two nubs that help it stand out from the side of the phone. It works well. A dedicated camera key is the only button on the right. It is also easy to find and operate. Below the camera key you'll find the microUSB port.
The slider mechanism is spring assisted and it pops open the phone with a satisfying "thunk." It requires neither too much nor too little pressure to open/close it. You'll need to pop open the slider to get at the keyboard.
The keyboard isn't bad. The keys are a little small and packed tightly. Users with bigger fingers may have trouble with it. The keys have a decent rounded shape, and they are easy to tell apart. The problem I encountered is that when you press down a key, it is way too easy to press down the adjacent keys. The plastic feel of the keys is good, though. The keyboard has four rows, which means the space bar and other functional keys get their own place. That helps a lot. There is a dedicated ".com" button and a dedicated messaging shortcut button. I would have preferred to see a dedicated "@" key, but at least the period and comma get their own keys.
The battery cover slides off easily. You'll have to remove it to get at the microSD slot. Amazingly, you can insert/remove the SIM card without removing the battery itself.
The Three S's
Screen
The Strive's screen spans 2.6 inches across the diagonal and has a resolution of 240 x 320 pixels. I don't expect a high-def screen on a $20 entry-level phone, but a few more pixels would have been nice. That said, it is perfectly bright and readable indoors. The resolution is just high enough to ensure that most text, icons and such are sharp and not blocky looking. Colors look bright and rich. Outside, the display doesn't fare as well. It's readable, but only just. Even cloudy days trouble it some.
Signal
The Strive did an excellent job of capturing AT&T's network. Most of the time I was testing it, it had no trouble finding AT&T's HSDPA (3G+) signals. It held onto five full bars almost the entire time I used it. Rarely did I see the signal indicator drop to less than three bars. How did that translate to real-world effectiveness? Well, the Strive didn't drop a single call while I tested it. The Strive performed well even in areas where AT&T's signal is weak. Shame that it has no Wi-Fi.
Sound
Phone calls with the Strive sounded good. The earpiece provided plenty of volume so that conversations could be heard, even in noisy places such as airports. The quality of calls was solid, though voices coming through the earpiece sounded robotic every now and then. The speakerphone was sufficiently loud and quality was good. I thought the ringtones were just shy of loud enough. Set to maximum volume, I wouldn't be surprised if users missed a call here and there for lack of being able to hear the Strive.
Battery
I am so used to using phones that only last a day, I was pleasantly surprised when the Strive lasted three and a half days before requiring a charge. With normal use (light SMS, email, calls, web browsing), it will get you though a weekend easily. Add music streaming, video streaming, or Bluetooth and subtract a day.
Basics
Menus
The Strive uses AT&T's feature phone menu system. From the home screen, the left soft key opens a list of shortcuts. These are all user-defined and can include apps, settings, folders, actions and so on. For quick access to specific functions, this can be a life-saver.
The right soft key opens up the full menu, which is a grid of icons. It's the usual assortment of AT&T-branded stuff such as AT&T Music, AT&T GPS, etc.
Notably, there is a new feature called Online Locker. This is a service that lets users upload stuff, such as photos and videos, to AT&T's servers and store them there as well as share them from there. It costs $10 per month to use, though.
The d-pad can be set to launch user-defined apps, such as the IM client or web browser.
The most interesting thing is perhaps the app switcher. No matter what application happens to be open, pressing the app switcher button opens a dock at the bottom of the screen that lets users jump quickly to core features such as the phone, messaging, browser, music, gaming, and Java apps. Users can also choose to end all running apps from there. If you have to jump to something fast, this is a great way to do it rather than exiting the current app and clicking through additional menus.
Calls/Contacts
Calls
Making calls with the Strive is as simple as it gets. Dial a number, press send, and you're connected. Dialing numbers on the full QWERTY keyboard can be annoying due to the small size of the keys, so I created a bunch of speed dials. This works out pretty well.
From the home screen, pressing the Send key opens up a list of all calls. Pressing the d-pad left or right sorts through your made, receive, and missed calls. See a number you want to dial? Select it and hit Send. With a call selected, you can also press the Options button to do things such as save the number, initiate a text message, delete the call record or, my favorite, block the number (denied!).
In-call options run the gamut from sharing live video to perusing your calendar or contact database.
Contacts
The address book doesn't offer any surprises. The default action when opened is to let users search through their contacts. The app sorts as you type, so generally you don't have to enter more than the first few letters to find anyone.
Each contact can hold up to five numbers, a fax number, and multiple email addresses. Other data that can be assigned to contacts includes URLs, addresses, ringtones, caller IDs, etc.
Messaging
Since the Strive is a "quick messaging device" it should be pretty good at messaging, right?
The Strive handles threaded SMS/MMS with aplomb. Conversations are separated based on contact, and I like that both text and picture messages are delivered to the same stream. It lets users easily follow a conversation from beginning to end. Users can choose to delete a single message from the conversation or the entire conversation at whim. The Strive scores well here.
As for the rest, well, there's not that much that sets it apart from other AT&T feature phones. The email client is the same boring application that AT&T has offered forever. The email app handles POP3/IMAP4 email services, and all it takes is a username and password to access your email. The application is lightweight, but can be configured to pull emails down at regular intervals, and suffices for keeping on top of your inbox.
The IM client is also the same as found on other AT&T devices. It supports Yahoo, AIM and Windows Live Messenger. Sign-in and account management are easy enough. I found the client to be a little bit clunky at replying to messages, but conversations can be followed easily. The threaded SMS app is a bit easier to use, in my opinion.
For social networking, the Strive offers AT&T's SocialNet application. The app is a central portal through which all sorts of social networks can be reached, including MySpace, Facebook, and Twitter, as well as RSS feeds. The user interface is simple, but lets people do the basics: update their own status and read the status updates of their friends. The Twitter client, in particular, is limited. I couldn't get it to send Direct Messages, only @replies, for example. SocialNet uses a lot of data, and is constantly pinging AT&T's network. Be sure to have an unlimited data plan if you're going to use it. A solid bucket of text messages would be a good idea, too, as it uses SMS to send alerts. It does offer a wide range of settings, which can be used to control how it behaves and how often it accesses the network.
Extras
Music
The Strive's music experience actually isn't all that bad. The AT&T Music center offers the player itself, a music shop, MusicID, XM Radio, music videos and a ringtone generator (nope, not for free, and not from your music library).
The Strive accepts microSD cards up to 32GB, which was the only way we could figure out how to load your own music onto the device. The player itself is no great shakes. Phone makers seem to have a very limited imagination when it comes to interacting with music. Users can sort via artist, song, genre, album and so on.
The options during song playback are pretty extensive. Users can choose to add the song to a playlist on the fly, send the song via Bluetooth, control the loop/shuffle settings, and more. The one real disappointment is that the Strive doesn't have any sort of headset jack. You either have to use a microUSB-to-3.5mm adapter or use stereo Bluetooth headphones.
Music sounds OK through the speaker, but it is much more enjoyable to use headphones. Thankfully, pairing and connecting to stereo Bluetooth headsets isn't that painful, and the music player lets you switch to Bluetooth mid playback if you want. There's even an equalizer that lets you adjust the sound of music playback.
Camera
Camera
The Strive's camera offers 2 megapixels of mediocrity. It's launched via the dedicated camera button on the side. The camera controls are shown only in the landscape orientation, so if you have the phone open when you launch the camera, you need to turn it on its side. At least it launches almost instantly.
The controls of the Strive's camera are easy enough to figure out. At the top of the display the Strive offers a snapshot of the camera's current settings, such as resolution, white balance, timer, etc. Pressing the menu key lets you interact with those little icons. As you scroll past each icon, a drop-down menu shows what options exist for that particular feature. I found this to be fairly good at letting you make quick adjustments to the Strive. The d-pad can be used to zoom (when not set to full resolution) or adjust the brightness level.
The Strive takes about 1 second to capture an image, and then another 2 seconds to process/save the image. The preview screen lets you send, save, or delete the image.
The camera is bare-bones, as is the video recorder, which uses the exact same controls.
Gallery
The gallery can be opened from the camera itself, but it's super annoying. The gallery app has been built into the "MyStuff" folder, and switches to portrait orientation. I don't like being forced to rotate the phone every time I want to take a quick look at my pictures.
On top of that, the gallery app itself is just horrid. Photos are segregated between the phone and the memory card, which means they aren't all in one place or one gallery. The gallery app is slow, takes forever to load images, and only offers a list-view. No nice grids, no fancy animations, no fun!
You can, however, perform a ridiculous number of editing tasks. You can rotate, crop, zoom, flip, as well as adjust brightness, color and contrast.
If you want to send your images anywhere, you have to click through about a million menus to get the task done. My thumb hurt after a while from pressing the d-pad so many times.
Photos/Video
Photos
Given the 2 megapixel camera, I wasn't expecting much, and the Strive managed to stoop to my expectations. The images captured with the Strive will be more than adequate to fulfill any MMS cravings you might have, but you're not really going to want to post them to Facebook, let alone enlarge them or print them out.
Focus was soft, there was tons of grain, and the Strive had no ability to take pictures in shadowy environments. Color and white balance were well represented when taking outdoor shots, but inside they were a disaster. Muted colors and skewed white balance combined to wash the images out.
Video
See the description above, and apply it to the video camera. Or, see for yourself on the video clip below.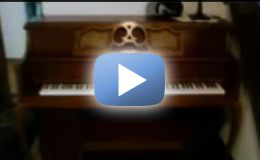 3GPP / MPEG-4 format (viewable with QuickTime)
File size: 592 KB
Browse/Customize
Browser
The Strive uses Access' NetFront browser. The main AT&T portal is a mish-mash of the usual weather, news and sports links. One thing I liked is that it automatically located me and offered the local weather report without any further input required. It offers local search and Yahoo search. No baked-in Google search here.
Despite the Strive's HSDPA radio, it struggled hard to load web sites. Loading mobile web sites was mostly painful. Once the pages are fully loaded, they become easier to interact with.
The thing that infuriated me the most is this: If you load a web site from the open internet, there's no way to navigate to another web site without returning to the AT&T portal. The only way to call up an actual address bar to type in a URL is to go back to ATT.net. That's a killer flaw right there. You can, however, go to your bookmarks and view your browsing history to navigate to other pages.
I'm not a fan of the Strive's web browsing abilities.
Customize
The Strive lets users customize it about the same as any other basic feature phone. Ringtones, alerts, wallpapers, shortcuts, etc., can all be adjusted to suit individual tastes.
My favorite is the ability to personalize the Shortcuts menu and load it with the apps or actions I like to use most often.
Another nice touch is that the Settings menu lets you adjust pretty much every single application from one control center. Rather than having to actually open the camera app, browser app, music app all separately to make adjustments, the controls for them have been lumped together in one spot. Efficient.
The Strive also offers four separate ringer profiles, which can be adjusted at will for different settings.
Extras
Apps
The Strive does provide access to a limited set of Java apps through the AT&T portal. Users can open the browser and download at will. It's called the App Center, and offers stuff such as games, ringtones, tools, graphics, themes, etc. Other apps that are preloaded include Loopt, Mobile Banking, MobiTV, MobiVJ, My-Cast Weather, Where, WikiMobile, XM Radio and Yellowpages.
Bluetooth
The Strive offers a number of Bluetooth profiles, including those for mono and stereo headsets, as well as object push. I had no problems pairing the Strive to headsets, though pairing it with PCs gave me some trouble. Phone calls via mono headsets sounded great, and music via stereo headsets wasn't too shabby, either.
Clock
When the Strive is asleep, hit any button to wake the screen. The time is displayed in the upper right corner. It's big enough to read with a quick glance, though it wouldn't hurt if it were a hair larger. I couldn't find a way to alter the size, location, or appearance of the clock through the Strive's menus. Pity.
GPS
The Strive comes loaded with AT&T Navigator, which is by all accounts a decent application. Personally, I can't stand to pay for a service that is also offered for free elsewhere, but if you have $10 to burn each month, feel free to do so. AT&T Navigator performs all the get-me-there tricks you need. That means if you get lost, it'll figure that out and re-route you. It also calls out turns so you know exactly where to go.
Wrap-Up
The Strive is not a device for power users. It is for people who use text messages to communicate with their friends and family more than through any other means of communication. In that goal, the Strive succeeds. The texting app offers solid threaded conversation performance and even weaves in video and pictures messages.
The Strive also earns high marks for its general ease of use, and the solid calling, battery and signal performance. In other words, it delivers on the vitals.
It starts to lose focus, however, when it comes to media. Music playback is decent, but the camera disappoints. It will only suffice to capture what would otherwise be disposable moments in life.
The web browsing experience wasn't all that good, either, but the Strive makes up for it in part with the SocialNet social networking application. SocialNet does well to keep users in touch with Twitter, Facebook and MySpace. Given the nature of the Strive, that's a major plus in its favor.
So, if messaging is the main attraction, then the Strive suffices. If you need a more well-rounded device, perhaps it would be best to look elsewhere.
No messages