FCC Outs Samsung i770
Article Comments 39
Oct 29, 2008, 9:41 AM by Eric M. Zeman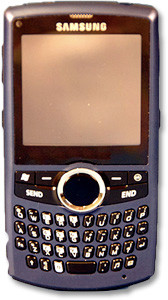 A new Windows Mobile device from Samsung was sighted on the FCC Web site. The i770 runs Windows Mobile 6.1 Professional and is a mono-block phone with full QWERTY keyboard. The FCC documents confirm that it has both CDMA-EVDO and quad-band GSM radios, as well as Wi-Fi and Bluetooth 2.0+EDR. The i770 supports microSD storage cards, has a real headset jack, and a camera of unknown quality. The draft user manual mentions Verizon Wireless, though neither Samsung nor Verizon have announced this device.
Verizon is getting this, WITH WiFi! Samsung Saga
Verizon is getting this phone, it will called the Saga maybe.

And yes it has WiFi!
It has GSM Roaming for travle overseas.

It has EVDO Rev A and GPRS/EDGE, not sure yet if it has 3G UMTS/HSDPA.

Bluetooth 2.0

Windows Mobile 6.1 Pro.

It will be out in November. Along with the BlackBerry Storm, Samsung OMINA,Samsung Renown, HTC Raphael, and Nokia 7205 which will be out in December.
win mo 6.1 pro, so its touchscreen? looks good
AT&T has a phone exactly like this. It's made my samsung, has a touch screen, has a track pad with a cursor, uses windows pro 6.1, and has wifi. And, it's more attractive. Point blank, AT&T is better. lol 😉
Very curious, I haven't heard of this one before.
Where do you get your information that the Samsung OMNIA is coming to Verizon? When they announced it, it was showing for GSM/EDGE, and most likely Europe at that. Nothing about CDMA was posted....
Better photo with Verizon logo
IHMO.....
... this phone isn't all that attractive on the outside. It's better make up for it on the inside.