Review: HTC HD2
Article Comments 11
Apr 8, 2010, 11:48 PM by Philip Berne
The T-Mobile HTC HD2 is the biggest, baddest Windows Mobile touchscreen you can buy, though you wouldn't know it with HTC's impressive Sense interface. PhoneScoop reviews this tablet phone, which could be the pinnacle of the current generation of Windows Mobile.
AD article continues below...
Form
Is It Your Type?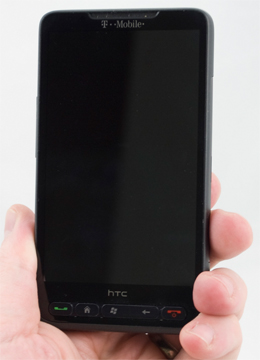 The T-Mobile HTC HD2 is the largest touchscreen phone on the market, running Windows Mobile 6.5 with HTC's Sense interface concept. If you like Web browsing, showing off photos or watching movies, you'll appreciate the large display. Even buyers considering a tablet, like an Apple iPad, will find plenty of ebook reading and multimedia software on board.
Body
The T-Mobile HTC HD2 is a fairly nondescript, though not unappealing, slab. With a huge, 4.3-inch, capacitive touchscreen up front, there is hardly room for any other features. Below the screen, you'll find Send and End keys, a home button, a Windows Start button and a back key. On the bottom edge, there are ports for a microUSB cable and a 3.5mm headphone jack. On the left side, you'll find a volume rocker, and that's the end of the tour. These buttons are a contentious issue, as the Windows Phone 7 spec dictates home, search and Windows keys, as well as a dedicated camera button, and this would seem to be the only obvious issue keeping the HTC HD2 off the WinPho7 upgrade list (a list with no entries, yet). I definitely would have liked a camera button, and I've found the search key useful on Android phones I've tried, so I'd appreciate the option here. But I also like that the HD2 keeps the Send and End keys, while many manufacturers abandon these for touchscreen buttons.
The size of the HD2 will be polarizing, but it didn't take long for me to enjoy using the device. It was difficult to use one-handed, as my thumb couldn't quite stretch to the farthest corners of the screen, but a slightly curved body made it comfortable to hold. Holding it to my ears for calls felt like talking into a dinner plate.
Around back, you'll find more texture. The back has a nice, soft touch finish, with a battery door in the middle made of brushed metal. It was difficult to remove at first, and the microSD card is hidden under the door, though not behind the battery.
The Three S's
Screen
The huge touchscreen on the HTC HD2 is obviously the standout feature. The high resolution, 800 by 480 pixel display is always clear and bright, and the HTC Sense interface looks crisp and colorful. Text is always clean and legible, whether you're reading a Web page or a book in the Barnes and Noble e-reader. Photos are sharp, as well. Outside, the phone lost a lot of brightness, but still performed better than an OLED display. Fingerprints were a problem, as they are on most touchscreens, but the phone didn't show any scratches during my test period. Considering the HD2 is really a giant screen with a phone wrapped around it, its nice to see that the display delivers.
Signal
The HTC HD2 was a little behind in terms of wireless signal. While other 3G T-Mobile phones, like my Google Nexus One, held a steady 3-4 bars of service, the HTC HD2 was usually a bar short. This resulted in some dropped calls. Most annoyingly, I was never able to complete a multi-hour talk test because the phone couldn't hold a connection for the 6+ hours I'd estimate for talk time. Most people won't mind a dropoff or two during a 6 hour conversation, but the point is really that the HD2 dropped more calls than I'd expect from T-Mobile. Wi-Fi was also occasionally a problem. The phone had trouble finding my Wi-Fi network at first, and I occasionally had to make the phone forget its settings and find the network anew when the phone didn't respond properly to my home WAN.
Sound
Sound quality on the HTC HD2 was very good. During calls, my callers sounded present and clear. On their end, callers said I sounded just as clean. The speakerphone sounds good, but could be much louder on this device. For music and videos, you'll want to connect a pair of headphones. Ringtones, on the other hand, managed a surprising loudness, and I could easily hear rings or alerts when the phone was in another room, or buried under couch cushions.
Battery
Battery life on the T-Mobile HTC HD2 was solid, perhaps even exemplary considering the huge screen the battery drives. I got a little more than 6 hours of talk time, though never in a row, as I said earlier. For mixed use, the HD2 lasted a full day, and even waited patiently on standby for more than a day without a charge. You'll have to charge the phone every night, but if you miss a charging period, you'll probably make it through a day if you skip Web browsing and navigation. More importantly, the HD2 was able to last through two complete feature films. I downloaded "Fantastic Mr. Fox" from the Blockbuster app, then played through "Transformers 2," which comes preloaded on the phone. The phone died within minutes of the end of the second movie, but that was about 4 hours of solid video, including the initial 20 minute Wi-Fi download.
Touch
The HTC HD2 uses a capacitive touchscreen, but it sticks with the older Windows Mobile 6.5 instead of the recently updated 6.5.3 version. WinMo 6.5 did not support capacitive screens, this function was built into the HD2 by HTC, and sometimes the feature feels tacked on. Occasionally, my taps wouldn't register, especially on hyperlinks in the Opera Web browser. There were a few occasions where the touch input felt buggy, though it was never a serious problem.
The HD2 makes use of a few rudimentary gestures. You can pinch and zoom in a few spots, like the Web browser and the photo gallery, but this feature isn't available throughout the phone, especially not in 3rd party software, like navigation apps.
Basics
Menus
The HTC HD2 uses the HTC Sense UI concept. This is distinct from the HTC Sense interface on Android devices. Some of the icons and design language are the same, but otherwise it's completely different. The interface goes to great lengths to hide the Windows Mobile underpinnings, perhaps more than on any other phone I've seen, and this is a good thing for this generation of Windows Mobile. The only remnant you'll find is pressing the Windows button at the bottom of the screen, which brings up the honeycomb-style application list found on other WinMo phones. Otherwise, even the archaic settings menus have been replaced with a more friendly HTC design.
The main structure uses a tabbed bar at the bottom, and you can slide your finger or tap directly on the choice you want. This main screen gives you access to some of the phone's key features, including the Web browser, e-mail and text messaging, contacts and calendar, even Twitter. I would have liked to find a navigation tab, for instance, and though you can choose to customize your tabs from a limited selection, you can also add application shortcuts to the main Home screen.
While the first HTC Sense phones were sluggish and unresponsive, the HTC HD2, with its fast, 1GHz Snapdragon processor, had no trouble chewing through the polished and modern looking interface. Animations were smooth, and there was no delay in the touch response. My only complaint is that I couldn't easily organize the App menu, and I couldn't customize the tabbed menu screens to my liking. The App menu, part of the standard WinMo kit, is tedious to rearrange. For the tabs, there are no widgets, no way to rearrange or customize items on the tabs beyond HTC's own structure.
Calls / Contacts
Calls
HTC has created the best calling screens and in-call interface in the business with its Sense interface. The dialer is easy to use, and contacts were readily available for fast calling. Once you've placed a call, it's very easy to add another call for a conference, and managing multiple parties was a snap. When you've connected with one of your contacts, the HD2 will gather together relevant information about that person, like their address book entry, calendar entries that include them, recent text messages and e-mails, even their latest Facebook status update. These are tremendously useful bits to have on hand, especially for a business conversation.
There are even a few tricks up the HD2's sleeve. If you put the phone in your pocket, the proximity sensors will detect this and ring the phone a bit louder for you. When you receive a call, if you don't want to answer, just turn the phone face down and it will stop ringing. Once you've answered, the same action will activate the speakerphone on the back. Truly innovative and intuitive features.
Contacts
The HD2 is surprisingly deep, or unfortunately limited in contacts sync, depending on which services you use. If you use an Exchange server or keep your address book in Outlook on your desktop, you're in luck. But there was no way out of the box to load my Google address book onto the phone, I had to use Google's own Google Sync service instead. The phone will link your contacts to Facebook, so all of your friends photos will show up when they call you, but it can't synchronize your contact list completely with your Facebook friends list, like the Palm Pre and Motorola Motoblur devices can.
The address book has plenty of fields to store contact info, and best of all it actually makes use of all that personal data. So, you can tap on a number to call, tap on an e-mail address to write a letter, or tap an address to bring it up on a map. The address book defaults to Google Maps, which looks great on this phone and even takes advantage of the pinch and zoom gestures, but I'd rather the address pop up in TeleNav so that I can jump to navigation quickly.
Messaging
The HD2 offers a full complement of messaging options, just about everything I'd expect with no surprising extras thrown in. There's e-mail for corporate users or more mainstream services. The e-mail app had no trouble synchronizing with my Gmail inbox. There is Instant Messaging support for Google Talk, Yahoo, AIM, Microsoft and even MySpace IM. Poor old IRC, a longtime T-Mobile standby, doesn't make the cut. The instant messaging apps were somewhat barebones in appearance and features, but I appreciate the range of options. My conversations always went through quickly on both ends of a Gtalk chat session. The HD2 also features SMS text messaging, and messages are arranged in a conversational, threaded format. I had no trouble sending texts to my contacts and attaching pictures for MMS messages.
Twitter gets its own tab on the main Sense interface screens, but the HTC Peep app isn't the best Twitter app I've used. The interface can be a bit confusing, and it lacks some of the advanced features that other apps have started to include, like the new retweet feature or a full conversation view. Still, it's among the best options for Windows Mobile devices.
Facebook comes preloaded on the HTC HD2. It gives you basic access to status updates, friends' profiles and your Facebook inbox. There aren't many extra features on board, but you can upload pics and even videos easily.
The HD2 does make it easy to quickly flip through incoming messages, offering the first few lines on main messaging or e-mail tabs on the home screen. When new messages arrive, it's also easy to jump right into reading from the lock screen. You can drag down the sliding lock on the screen to see how many of each kind of message you've received, and depending on which row you slide the lock, you jump right into the corresponding messaging app.
Extras
Multimedia
Music
While HTC has taken strides to improve just about every aspect of Windows Mobile, multimedia still lags far behind. The music player on the HD2 looks good, and it's easily accessible from a tab on the home screen. But Windows Mobile still has trouble managing music libraries off a microSD card, and it was occasionally a confusing process to find and play the track I wanted. Still, it was easy enough to create new playlists, and the HD2 can even download missing album artwork for songs in your collection. There's also an audio booster than amplifies the sound when you're wearing headphones. I'd prefer a customizable equalizer, but the boost is still effective.
The Music menu offers a link to download music from the Amazon MP3 store. This is an especially odd choice. Though Amazon does have an MP3 store on Palm's WebOS devices and some Google Android devices, this is not a native app for Windows Mobile. As such, the Web site requires use of the Amazon MP3 Downloader program to securely sell .mp3 files. Even free music requires the app, but there is none available for Windows Mobile. So, when the phone directs offers to let you "Shop Music Store," you're actually only able to browse music, not purchase. It seems like this feature was hastily added without real testing.
In addition to the standard Windows Media Player app, there is also an FM radio on board that you can use with headphones plugged in to act as an antenna. Even better, there's a Slacker app preloaded, so you can play your custom Slacker radio stations over the device's network connection. Slacker worked well on this phone, as well as I've seen on any mobile device, and this quickly became my favorite music option on the HD2.
Video
The T-Mobile HD2 launched with the new BlockBuster movie service on board, but Windows Mobile completely ruins the experience. I tried downloading a movie from the included BlockBuster app, and after some initial setup with my credit card (no carrier billing here), I was able to download "Fantastic Mr. Fox," a 90 minute movie, in just under 20 minutes over my home Wi-Fi connection. Once you start playing, you have 24 hours to watch the film as much as you want, similar to the rental scheme on Apple's iTunes movie store. Unfortunately, once I started playing, I found the fatal flaw in the system.
The new BlockBuster movie service uses Windows Media Player to play movies. They might as well send me a VHS tape. Windows Media Player uses a horrible player interface. Though the movie looked great on the HD2's screen, it stopped often and switched from full screen view into portrait view for no reason. Once, I made the mistake of stopping the movie to check my e-mail. Windows Media Player didn't remember my place, and it was impossible to skim through the movie to find my spot. The controls simply didn't work. I had to press play and check back every few minutes to see if the movie caught up. Strangely, the two included Transformers movies play in a slightly different media player, though it, too, lacked the fine controls that I like on the Apple iPhone, my favorite mobile device for watching video content.
Camera
Camera Interface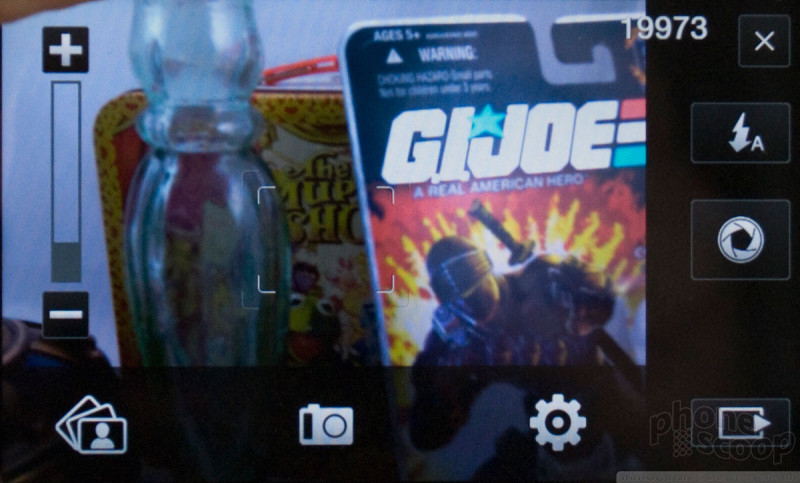 The HD2 on T-Mobile has a nice camera interface. It's simple, but there are some effective tools on board. The camera gets touch focus, so you can tap anywhere on the screen and the camera will focus on that spot. Without digging through menus, you can control the focus and flash, and the camera uses two very bright LED lamps around back for lighting. Deeper into the menus, you'll find options for white balance and simple color modes, but no scene selectors or advanced modes. The camera does feature a panorama mode to automatically stitch three pictures together. There's also a digital zoom control, but I avoid digital zoom at all costs. I'd like to see more controls on the main screen, especially macro focus and white balance, with toggles that switch as I tap them. But my biggest complaint is easily the lack of a camera button. I'd like a two-stage button on the side of this phone.
Image Gallery
The image gallery is simple, yet effective. There's a basic flip-through gallery on the Home screen; you can browse pictures by flicking the pile up or down. In the photo albums, you get a grid layout, and you can tap a picture for a full screen view. The gallery support pinch and zoom gestures, but these did not work so well, and the phone would occasionally confuse a pinch for a swipe, moving on to the next image instead of zooming out. From the gallery, you can start a slideshow, a nice feature since the HD2 is larger than some digital photo frames I've seen. You can also send your pictures and videos directly to Facebook and YouTube, or ship them off in an e-mail. There are no photo editing options on this device.
Image Quality
Photos
The photos I took with the HD2 came out looking very good. The 5-megapixel camera produced images that were sharp with plenty of details, at least under strong sunlight. Indoors, things fell apart a bit, but the ultra bright flash helped keep my images in focus. You have to zoom in to full crop to see the details fall into mush, at least under outdoor shots, but that's more than good enough for any Web sharing you might do with these pics. The best might even be print-worthy, if that's your thing.
Videos
Videos, like the photos I took, looked better in direct sunlight, though shadows and dark spots did give the camcorder some trouble. Indoors, the colors were damp and dull, though the flash did help light up my videos even in the darkest environments. Check out my sample below where I turn out the lights in the darkest room in my house. Lots of motion in my shots created a wavy effect, but when the camera and my subject were both still, videos looked good. The camcorder records at VGA resolution, so files can be quite large. Good thing the HD2 comes with a 16GB microSD card in the slot.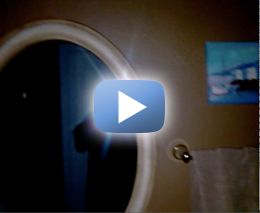 MPEG-4 format (viewable with QuickTime)
File size: 1.1 MB
Browse / Customize
Web browser
The HD2 uses the Opera Mobile browser, a good choice, though the latest Internet Explorer options aren't so terrible anymore. Opera loads pages quickly, and most of my favorite sites came through looking good in their full desktop iterations. CNN loaded in full desktop mode, but the New York Times unfortunately stuck me with the mobile version of the site. Most importantly, PhoneScoop looked great on the HD2's Web display.
As I mentioned earlier, there were some problems with the touchscreen in the browser. Often my clicks went unnoticed, and, occasionally, swiping gestures were jerky. The pinch and zoom gesture works in Opera Mobile, but not very well, and Web pages did not resize perfectly every time, sometimes leaving text hanging off the zoomed browser pane.
Browsing speeds were pretty good. In my tests in the Dallas suburbs, where signal is usually strong and fast, the HD2 performed on par with most other T-Mobile smartphones I've tested, hovering close to 1 Mbps downloads. Both CNN and our PhoneScoop.com homepage both took about 12 seconds to load.
Customize
There is little you can do to customize the HD2, which is ironic considering the entire UI is itself a customization of Windows Mobile. You can add shortcuts to the main Home tab, or add contacts' pictures to the People tab. You can also customize the home screen and lock screen, though the home screen is so busy that it's tough to see your own image behind. You can't change the theme; you can't rearrange the individual tabs on the home screen. HTC's Sense UI on Android is all about choices; it offers 12 different clock designs. On the Windows Phone HD2, there is only one clock.
Extras
Bluetooth
Bluetooth worked fine in all my tests. Using a small headset, calls sounded clear, about as good as they did using the built in earpiece, and pairing the phone was simple and reliable. I also tested the phone with a set of stereo Bluetooth speakers, and these worked even better. There is a huge range of Bluetooth profiles available in the stack, including OPP and FTP for file transfer, as well as all the audio profiles.
Clock
It's easy to use the HD2 to check time. There's a big clock on the lock screen, and another, bigger clock on the main home screen when you unlock the display. I like having a clock permanently planted in the menu bar up top, but the HD2 didn't offer this. Still, it's easy to press the home button and jump right to main screen, if you're not in the middle of an important task.
Weather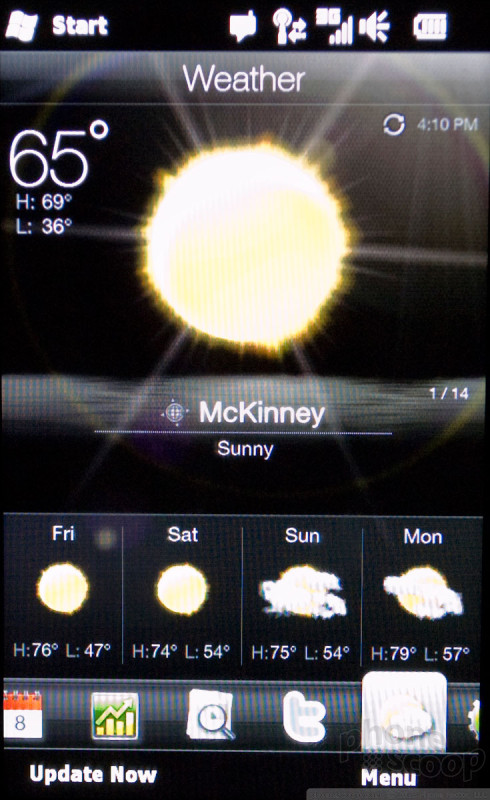 You can't review an HTC Sense phone without talking about the weather. HTC takes weather more seriously than any other manufacturer. The weather app looks amazing, perhaps better than any other built-in app, with forecasts that update using GPS for accurate local weather, and cool graphics to animate the prediction. When it's raining outside, the phone shows droplets and a windshield wiper cleans the screen for you. The Home screen can be customized with a live weather forecast wallpaper, so it's easy to check the weather at a quick glance.
GPS Navigation
TeleNav provides turn-by-turn navigation the HD2. The TeleNav app worked well on the phone, tracking me smoothly on my journeys in and out of the city. There's a good point of interest database, too, to find local spots. It's not the most modern app. The map doesn't support the pinch and zoom gesture, and the entire app could use a subtle visual refresh to keep up with the latest from Google and the third party navigation apps that are making headway in the various app stores. The phone also uses Google Maps for static mapping. It can offer you directions, but it can't offer you live, turn-by-turn directions on your trip. I wish these two mapping apps could come together somehow. Even if Google Maps simply sent the destination or route to TeleNav to finish the job, that would be an improvement.
Wi-Fi Tethering
The HTC HD2 on T-Mobile does not allow you to share your network connection with other Wi-Fi enabled devices. I only bring this up because I had a chance to use the European version of the HD2, and Wi-Fi tethering was one of my favorite features. Like the Palm Pre Plus on Verizon Wireless or the HTC Evo 4G coming to Sprint this summer, the Euro HD2 could act as a portable Wi-Fi hotspot and share its network connection with other devices. It would have been a great feature to have on T-Mobile's 3G network, but it got lost in the translation to the U.S. model.
Video
Wrap-Up
The T-Mobile HTC HD2 is the best Windows Mobile phone on the market (though the Touch Pro 2 is no slouch if you need a keyboard). Near the end of this year, Microsoft will release the first Windows Phone 7 devices, but I think the HTC HD2 will hold its own against the newcomers, and I wouldn't advise buyers to hold out if they find the HD2 appealing. It's the most polished Windows Phone HTC has produced, with so many details accounted for and surprise features thrown in that they were almost too numerous to count. From the detailed calling screens that show you contact info, messages and Facebook updates for your caller, to the accelerometer gestures to silence the phone or activate the speakerphone, the HTC HD2 represents some of the most innovative thinking of one of the best smartphone makers around. I can't imagine a first generation phone on Microsoft's new mobile OS will have the same level of polish and completeness.
It isn't all great news. The touchscreen doesn't work as well as I'd like, especially in apps that should take the spotlight on such a large screen, like the Web browser and the GPS maps. There are some cool movie options from BlockBuster, but these are nearly ruined by the horrible, ancient Windows Media Player. The HTC HD2 may be one of the best smartphones for calling, messaging and business tasks, but it still concedes to Apple's iPhone what the iPhone has always done best, which is entertainment. The HD2 is not a great pick for music, movies or games, and that's a disappointment considering lush, expansive touchscreen. I'm also disappointed that T-Mobile dropped the Wi-Fi tethering feature I liked so much on the international version of this phone.
So, if you don't mind putting in a little more effort, in the Web browser interface, the media player, etc, the HTC HD2 is a great phone. It gets so many things right that it's a joy to use in day to day business. Even in its flaws, it isn't a bad device, but it could be much better. In the end, the HD2 is an easy phone to recommend for buyers right now, no need to wait for the next big thing . . . and i do mean big.
Web Browser
I haven't used this phone, but is it me or is the amount of information Opera is able to show on that screen kind of uh... low? (Looking at CNN.com) ,
this is a tesy?
just wanted to point that out on the video 🤣
size does matter!
This phone is just too big for everyday practical use. Imagine this brick when you put a skin on it, even bigger.
The overall size is barely bigger than an iPhone. There is very little extra space around the screen like on most other touchscreen phones. The HD2 is almost completely screen.
Corrections
Having a clock in the top bar in all screens is available in the settings(settings > all settings > clock and alarm > more > display clock in title bar in all aplications), and you can rearange the order of the Sense tabs (settings > personalize > home screen tabs).

Opera 10 fixes the issues with scrolling and cliking on links not registering, but gives up pinch to zoom. Opera refits text to the screen better if you use double click to zoom, instead of pinch to zoom,
Kudos!
Great overall review, Philip!