Review: HTC HD2
Form Basics Extras Video Wrap-Up Comments 11
Multimedia Camera Image Quality Browse / Customize Extras
Photos
The photos I took with the HD2 came out looking very good. The 5-megapixel camera produced images that were sharp with plenty of details, at least under strong sunlight. Indoors, things fell apart a bit, but the ultra bright flash helped keep my images in focus. You have to zoom in to full crop to see the details fall into mush, at least under outdoor shots, but that's more than good enough for any Web sharing you might do with these pics. The best might even be print-worthy, if that's your thing.
Videos
Videos, like the photos I took, looked better in direct sunlight, though shadows and dark spots did give the camcorder some trouble. Indoors, the colors were damp and dull, though the flash did help light up my videos even in the darkest environments. Check out my sample below where I turn out the lights in the darkest room in my house. Lots of motion in my shots created a wavy effect, but when the camera and my subject were both still, videos looked good. The camcorder records at VGA resolution, so files can be quite large. Good thing the HD2 comes with a 16GB microSD card in the slot.
AD article continues below...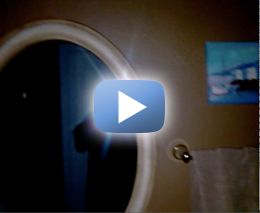 MPEG-4 format (viewable with QuickTime)
File size: 1.1 MB