Review: HTC HD2
Form Basics Extras Video Wrap-Up Comments 11
Multimedia Camera Image Quality Browse / Customize Extras
Camera Interface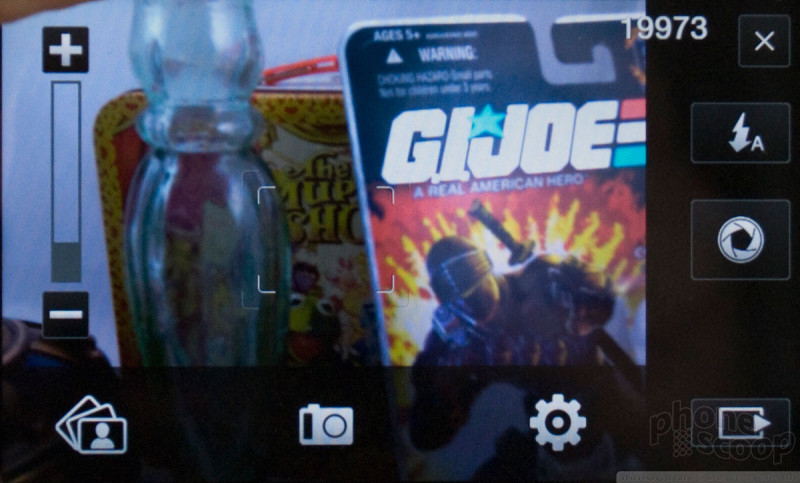 The HD2 on T-Mobile has a nice camera interface. It's simple, but there are some effective tools on board. The camera gets touch focus, so you can tap anywhere on the screen and the camera will focus on that spot. Without digging through menus, you can control the focus and flash, and the camera uses two very bright LED lamps around back for lighting. Deeper into the menus, you'll find options for white balance and simple color modes, but no scene selectors or advanced modes. The camera does feature a panorama mode to automatically stitch three pictures together. There's also a digital zoom control, but I avoid digital zoom at all costs. I'd like to see more controls on the main screen, especially macro focus and white balance, with toggles that switch as I tap them. But my biggest complaint is easily the lack of a camera button. I'd like a two-stage button on the side of this phone.
Image Gallery
The image gallery is simple, yet effective. There's a basic flip-through gallery on the Home screen; you can browse pictures by flicking the pile up or down. In the photo albums, you get a grid layout, and you can tap a picture for a full screen view. The gallery support pinch and zoom gestures, but these did not work so well, and the phone would occasionally confuse a pinch for a swipe, moving on to the next image instead of zooming out. From the gallery, you can start a slideshow, a nice feature since the HD2 is larger than some digital photo frames I've seen. You can also send your pictures and videos directly to Facebook and YouTube, or ship them off in an e-mail. There are no photo editing options on this device.
AD article continues below...