Motorola Q11 Pops Up on Motorola Site
Article Comments 9
Oct 8, 2008, 1:35 PM by Eric M. Zeman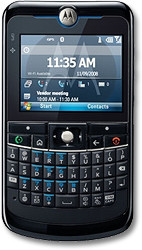 Motorola has published details about the forthcoming Q11. The Q11 makes some styling changes compared to the Q9, but still has a full QWERTY keyboard and will run Windows Mobile 6.1. It will have quad-band GSM/EDGE radios, as well as 802.11b/g Wi-Fi, GPS, and Bluetooth v2.1 with support for stereo. It will have a fixed-focus 3 megapixel camera with LED flash and will support microSD cards up to 32GB. There is no mention of support for 3G networks. The Q11 will be available in December, though Motorola has not said in which markets.
Looks uglier than the Q9
The original Q was good looking and it all went downhill.
well
I work for sprint and we talked about the Q9c yesterday the interesting thing is when I looked at his account he had a treo....
And what exactly are you talking about? 🤨
only a matter of time
before it hits CDMA carriers. so nobody complain.
Maybe I can get some whining in when they release the MSRP through Sprint.
Ok Sandisk, now design a 32GB Micro card...
😲
well they're shipping the 16's.

the Sierra compass for sprint can also recognize a 32GB card too, and that's been out for a few months already
32GB cards will probably be out this time next year, I'm basing that on 16GB cards coming out October this year.