Motorola E725 Launch
Article Comments 8
Mar 23, 2005, 7:00 PM by Rich Brome @rbrome
On-the-scene report from FFWDMOTO at the M3 music festival in Miami. Full coverage of the new E725 music phone.
Advertisements article continues below...
Page 1
Every March, the electronic music industry converges on Miami Beach for the Winter Music Conference and Miami Music and Multimedia, otherwise known as M3. Every night for a whole week, dozens of massive parties take place all over the city, filled with the sounds of the hottest DJs in the world.
This year, the event made a fitting backdrop for Motorola to launch their new E725 music phone.
The E725 is a CDMA phone for North America. Among its key features are EV-DO high-speed data and the BREW platform for applications and games. Although Motorola can't officially say which carrier might offer it, Verizon is the only major carrier at the moment with that combination of technologies.
Although the E725 is a respectable phone for most any purpose, the focus is on music. Like most new higher-end phones these days, it sports a memory card slot (miniSD) for storing large numbers of music files. An FM radio and built-in stereo speakers are also part of the package.
If that were all there was to it, it wouldn't be much different from several phones announced last week at the CTIA show. But where the E725 goes the extra mile are with features like the 3.5mm headset jack and FM transmitter.
While most phones these days have small 2.5mm jacks that only work with cell-phone headsets, the full-size 3.5mm jack on the E725 lets you jam with a full set of stereo headphones.
But the most unique feature of the E725 is definitely the FM transmitter. FM radio receivers are nothing new, (and the E725 has one of those, too,) but the E725 also lets you broadcast MP3s in stereo to a nearby FM radio - perfect for pumping tunes through a car stereo system.
The music player application on the E725 is implemented as a BREW application. This means it can easily be customized by carriers to integrate with their own over-the-air music download services. The EV-DO data capability ensures songs will download quickly.
Page 2
The design of the E725 is stylish, although not everyone will like the way the two halves of it look like two devices slapped together. Despite the appearance, the slide mechanism feels quite solid.
Spending a little time using it, it mostly seems like a well-built, well-designed device. But there was one small issue I found a little annoying...
In theory, the navigation wheel is a great idea, providing traditional four-way button navigation when you want it, and spinning action for scrolling through those long playlists (although it works everywhere else, too). But it gets dicey when you want to press in for the OK/select action. Because the wheel moves so many different ways, it feels a little wobbly, making it hard to hold still and press straight down. Hopefully it will be tweaked by the time it reaches market.
Other features of the phone include a nice 176 x 220 pixel display, and a VGA camera. It's a little surprising to not find a megapixel camera on a phone otherwise this advanced, but the focus is squarely on music. With so many phones trying to do everything and doing none of it well, it is a little refreshing to see a phone that has a clear focus in one area, and hopefully does that one thing (music) well.
The E725 also features rhythm lights and haptics (advanced vibration effects) that can sync to music and BREW games. Here's a super-quick video clip showing the rhythm lights in action: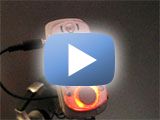 QuickTime format
File size: 310 KB
The E725 is slated to be available before the end this half (June).
Nuts, Verizon...
Is that a Get It Now logo I see on the menu? D'OH! Not that I thought Sprint would get it, but still... 🙄
Verizon sucks. From an industry based on greed they're the greediest with crippled phones and extras that cost infinite dollars. I think one can easily speculate that everything on this phone will be so expensive that it'll be ridiculous even for a hi...
(continues)
Back-light?
Ok, what is the deal here. Advanced phone, but green back-lighting? What the frick?
I'm not sure if that is an backlight of the phone. If you look closely you will see some of the numbers aren't lit up. PLus it looks liek a glow of a green light above it shining on the phone. Atleast thats what it looks like to me.
Hey look! "Real" photos even Mmcnier can enjoy.
As opposed to those "simulated" ones we had to deal with before. Pfft.
Blue-tooth?
🙂 Does this phone has blue-tooth?
I love that fact that this phone has stereo speaker phone. How about dual speaker phone?
Motorola make good speaker phone, lound and clear. I love it.
All I need is blue-tooth (voice dialing) and speaker phone. MP3 player I don't really use it.
Thanks to Rich Brome about the info. I saw this phone earlier but I cound not find more info and pics about this phone. I knew phonescoop would post it first whenever it is announced
Don't expect this one anytime soon
If Moto's track history with testing and releasing CDMA based phones is any history....this one may.....may hit the shelves in about 2007...just in time to be released with the CDMA RAZR.....way to go MOTO and CDMA!!!!
FINALLY!!!!!!!!!!
It's about time we had a phone like this! can't wait~