Motorola E725 Launch
Page 1 Page 2 Comments 8
The design of the E725 is stylish, although not everyone will like the way the two halves of it look like two devices slapped together. Despite the appearance, the slide mechanism feels quite solid.
Spending a little time using it, it mostly seems like a well-built, well-designed device. But there was one small issue I found a little annoying...
Advertisements article continues below...
In theory, the navigation wheel is a great idea, providing traditional four-way button navigation when you want it, and spinning action for scrolling through those long playlists (although it works everywhere else, too). But it gets dicey when you want to press in for the OK/select action. Because the wheel moves so many different ways, it feels a little wobbly, making it hard to hold still and press straight down. Hopefully it will be tweaked by the time it reaches market.
Other features of the phone include a nice 176 x 220 pixel display, and a VGA camera. It's a little surprising to not find a megapixel camera on a phone otherwise this advanced, but the focus is squarely on music. With so many phones trying to do everything and doing none of it well, it is a little refreshing to see a phone that has a clear focus in one area, and hopefully does that one thing (music) well.
The E725 also features rhythm lights and haptics (advanced vibration effects) that can sync to music and BREW games. Here's a super-quick video clip showing the rhythm lights in action: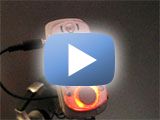 QuickTime format
File size: 310 KB
The E725 is slated to be available before the end this half (June).