Touch HD Spotted on HTC Web Site
Article Comments 29
Sep 15, 2008, 9:01 AM by Eric M. Zeman
updated Sep 15, 2008, 10:08 AM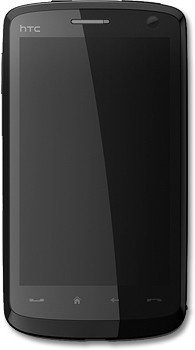 A new, unannounced Windows Mobile 6.1 Professional device was seen on HTC's Web site recently. The Touch HD has a large 3.8-inch wide, WVGA (480 X 800 pixel) display and uses HTC's TouchFLO 3D user interface. It has quad-band GSM/EDGE radios and 900/2100 7.2Mbps HSDPA. It has integrated GPS, Bluetooth 2.0 with stereo, Wi-Fi, a 5 megapixel camera and a 3.5mm headset jack. It also includes a slot for a microSD card. It will be available in select markets starting in the fourth quarter, though pricing was not given.
how much will it cost ?
how much will this probably cost 😎
considering how phones are going cheap these days, id put it between 199 and 299. looks to be worth it so far.
screen question
whats the resolution, and clarity?
is it on par with the iphone or bb storm?
As mentioned right on the front page, the resolution is 480 x 800 or Wide (tall?) VGA.

That's 2.5x the resolution of the iPhone (320x480 aka Half VGA) or a little more than double the resolution of the Blackberry Storm (reportedly 360x480).
the screen is actually LARGER than the iphones, there is a youtube comparison i found on this phone. www.youtube.com/watch?v=Aiw5PsQ50Uc . if it doesnt work go to youtube and look up htc hd english version
Spriint will be a sure bet for carrier...
...When the CDMA version becomes available. In our market area, HTC is a big seller. I would almost bet Sprint will be the next carrier after AT&T.
Im sure Sprint has a dibs on this phone already..... it being the NEW #1 iphone competitor/killer. honestly, all ive ready about this phone, and the clips ive seen on you tube, the iphone doesnt have a prayer.
www.youtube.com/watch?v=Aiw5PsQ50Uc
who will carry this phone?
will this be a phone verizon will use?
Can't be Verizon wireless or Sprint, it's a GSM phone, wrong technology. If I remember correctly AT&T is the best guess, because T-Mobile uses a different 3G band than this one covers.
could be anybody at this point. i would say, with the popularity of the touch, touch diamond and pro, all found on gsm and cdma, that its almost likely that sprint and verizon will offer them. att may have a hand in as well, it may end up in all marke...
(continues)
Nice Image (eye roll)
Cmon PS,

All the images floating around the web this morning and you choose the one image that contains a black screen...cmon now, lol.
This looks like a nice phone. I'm sure the image will be crisp and clear. Go HTC!
im sure sprint has first dibbs
well at&t doesnt have the deal with the htc touch and tmobile doesnt have a clue what there talking about, verizon is just dumb so yeah it most likely it will be with sprint. if they can afford it. 😉
It's a GSM phone. It won't work on Sprint's network. The version that's coming out is 900/2100 UMTS, which doesn't fit any U.S. provider's profile. No U.S. carrier will be carrying it for now.
HTC ROCKS!...
This device in "my opinion" is what makes HTC one of the best companies for smartphones. HTC continues to impress me as it grows and I will continue to put their products up against any other. The power, versatility, ease of use and durabilty is awesome. There is not much you can't do with their devices.
And this is they're first device with a REAL 3.5mm headphone jack!!!
for sure they went all out im using the tilt and i love it my friend has the diamond pro htc is the shiznit 😎
"there is not much you can't do with their devices"

Is that before or after the (insert number here) firmware update that fixes (Pick one: _battery life , _slow performance _unexplained crashing _dropped calls)

?