UTStarcom Blitz Goes on Sale at Verizon Wireless Site
Article Comments 26
Aug 25, 2008, 7:48 AM by Eric M. Zeman
updated Aug 25, 2008, 10:10 AM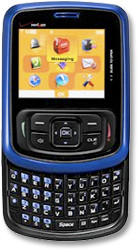 Verizon Wireless has made the UTStarcom Blitz available for sale via its web site. This messaging-focused device has a slide-out QWERTY keyboard, a 1.3 megapixel camera with dedicated camera key and self portrait mirror. It has a 2.5mm headset jack, but includes stereo Bluetooth and a slot supporting microSD cards up to 4GB. The Blitz is limited to a CDMA 1X radio, so it is not compatible with many of Verizon's V CAST services. It costs $70 after discounts with new agreement.
Why do people think this phone is so ugly?
why people think this phone is ugly. to me it looks pretty cool and it has a full keyboard. i don't like the off-center slide though. i like the fact that i can text with one hand since it slides vertical.
VERIZON HATES THEIR CUSTOMERS
it looks like Verizon just dislikes us for whatever reason...

they crack up the prices, and that's not sufficient, they supply with all market's garbage to us, and forcing us to buy it, and when something decent appears on the market they are the last one to get it, and not just last one but the last one with few years of delay!

remember good old RAZR? how long did it took them to finally get it? back in the days I was probably one of the first one who got it, but look at this phone now! color is pealing off, the are giving it away for free now, whatever happened to my $250??? where is the value in that?

I hate them too! I'm really thinking to switching, even though I like their service, but lately they not performing at their 100%,...
(continues)
trust me when I say this: I am not a verizon or ATT guy. and if at all possible I will stay away from the two most expensive carriers out there. However, Verizon is slowly switching to GSM for several reasons. the phone selection is one of them. unti...
(continues)
Really....wow.
Ummm....If you are feeling that bad about VZW that you have to troll and flame, MAYBE, just MAYBE you should cancel your contract and move on.
I'm not with VZW because of the phone selection. I'm with them because of the call quality ...
(continues)
Another piece of garbage like the Boulder
Why is Verizon subjecting their customers and themselves to so much grief by offering this crap?
its a pre-pay phone. give it a break
Aside from the ugliness....
What's with the off center screen? That would just get more and more annoying each time I'd look at it. Not that I'm going to be looking at this thing ever.
Ugliest Phone Ever?
Perhaps not, but very close. I was looking at this thing yesterday. I don't even understand who this is truly even being marketed to. And what's the deal with putting "SLIDE TO OPEN" right on the phone? C'mon...
Not to mention worthless. The only non EVDO phones anymore are super basic, what's the point of making a higher end phone (because of the QWERTY) without EVDO and charging $70 after rebate?!?! 😡
This has been available on InPulse since 8-8 and only in select Wal Mart stores. I picked one up last week. It's not the greatest phone, but it's not the worst, either. They are selling these for $99 on InPulse.
You would be surprised how many people nearly break my Samsung Juke display dummy because their philosophy is "If it doesn't flip open when you try to flip it open, then force it open!"
another craptastic entry from UTsuckCom
This will go alongside their G'zone "Can you hear me now?" Boulder, the suckiest phone ever released in history
Oh Man
Did you see that the phone has a self portrait mirror. That's so cool. LOL