Sony Ericsson Reveals TM506
Article Comments 5
Aug 21, 2008, 7:00 AM by Rich Brome @rbrome
updated Jul 28, 2019, 6:13 PM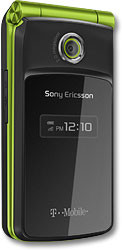 Sony Ericsson today announced the TM506, a thin clamshell phone for T-Mobile USA. The TM506 - Sony Ericsson's first 3G phone supporting the AWS band - marks the return of Sony Ericsson to T-Mobile's lineup, after the T610 debuted in 2003. The TM506 was first revealed in documents made public by the FCC, but official launch is now confirmed for early September. The phone will weigh 3.4 ounces and be 0.69 inches, about as thin as Samsung's T639. Key features include 2 megapixel camera, aGPS with TeleNav Navigator, stereo Bluetooth, and HSDPA data.
source: Sony Ericsson
Decent Enough
Seems like a pretty nice entry to middle level phone, menu's nice, TM 3g, bright screen, I just hope they offer it in some other color then at green. Although I can see my daughters wanting this.
I kinda like the green on the phone. Don't know if I would like it in 6 months of using it but I think its a sharp looking phone.
it will also come in black and amber, which looks a lot better.

dont forget it has gps through telenav
psp/ps3 menus
I was looking at some of the interface pics, it looks like the media menu is a port over of the psp/ps3 menus which is kinda cool. If Microsoft made a phone with the 360 menus it would be cool except after 8 or so months the phone would have three red lights and they would send you a box for them to either temporarily fix or send you a new phone. but at least if you broke your phone you would get a free month of xbox live.Think about it microsoft
Is this Gamespot.com or Phonescoop.com? Just kidding. lol. 🙂