AT&T and LG Introduce the Invision
Article Comments 13
Aug 20, 2008, 9:23 AM by Eric M. Zeman
updated Aug 20, 2008, 9:46 AM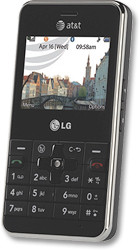 Today AT&T and LG announced a new mobile TV-focused handset. The Invision is a quad-band GSM/EDGE and dual-band 850/1900 HSDPA 3G-enabled device that AT&T also calls the smallest device able to access its mobile TV services. It has a 1.3 megapixel camera, Bluetooth 2.0 plus stereo Bluetooth, and XM radio. It will have a slot for microSD cards up to 8GB, and can use AT&T's video share service. It will be preloaded with Napster to Go. The Invision is available at all AT&T retail stores and online starting today for $99 with new two-year agreement.
XM Radio?
I am wondering if the phone receives the XM signal via satellite (like a Sirius Stiletto) or over the wireless web connection.

I want full Sirius (including Howard Stern) to be available on Sprint!
howard stern?... and i bet you want the Helen Fitzgerald Show on your Mobile TV as well!

am i the only one that notices the Dumbing down of America by these 1/2 rate entertainment shows?
There are no phones with satellite receivers, to answer your question - all XM streaming is done via MediaNet.
Keyboard
Why are the *, 0, and # keys on the right and not the last row?

That may take some getting use to.
Available Everywhere?
Amazing....The dealer channel cant order this handset....at least in the dallas market.

In contrast the SE W350 supposedly "launched" yesterday. I have had it for 10 days already.

Will
Its not even on their site yet.
Samsung Access repackaged!
All I've got to say is this thing is just as much a dissapointment as the Samsung Access!!
I don't even think the Samsung Access sold well? I never get calls about it just LG Vu.