Motorola Rocks Out with Three New ROKRs
Article Comments 5
Aug 5, 2008, 8:31 AM by Eric M. Zeman
updated Aug 5, 2008, 3:10 PM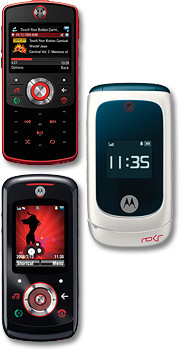 Today Motorola announced three new ROKR-branded mobile phones. All three are music-focused devices and have FM radios with RDS, full-sized 3.5mm headset jacks and stereo Bluetooth. They each have a slot for microSD cards and include Motorola's Crystal Talk technology. They will become available in numerous world markets at various times during the third quarter.
EM30: This bar-style phone slightly resembles the ROKR E8 and shares its quad-band GSM/EDGE radios, 2 megapixel camera, and ModeShift, which switches the keypad between standard phone controls and music player controls. It loses the E8's scroll wheel and replaces it with a standard D-pad and soft keys. The EM30 can support microSD cards up to 8GB.
EM28: This ROKR is a clamshell that will come in two different tri-band GSM/EDGE configurations 850/1800/1900 and 900/1800/1900. It has dedicated touch-sensitive multi-modal music controls that are part of the front display. The EM28 has a 1.3 megapixel camera that also captures video, and it can support microSD cards up to 2GB.
EM25: This slider will be available in two different dual-band GSM models, one 850/1900 and one 900/1800. It shares the EM28's 1.3 megapixel camera and offers FMShare, which will share a radio station with others by sending it in a text message. It will support microSD cards up to 2GB.
Tmobile
I'm guessing Tmobile will get these....
We , can call it? Chapter 11.
Keep it up Mr. Moto with this circa 2005 crap, and we can see you in the local Bankruptcy Court.
Is everything supposed to be the Iphone for you people to be happy. 🙄 If you don't like it don't buy it.
It is so easy to criticize moto these days... this doesn't sound that bad... it is not "welcome to 2005" I would call it "mid-range models".

Motorola is in deep trouble and we all know that, and none of these is going to save them, but any news sto...
(continues)
Also - Read the press release and get a little more well 'versed' in what the phones actually do 🙄 - 11 band equalizer, RDS Radio, 3.5mm jack (wish more OEMs would listen to that), A2DP (Apple? Hello - are you listening?) - None of these sound ...
(continues)