Review: Motorola Droid
Article Comments 31
Nov 2, 2009, 2:16 PM by Eric M. Zeman @zeman_e
Here is Phone Scoop's full-length, in-depth report on the new Motorola Droid. It easily bests most other Android phones out there, but still has a few major drawbacks.
AD article continues below...
Form
Is It Your Type?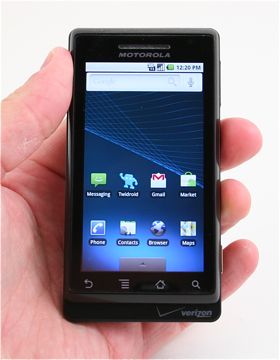 If you're a Verizon Wireless customer who's longed to be on the cutting edge, the Droid is probably your best bet. It is Verizon's first Android phone, and makes a bold entrance with Android 2.0 system software, a 5 megapixel camera and other features that the current crop of Android phones just don't offer. On top of that, it's well built, has an incredible display, and ain't bad looking, either.
Body
The Droid is already evoking the "love it or hate it" reaction from many people. If there's one thing it's got, it is its own sense of style that stands out from the growing number of look-alike Androids already populating the market. It is rectangular, with sharp edges and strongly resembles the black monolith from "2001: A Space Odyssey." As far as monoblock-style touch phones goes, its unique.
It feels very good in the hand. Though a bit on the heavy side, the materials feel top notch and the construction is sturdy and strong. There is a mix of metallic surfaces, plastic surfaces and soft-touch surfaces that are well conceived and make the phone comfortable to hold an use. It is big, though. The Droid has a 3.7-inch screen, and a bit of an odd ledge below it that extends the size of the phone. Despite the stretched length and width, Motorola has crafted one of the thinnest sideways sliders out there. It is a little bulky when stored in a jeans pocket, but it could be much worse.
The front is mostly the display, but at the bottom of the display Motorola has added four capacitive-touch buttons. These are the back, menu, home and search keys. These automatically have haptic feedback out of the box, but that can be turned off if users wish. These four keys appear to require a slightly longer touch to use than the capacitive display itself. This makes them harder to work with, but less prone to accidental pushes. Below these keys is the ledge. According to Motorola, this ledge is where all the RF antennas are bunched, and was designed on purpose to protrude a bit from the bottom of the phone.
The microUSB port is the only thing users will interact with on the left side of the phone. The camera key and volume toggle are both on the right side of the phone. The volume toggle was acceptable. It has decent travel and feedback and is easy enough to find. The camera key is a two-stage button. The two stages are subtle, but just enough so that users can tell them apart.
One of the most annoying aspects of the hardware is the power/lock key at the top of the phone. The key itself is just a small dash that is along the very top edge. However, there's a little angled surface next to it, and this angled surface is where the Power/Lock icon is painted onto the phone. This is really confusing. I found myself constantly pushing the angled surface that has the icon rather than the button itself. Users will likely overcome this misstep over time, but still, it left me scratching my head. The 3.5mm headset jack is next to the power key.
The Droid's slider is not spring assisted. In fact, it's a little difficult to push up. It's firmly attached to the bottom half of the phone, though, and there is no weakness or give in the construction. I don't mind the lack of assistance, but some might. The QWERTY keyboard underneath is Droid's biggest weakness. It has four rows, but they are somewhat shallow, meaning there isn't a lot of space between the bottom row and the top row. There's plenty of space from side to side. The keys themselves are a disaster. They have absolutely no shape to them whatsoever. It is impossible to tell where your thumbs are on the keyboard, and it is way too easy to press multiple keys at once. Also, the keys have minimal travel and feedback, making typing on the keyboard a miserable experience. To be honest, I gave up and used the landscape software QWERTY instead.
I found the landscape QWERTY to be decent. The width takes some getting used to, and some may not like how much screen real estate it consumes, but it does a passable job.
Another weird design flaw of the Droid is that the battery cover seems to come off too easily. More than once I had it come loose in my pocket and actually fall off when I took the phone out of my pocket. Other reviewers noted this, as well. Also, the battery needs to be removed to pull out the microSD card. Weak. Motorola should know better.
There are no physical send/end keys on the Droid. All your calling will be done with software on the screen itself.
In all, the Droid is an already better piece of hardware than the recently released CLIQ from Motorola, though it does have some major weaknesses.
The Three S's
Screen
In a word, wow. Motorola lists the Droid's display as 3.7 inches across the diagonal and 480 x 854 pixels. That sounds good on paper, but it'll knock your socks off in person. Pictures on web sites look amazing, video files look great and everything is razor sharp and clean. It isn't perfectly visible in the sun, but every touch phone display should strive to be this good.
Sound
I conducted a large number of calls with the Droid. I can safely say that call quality is superb. There was absolutely no noise, no hissing, no scratchiness — just clear conversations. The Droid's earpiece speaker is loud enough that you'll be able to hear it in noisy environments, such as a coffee shop or walking down the street, but loud places will drown it out. The ringers were also loud enough that you won't miss most calls, though I noticed a few missed calls. The speakerphone gets the job done, too.
Signal
Signal strength on the Droid was bit more inconsistent compared to other phones I've tested on Verizon's network. As far as the bars go, it would have full coverage, then one bar, then three bars, etc. None of that seemed to get in the way of the Droid's performance, though. I didn't notice any missed calls due to signal weirdness, and data sessions were quick. I noticed very few hang-ups when browsing and only slow-downs, not time-outs. The quality of calls alone leads me to believe that the Droid has solid signal performance.
Battery
The Droid fares much better than the CLIQ with respect to battery life. I was easily able to get through an entire day with modest use (even with Twitroid running in the background). Of course, heavy web browsing and messaging will help drain out the battery faster, but I still was able to get at least 18 hours out of the Droid. You're going to need to charge the Droid every night and will certainly need to bring a charger with you when you're away for a few days, but at least you won't have to carry it with you during the day.
Touch
The Droid uses a capacitive touch display, as do most Android phones. The Droid's touch interface was a little bit twitchy. I don't know if it was as screen issue or a processor/system issue, but every so often there were short gaps between pressing the screen and having the Droid react to what you wanted.
I noticed some slight stuttering and lag in screen transitions, especially from the home screen. Many will blame the processor for this. The Droid runs a Cortex A8 processor at 550MHz. Motorola claims that the processor can run up to 600MHz when required by certain tasks; 550MHz is merely the base speed.
Tech mumbo-jumbo aside, you may notice some laginess in the user interface and it isn't necessarily related to a bad touch screen.
Basics
Menus
The Droid runs Android 2.0 — also called Eclair. This is a much more robust version of the Android platform that brings changes to nearly every system of the phone. Despite all the changes to the platform, the basic menu structure is the same as Android 1.0, 1.1, 1.5, and 1.6. That means you have three main home screens that can be used to store applications, shortcuts, widgets and other content. You access them by swiping to the left or to the right.
Motorola and Verizon have not elected to customize Android in any way, and MOTOBLUR, Motorola's social networking service, is not present at all.
The main menu is accessed by swiping up from the bottom of the screen, kind of like a reverse window shade. This is where all the applications, widgets and anything you download from the Android Market wind up. If you download a lot, it starts to get intimidating. Thankfully, users can create folders and bundle their content to make this main menu easier to deal with.
The menu key brings up a small menu box at the bottom of the screen for each application on the phone. The menu key is the easiest and best way to access the phone's settings and control menus. That's where all the nitty-gritty stuff is buried. One you're past the main menu itself, all the secondary menus remain the white text on a black background. No changes there. Android is such a young platform, that it is still very easy to figure out.
Calls/Contacts
Calls
If you are bummed about the lack of send/end keys on the Droid I wouldn't blame you, but it's really not that hard to make phone calls. From the home screen, press the phone icon and the dialer pops open. The dialer is the stock Android dialer. There is a large number pad in the middle of the screen, and there are four tabs along the top to access the call log, contacts and favorites. The Droid offers haptic feedback when you dial numbers, which is a nice touch. Users can choose to disable that if they wish.
From the call log, press any call record quickly and it will open up the list of recent calls to and from that number, along with links to send that person a text message or view the full contact details. If you press and hold a call record, a menu screen pops up with a list of options, which include calling the number, deleting the call log and so on. To the far right of a call log is a green phone symbol. Press that if you want to start a phone call right away.
Android has natural support for Google Voice, which is Google's call-forwarding service. The application is pre-loaded. As long as you have a Google Voice account, you're good to go. It works flawlessly. Voicemails left on your Google Voice number are automatically transcribed and send as emails/text messages to a predetermined email address. They can also be retrieved in the Google Voice application.
Contacts
Android 2.0 brings some very welcome improvements to the contacts application. Android now supports Facebook APIs, which makes integrating your contact database with your Facebook friends a snap.
Obviously, the Droid will import all your Google and Exchange contacts if you have them. Adding Facebook friends is optional. If you choose to do that, the contacts application is smart enough to add the Facebook profile photos to your existing contacts and merge them into one contact. So, if you're friends with Jimmy Jones on Facebook and he's also a Gmail contact, you'll see only one entry for Jimmy, not two.
The new messaging shortcuts in Android 2.0 are awesome. In the contacts app, press the profile picture (or the little Android if there's no profile picture) and a little messaging menu pops up for that contact. In you have their phone number, it will show you the phone symbol to make a quick call, and you'll also have shortcuts to send them an SMS, email or go to their Facebook profile. If you know what you want to do when pressing a given contact, this makes it just that much faster.
Alternately, if you press the area next to the profile picture/Android, it will simply open the contact's page. Use the menu key to make changes or perform other actions.
Messaging
This is where Android 2.0's features begin to stand out. Android supports multiple Gmail and Exchange accounts, SMS, MMS, IM and social networking. In other words, if you want to reach out to someone, Android offers pretty much any way to do so.
Supporting multiple Gmail and Exchange accounts is something that will most likely only be used by business users, but it is a welcome addition to the platform. Not only does it sync emails right away, but contacts and calendar information as well.
The new unified inbox means all your email accounts are lumped into one giant inbox. You can choose to employ different colored labels for your different email accounts, and this helps you sort them out visually in your inbox. This unified inbox supports both Exchange and POP/IMAP. Gmail works in the unified inbox, too, though it is restricted to IMAP and doesn't offer all the features that the separate Gmail application offers.
SMS and MMS conversations are threaded, but the basic functioning of the SMS/MMS app does not appear to be changed. From the message composition screen, pressing the menu key lets you insert smileys, manage threads and attach files.
Google Talk is supported out the box and works really well with Gmail contacts. If you want AIM, Windows Live or Yahoo IM, you're going to have to search the Android Market for them.
If you're interested in Twitter and MySpace support, you're going to have to reach out to the Android Market. Facebook, however, is baked into Android 2.0. Since it is naturally incorporated in to the contacts application, there is a fairly feature-rich application for the phone itself. You can choose to load a Facebook widget to the home screen, which lets you cycle through your friends Facebook status updates, and also can be used to launch the full application.
One thing I like about Android is that new SMS/MMS, IM and email messages don't interrupt what you're doing. If you're in the middle of something, nothing pops up on the screen and gets in your way. Instead, all the notifications are sent to the notification bar at the top of the screen. This includes Twitter updates from apps such as Twitroid. If you want to see all your recently received messages, simply pull down the notification bar and you'll see them all there.
Extras
Music
One aspect of Android that's still been completely ignored since day one is the music application. It's exactly the same as on every other Android phone going all the way back to the G1. It works, but it doesn't offer much in the way of thrills.
When asked, Motorola noted that Google is working to improve this part of Android, but wanted to concentrate on the messaging and social networking features first. The Droid ships with a 16GB microSD card installed, and it is easy enough to drag and drop your playlists to the media card via USB storage mode.
Camera
Camera
Android's camera software has been overhauled a bit. Press the camera key to launch the camera. According to Google, the camera software is supposed to launch faster, but I am not seeing it. The camera still takes its own sweet time opening. On top of that, it feels buggy and slow. You'll press something on the screen, and then nothing happens, and you press again, and the software freaks out a bit and does three things at once. It's totally annoying.
The camera user interface has been updated. Now, there is a software switch on the right side of the screen to flip between camera mode and video mode. The shutter button is also there, as is the shortcut to the image gallery. There's a little tab on the left side of the camera frame. Swipe that to the right and you'll see the revised camera menu. Now, instead of overriding the camera and taking you to a separate page, the settings can be adjusted in a small window that appears on the left half of the screen. This leaves the right half of the screen displaying the active scene.
The menu items are more robust. White balance, flash, focus mode, picture quality/size, effects and so on can all be adjusted by the end user. These are welcome changes indeed.
The problem is, the camera feels even less usable than before. Because it is so slow, and so wonky, you never seem to know exactly when the camera is going to actually behave and take a picture. I had an amazing number of misfires when trying to capture images on Halloween. It also takes forever to focus, shoot and save each image.
Whether it's Motorola or Google, the Android platform need to make some serious improvements with respect to the camera's performance.
Gallery
The gallery software hasn't been changed too much and in fact loses most of the cool things Motorola had added to the CLIQ. There are no nice animations, no timeline, no robust editing features.
The basics are the same. Pictures are laid out grid style. Hit the options/menu key when in the main gallery and you're presented with six different actions. Once you select a photo and move into the slide view, use can flip through an album most pressing the arrow key. There are three basic buttons at the top of each picture that let you zoom in, rotate the picture and alter the slide show settings. Use the menu key to crop or rotate the image.
It's really disappointing to see so many of the innovations on the CLIQ lost here.
Pictures/Video
Pictures
Pictures captured with the Droid are really inconsistent. Some time they came out great, some times they came out terrible and some times they came out in-between. White balance was a problem across the board. It was almost never accurate. Pictures can be sharp and free of grain, if the camera focuses correctly.
The camera appears to have issues focusing on close-up objects. If you attempt to shoot something that is perhaps 18 inches away, the camera flashes the red box, indicating that the image isn't in focus. If you shoot any way, the image is, well, out of focus. This is disappointing to say the least. Even stuff that is four to six feet away can be out of focus. I think the problem is that the camera takes so long to shoot the image, you have to hold the camera still forever. Because the shutter fires off when you least expect it, you or your target could well be moving (even if slightly) by the time the camera gets around to capturing the image. The result is poor images. A camera that has a five megapixel camera with dual-LED flash should not be having these problems.
Video
Unfortunately, the video captured with the Droid is on par with the pictures. This is a shame. The Droid can capture DVD-quality video — 720 x 480 pixels at 24 frames per second. Video should be really good. While sharpness is solid and colors look good, white balance again is an issue.
As with most camera phones, you're going to see the best results when capturing video outside on a sunny day. Inside? Not so much.
We'd love to show you a sample, but for some reason when we transfer video files from our Droid to our laptops, it turns into gibberish. If and when we're able to surmount this technical glitch, we'll post a sample vide.
Browse/Customize
Browser
The browser on the Droid is the newest Android browser. It supports HTML5, and will support Flash early next year. The basic functionality of the browser itself hasn't changed much, but man does it look good on that HD display.
You can use your finger to navigate around web pages, or use the D-pad to pan about them. You can zoom in and out, and perform basic browsing with the phone in portrait or landscape orientation. You can also double-tap to zoom the browser in and out.
A quick press of the menu key opens up a dock with most of the navigation items you expect, such as Go, Bookmarks, Windows, Refresh, Forward, and more. There is a full list of settings that let you customize how the browser operates (such as enabling / disabling JavaScript, managing passwords and privacy and more). The options are quite extensive.
The bookmarks page has been overhauled, and now offers a pictorial representation of each bookmark. This means you have a nice grid of web site screen shots to pick from, rather than just a boring old list of web sites.
The browser lets you open up to eight different windows at a time. This lets you jump around between different web sites quickly. The browser also supports Google's MyLocation feature, which will help provide local results when you perform searches.
As for speeds, well, the Droid can access Verizon's EVDO Rev. A 3G network. For the most part, web sites load quickly. Every now and then you'll notice a pause or hiccup, but the experience is very good overall. The Droid also has Wi-Fi, and users can switch to that for browsing if they so choose.
Customize
Because the Droid runs Android, there are a lot of ways for users to adjust the way the phone behaves. Ringtones, wallpapers, screensavers and all the simple stuff is old hat; it can all be managed. The settings menu is becoming more complex with each successive release of Android. Users have full control over the radios, connections, syncing, the SD card, accounts, and so on.
One aspect about Android that doesn't appear to be customizable is the colors of the menus themselves. I don't know about you, but the white on black is getting a bit boring. I wish there were a more extensive color palette tho choose from. Perhaps when Android 3.0 rolls around...
Extras
Android Market
For all of your application needs, the Android Market is the place to get them. There have been some changes to the Android market lately, which include more information about each application, screen shots, reviews and ratings, and better search. It is still a bit clunky when compared to the iPhone Apps Store but its better than RIM's BlackBerry Apps World, Microsoft's Marketplace for Mobile, and Palm's Apps Catalog.
What's interesting is that there are no Verizon-branded services on the phone. No VZNavigator, no V CAST, none of that stuff. There is, however, a "Verizon" tab in the Android Market. Right now, Visual Voicemail is the only application that is there. I expect others will follow over time.
Bluetooth
The Droid supports Bluetooth 2.1 with two new profiles, OPP (to send photos back and forth) and PBA (syncing for cars or car kits). These are welcome additions to the Android platform. It was easily able to pair the Droid with mono headsets, stereo headphones and several computers. Sound quality in both mono (Plantronics Discovery 975 ) and stereo (Motorola S9-HD) headsets was quite good. No complaints from me at all.
Car Home
The Car Home application actually re-draws the user interface of the Droid into a facsimile of a GPS unit. It offers just five huge buttons to choose from, including voice search, navigation, view map, contacts and search. This app makes using the Droid as a navigation unit in the car much easier and safer. The application can be launched from the menu, but it automatically switches to Car Home when the Droid is placed in the navigation accessory.
GPS
One of the stand-out new features of Android 2.0 and the Droid is that it offers voice-guided turn-by-turn directions within Google Maps. This is an excellent feature for any phone to have, as it can completely supplant a stand-alone GPS unit in a car. Google Maps for Mobile is already a powerful mobile mapping program. It delivers solid directions, and supports layers that supply additional information such as traffic, Wikipedia entries and other points of interest. In my tests, the Droid did really well at providing routes and accurate turn-by-turn directions. It was able to re-route me when I purposely got lost, and it got me to where I needed to go.
Video Tour
Here is a video tour of the Motorola Droid. You can watch it here:
Or visit YouTube for more viewing and sharing options.
Wrap-Up
To say that the Droid is an exciting phone for Verizon Wireless is an understatement. The hardware is mostly good, though the QWERTY keyboard stumbles badly. It can be overlooked, however, if you don't mind using the software keyboards that are built into Android.
The essential phone features work well on the Droid, and call quality was excellent. You'll have no problems using the Droid as an actual phone.
It's great that the Droid has such a powerful camera with an improved user interface, but it's also hard to understand why it is so buggy and slow. This is a real disappointment on this device.
The real ace-in-the-hole for the Motorola Droid is that it is the first handset to market running Android 2.0. Android 2.0 offers a wealth of improvements when compared to other Android handsets and they are welcome additions to the platform. The Facebook integration is excellent, as is the better email support. It doesn't hurt, either, to have the free turn-by-turn directions being offered by the new Google Maps application.
Also, we'd be remiss if we didn't mention just how awesome the display is one more time. It makes so many of the Droid's features look that much better.
If you're an Android fan and have been waiting for Verizon Wireless to get on board, the Droid offers a lot of features and is certainly worth considering. Before running out to the store on November 6 when it goes on sale, I'd wait just a week or two to see what else Verizon Wireless has up its sleeves.
Cost?
has anyone seen a cost for this thing yet? I didn't see one in the review, maybe i missed it

assuming with a 2yr contract.
i got this phone new Verizon plan 2yr cost was 199.00 plus i got a car charger for 25


the total was 226.00

thats pretty darn amazing for a high end phone

🙂
Does it have a sensor on it for calls?
I am wanting to know if it has a sensor built-into it whereby when making calls and you place the phone up to your ear/face, the display/touchscreen will then disable so that buttons/widgets/etc aren't accidently pressed when the phone is put up to your face. My LG Touch has this, but the Storm1 didn't.
Iphone killer? Not a chance
having just spent a year struggling with the blackberry storm, i went to the iphone and ATT a couple weeks back. I was at verizon today to upgrade my wifes phone and was given demonstrations of the motorola droid by no less than 3 sales people (once they saw my iphone they couldn't help themselves i guess).

i was hoping for more from motorola but was very disapponted. so some observations:

- screen transitions were choppy not smooth and fluid like the iphone.
- overall design is clunky and kind of like a brick. i like the htc droid phone much better.
- lack of control of the software and hardware platform was evident given the lack of ergonomic factors.
- screen swiping was choppy not smooth like the iphone

- some of the app's we...
(continues)
If you like the Iphone so much stick with it. This is not the Iphone so stop comparing it to it.

One phone is called the Droid
One phone is called the Iphone

See?They're not spelled the same. People who are looking for an Iphone should buy an ...
(continues)
bluetooth app.
I need an app that will allow me to listen to music/podcast via bluetooth. Any suggestions?
Motorola makes a laggy phone? No way.
Not suprising that moto can't manage to make a smooth running device... I always assumed it was the verizon OS.. but must be a moto processor issue... It's a shame, I'll wait for the HTC version.
Funny PS found it laggy because all other reviewers said it's been anything but. Maybe a faulty unit?
I noticed a few discrepencies in review.
I believe you have a version with the non final software. Since I do remember when training on phone the original software was laggy for the camera but playing with the devices that will be selling Friday the Camera and Video work Great, Also in the Marketplace their is a Tab for Verizon software so far their is VZW Tones, My Verizon, Visual Voicemail, etc etc. I know this phone is going to be a hit and can't wait to get my own. I cant find any negatives yet on the final release except that it is not launching with tethering capabilty but will have that later implemented.
I made mention of the Verizon tab in the Android Market. Yes, VZW Tones was the only app in there.

Verizon Wireless and Motorola told us we have the final software build of the device.
To Reviewer: MMS Handling?
How well does it handle MMS..such as animated .GIF files that have sound playing in the background? Does it show the animation with the sound playing at the same time in the background or does it play the animation on one screen and the sound on another screen like the iPhone?
I want this phone!
The keyboard issue is kinda a bummer, but honestly I'll most likely use the touch screen keypad more if it's that bad.

For software lag, I'm confident that most of these issues will be resolved through firmware updates.

The main reason I want this phone though is for the interest it generates. We have a lot of customers looking for a multi-media focused cellphone, and while the Tour/Storm can do facebook, I think we all can agree Blackberry is still more business than party.

First thing I'll do when I get this phone is load a movie on it. My smartphone sales will be great.

One thing I notices with your review is you said the video quality was poor. Some other reviews I've read mentioned that while the camera was finicky, the v...
(continues)
I would hope a software update could fix the camera issues as well. 😕
Hmmmmm...30 day return policy, right? When I was an indirect ours was seven. What was that analog flip Nokia? It was our 'penny' phone. I would cross my fingers when I was forced to sell one. Oh and that black Ericsson phone. Those were wild tim...
(continues)
app storage limitation?
I've been reading about Android limiting where you can store applications. The Droid comes with 512 ROM for applications. (Not sure preloaded applications use up some of this .)

Are Android app developers that buttoned up and space conscious? Can I expect a game like TigerWoods to ever be available on this platform?

Is is even logical to compare it to my ipod touch that can utilize the entire 16 gigs for apps/music/video or whatever?

Six months down the road I don't want to be hassled with which app do I keep and which can I get rid of to make room.
remember most apps are TINY. blackberries only have 32mb for apps.

That being said, they are working for a way that only executable files have to be on the phone, an the data (the graphics, saved games, etc) will be able to be on the memory card.
The Kitchen sink is actually coming with any blackberry sale. It's the new BoGo offer if you don't have a second line. You can either get the smartphone or a nice ceramic bowl 😎