Review: Motorola CLIQ
Article Comments 9
Oct 14, 2009, 8:43 PM by Eric M. Zeman
Motorola comes out swinging with the new CLIQ, its first Android phone. The CLIQ uses MOTOBLUR to stream social networking content to the home screen. Does Motorola hit a home run, or a foul ball?
Advertisements article continues below...
Form
Is It Your Type?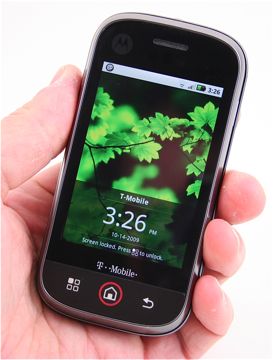 If you're a social networking butterfly and have an appetite for a constant stream of information flowing to the home screen of your phone, the CLIQ, from Motorola, could possibly be the phone for you. It marries a popular form factor with Android and the new MOTOBLUR platform, which delivers all your social networking updates in real-time. For some, this might be a dream come true, for others, a nightmare. Let's talk about why.
Body
If you are a regular reader of my phone reviews, you probably know I am not the biggest fan of sideways sliders. In my opinion, they make for bulky phones. In that respect, the CLIQ is no different. It's definitely heavy. It's not as huge as the HTC TouchPro2, but you're going to know that you're carrying it around. It feels OK in the hand, but I am not impressed with the build quality nor the materials. According to Motorola, the review unit we have is a final production build of the hardware but not the software.
The front of the CLIQ is dominated by a large touch screen. A blinking status light above the screen lets you know if there are new messages and that the phone is on. Below the screen are three buttons, not the usual five found on other Android phones. They are a menu key, home key, and back key. No send and end keys on this phone, which I find an interesting omission. The three buttons are flush with the surface of the phone, but are physical (not capacitive) buttons. You can find them easily with the ever-so-slightly raised markings for each button. The travel and action of the buttons is good.
The volume toggle is on the left side of the phone. It is flush with the surface and razor thin, making it somewhat hard to find and use. Travel and feedback leans towards the mushy side. Above the volume toggle is a sound on/off switch. The switch locks into position and can be used to quickly set the phone to silent or vibrate mode. Below all of these is the microUSB port.
The right has two small buttons. The upper button is the lock/power key and the lower one is the dedicated two-stage camera key. As with the volume toggle, both buttons are razor thin, perhaps a centimeter in length, and built flush to the surface of the CLIQ. I really wish these buttons were easier to find and use. Travel and feedback was minimal.
The slider is where things really go south. I don't know if it's because I have a shoddy review unit, but the top sliding half of the CLIQ is very loose. When closed, I can rotate it several millimeters in both directions. What's more, if you shake the phone at all, you can feel the slider move around a bit. Not good. The slider is spring-assisted, and you'll feel is pop open and thunk shut. Even when open, I noticed more play in the top half of the phone than I care for.
The CLIQ has a four-row QWERTY keyboard. The top three rows are where all the letters, numbers and characters are, with the bottom row being reserved for just five keys (alt, search, space, symbol, back). The keys feel OK, but not great. One key in particular, the "T", barely worked at all. Literally no travel and feedback on that key. The "Y" wasn't much better. The rest were acceptable, but the CLIQ's keyboard is far from the best I've tried.
Similar to the Nokia N97, there's a random D-pad to the left of the keyboard. I still don't understand why a D-pad is necessary on a touch phone, but there it is. What's really weird is that on the home screen, it has different functions. It can be used to jump from widget to widget, or from screen to screen. The problem is, there doesn't seem to be any rhyme or reason as to when it will jump between apps or between screens. Don't bother with it for home screen navigation, use your finger. Its best use — and the only one for which I can believe its on the phone at all — is to help with fine-tuning messages. Using the D-pad is easier to move the cursor around when composing. Otherwise, travel and feedback of the D-pad is acceptable.
If you want to get at the microSD card slot, you'll have to remove the back cover. It comes off easily enough. The slot itself has a weird locking mechanism that needs to be moved before you can pull the card out.
On the whole, I am disappointed with the hardware. The quality just doesn't seem up to par with what I know Motorola is capable of.
The Three S's
Screen
The CLIQ's display measures 3.1 inches are comes in at 320 x 480 pixels. It looks good, but doesn't hold a candle to the AMOLED displays from Samsung or the HTC HD2, for that matter. It is bright enough both indoors and out, and is colorful, no doubt. Given the size of the phone, I wish the display were a couple tenths of an inch bigger, though.
Signal
In a word, horrid. Where I live and tested this phone, there is ample 3G coverage from T-Mobile, yet the CLIQ barely connected to T-Mobile's 3G network. Most of the time, it fell back to EDGE. This made for terrible web and data performance. A phone such as the CLIQ needs 3G all the time to really be useful. On top of that, the CLIQ's EDGE performance was all over the map. According to other reviewers I spoke to in Chicago and Brooklyn, they were experiencing the same 3G issue. Motorola generally excels at making phones that are good phones. The CLIQ fails the signal test, and that surprises me a lot.
Sound
The CLIQ's ringer wasn't quite loud enough for me. Set all the way up, I wouldn't be surprised if you miss calls in noisy places such as coffee shops. If you're in a bar, set it to vibrate, there's no way you're going to hear it. As for the earpiece, volume here was much better. In noisy places, I could (mostly) hear conversations, and heard no complaints from my callers. On the quality front, phone calls did sound clear and were free of static, noise and other cellular nonsense. The speakerphone was loud enough for a quiet office, but not sufficient for any of the environments I announced above.
Battery
In a word, abysmal. We're talking hours, not days. With MOTOBLUR running, the CLIQ got 7 hours of battery life from a full charge. That's unacceptable for any phone. I adjusted every setting I could (screen brightness, radios off, etc.) over successive days, and at best was only able to get 12 hours of battery life before the CLIQ completely shut down. I asked Motorola about it, and they swear that MOTOBLUR has been optimized for battery performance. Hell, the battery inside the CLIQ is ginormous. I have to assume that the sheer number of Twitter updates that stream into the CLIQ (for me, because I follow about 2300 people) is the cause here. Six hours of talk time? Thirteen days of stand-by? Um, no.
Basics
Menus
The CLIQ runs Android with the MOTOBLUR user interface on top of it. The core, underlying Android menus are completely unchanged. What really sets the phone apart from other Android devices is MOTOBLUR.
Similar to HTC's Sense UI, MOTOBLUR extends the usable home screen space to five screens rather than the stock three. This means you have plenty of space to load up the CLIQ with apps, shortcuts, widgets or whatever. Out of the box, BLUR's Happenings, Updates and Messaging widgets are on the home screen. Happenings is a constant live stream of all your friends' Twitter and Facebook status updates. Updates are all of your Twitter and Facebook status updates. Messaging is a master inbox that combines your SMS/MMS and IM messages with Facebook messages and Twitter direct messages.
I'll tell you straight up: I love social networking, especially Twitter. I loved the concept of having a live feed of all my friends' updates on my phone's home screen. But in reality, it is simply overwhelming — and flat-out dangerous for your privacy (more on that in a minute).
As I mentioned earlier, I follow about 2300 people on Twitter. Guess what that means? People are posting updates every. Single. Second. Now, the phone doesn't beep at you, or vibrate each time a message comes in, but the feed updates all the time. I had to get it off of the main home screen and move it off the the side, because I found it to be too distracting.
Motorola has also plopped a news feed and an entertainment feed on the home screen of the CLIQ. All of these feeds can be opened and read separately. You simply press the feed, and start swiping from story to story, or update to update. In the news and entertainment feeds, you often have to click on a link and go to a full web site to read a story. All of the feeds can be customized so the content you want is delivered to the home screen.
In fact, all of the widgets can be customized, deleted, moved, whatever. Each user has plenty of choice when it comes to making the basic experience of the CLIQ their own.
On the privacy issue. The CLIQ strongly recommends that you set a password lock for the phone during the set-up process. After using BLUR for a while, I can see why. All of your messages are pushed to the home screen automatically. Anyone who picks up the phone will have instant access to your messages and Twitter/Facebook feeds and can read the messages directly on the home screen. Trust me, you don't want that. Password protect your phone or move Happenings and Messaging off the main home screen.
Last point I'll make here: the CLIQ is deadly slow. Transitioning from app to app, or screen to screen, or whatever just takes forever. Given the presence of lag on so many Android handsets I am beginning to wonder if the minimum specs for processor speeds are high enough to really support the platform.
Calls/Contacts
Calls
The dialer application is slightly different on the CLIQ when compared to other Android phones, but not too much. It can be launched from a dedicated software button on the CLIQ's home screen. There are no physical send/end keys. The main dialer has a large numeric keypad in the middle, with four tabs along the top and three buttons at the bottom.
The top tabs take you to the dialer, recent calls, frequently called numbers, and your speed-dial/favorites list. The default action when you launch the dialer is to search through your contacts. It's annoying that you have to turn the phone sideways and open it up to actually type in this search box. It doesn't appear to be possible to launch the software QWERTY on this screen.
The three buttons on the bottom to let you open the contact list, call whatever number is on the screen, or open up the voice dialer. If you can, I highly suggest you set up favorites/speed dials or make use of the voice dialer. Here's why...
Contacts
The way MOTOBLUR incorporates every single contact database you have into one, massive list makes the address book almost unusable.
Twitter is the main culprit.
As I mentioned earlier, I follow about 2300 people. Guess where they ALL wind up? Yep, in my CLIQ's address book. That's on top of the 1600 or so Gmail contacts I have, and hundreds of Facebook friends. Long story short, depending on how well MOTOBLUR integrates duplicate contacts, you could be seriously up a creek without a paddle. Search becomes the ONLY way to sort through this disastrously huge list of contacts. Also, the way MOTOBLUR combines everything is completely hit or miss. Sometimes it finds all the right email addresses, phone numbers and such for a person and puts them in one place, and other times you'll have five different versions of the same contact. BLUR is not perfect.
I asked Motorola directly, and there does not appear to be a way to remove those you follow on Twitter from the contacts application. If you follow lots of people, the best way to approach the contacts database is to set up groups to filter out the most important contacts. You can also open the address book and then choose to look at only your Gmail contacts, or Facebook contacts, etc. Or, just give up and use search and the voice dialer to find the people you want to reach out to.
There are some things about the contact application that I absolutely love, though.
For example, when you open up a contact card for someone, you'll see all the ways to reach out to them (call, email, SMS, Twitter, Facebook, MySpace, etc.). You'll also see the most recent messages they've sent you and/or the most recent status updates they've posted. This makes the address book a lot more interactive and fun.
Messaging
If you're a connected user, the CLIQ has you covered. In fact, the CLIQ has you smothered. With MOTOBLUR, messaging is built directly into several key aspects of the phone. Obviously, as discussed, on the home screen. Beyond that, BLUR integrates tightly with all your contacts. This means when you open your contacts app and look at any given contact, you'll see the latest message they've sent you or some of their latest status updates. No matter where you go, you can't help but see Twitter and Facebook updates.
The Happenings app is where it all happens, so to speak. From the Happenings app on the home screen, you can reply directly to any type of update or message via a link. You can also choose to view just Facebook updates or just Twitter updates or just MySpace updates, but this has to be done from within the Happenings application. Happenings has two separate ways it can be seen. On the home screen, it works via message cards that you swipe through from side to side to see the next message. From the main menu, it opens up a vertical stream that lets you see all the updates at once in one long continuous feed just as Twitter and Facebook do on the web. Why there's a difference, I can't say.
The Update application on the home screen lets you update one or all of your social networks at once. That's handy if you like Twitter and Facebook to be in sync.
The Messaging app can be viewed in one long stream, or you can parse out the different types of inboxes (SMS/MMS, IM, Facebook Email, Twitter DM). It takes a while to get used to how it works, but can be good to quickly scan through messages directed at just you. What's really weird is that the "Email" and the "Messaging" apps in the main menu take you to the exact same place — this integrated inbox mash-up.
As for Gmail, there's the stand-alone Android application for that. On the instant messaging front, Google Talk is built in, as is support for AIM, Windows Live and Yahoo. These are all no different than on any other Android phone. If you want, corporate email supported.
The CLIQ offers so many different angles to reach out to people, it takes a while to get used to. After several days, though, you'll learn to use it in a way that makes sense for you.
Extras
Music
One aspect of the CLIQ (and Android) that appears to have been forgotten is the music application. It is nearly identical to that of every other Android-based phone out there stretching back a year to the original HTC G1.
Loading music couldn't be easier. Attaching the CLIQ to your computer automatically puts it in mass storage mode and it shows up as a hard drive on your PC. You can drag and drop files directly into the CLIQ's Music folder and you're golden.
The player itself offers pretty much the same features you get from any phone-based music player. You can sort through music via artist, album, song, playlist, etc. Album art is displayed if it is tagged correctly, and the interface for playing music is simple and easy to use.
With a song playing, there are three software buttons on the screen next to the album art. They let you shuffle, repeat or view the current playlist. The menu button at the bottom lets you do a few more things, such as generate a "party shuffle", add the song to playlists, assign the current track as a ringtone or delete the track.
There is no way to alter or adjust the music with an equalizer, whether user-defined or preset. Music sounds OK through the external speaker, but not great. It may not be the most robust player on the market, but it offers enough to make it worth leaving a stand-alone MP3 player at home. Thank goodness that Motorola had the good sense to include a 3.5mm headset jack. This means the CLIQ will work with most standard stereo headphones.
Camera
Camera
The CLIQ boasts a 5 megapixel camera with autofocus, but no flash. The controls are almost identical to that of any other Android phone out there. The dedicated camera key will launch the camera, or you could wade through the menu. The camera takes about two seconds to launch — speed is still not one of Android's strong points.
Once it's activated, you have a square focusing box in the center of the screen. You'll notice -/+ signs at the bottom of the screen. That's your zoom control, which is one addition that not all Android phones have. To the left of the zoom control, you'll see little indicator to let you know what resolution you've chosen and a "tag" icon. Tap it, and it tells you your current location. Any pictures taken with the tag present will be geo-tagged accordingly.
If you want to take a picture, press the dedicated camera button halfway to focus and then all the way to snap the picture. You can accomplish the same thing by pressing the on-screen camera button.
The CLIQ has some more features in the camera application, and I am thankful for that. Using the settings, you can alter the resolution (5PM, 3MP, or 1MP), add color effects, toggle autofocus on/off set picture quality and even set the white balance.
Capturing an image takes perhaps a second to focus and another second to actually snap the shot. Some speed improvements would be nice, Google (and Motorola).
Gallery
Interacting with the gallery is definitely more fun on the CLIQ than with other Android phones I've tested. The basics are the same. Pictures are laid out grid style. A little arrow on the left side of the screen lets you toggle between photo albums, which is nice. There's also a nifty timeline that runs along the bottom of the grid, so you can quickly jump to the pictures you shot in January, April or September. I love this. The timeline also shows you if you took just a couple or a lot of pictures in any given month. You can also just drag the entire gallery from side to side to scroll through images.
Hit the options/menu key when in the main gallery and you're presented with six different actions, which is more than previous Android phones offered. They let you jump back to the camera, share photos, tag them, edit them, look at videos and also access basic file information.
The editing features are actually pretty darned good. You can adjust exposure, brightness, contracts, color saturation, red-green-blue levels, highlights and shadows AND see a before/after preview so you know what the edits will look like before you commit to them. Good stuff, Motorola!
Once you select a photo and move into the slide view, there are nice page-flip animations when moving from picture to picture. There are four basic buttons laid out at the bottom of each picture that let you zoom in, rotate the picture and alter the slide show settings.
In all, this is the best combination of camera and gallery software I've seen on an Android device.
Photos/Video
Photos
Images I captured with the CLIQ were hands-down the best images I've managed to get out of an Android phone. Clarity was good, focus was sharp, and white balance and color were well represented. It may not be the fastest camera around, but you're not going to be disappointed with the pictures you get with the CLIQ. Facebook worthy? You betcha. The one issue is taking pictures in darker rooms. Pictures tend to be less sharp, grainier, and who knows what will happen with the white balance. The lack of flash doesn't help.
Video
Video quality was decent, but didn't match that of the camera. Video had more grain, more pixelization, and was a bit stuttery when the CLIQ was panned about. What's really odd is the sound quality. We're talking 1940s era AM radio here. It sounds terrible. Check it out for yourself.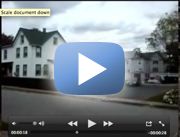 3GPP / MPEG-4 format (viewable with QuickTime)
File size: 1.9 MB
Browse/Customize
Browser
Android's default web browser is based on WebKit and can render full HTML web sites. The browser is very capable and looks really good on the CLIQ's screen. Other than the baked-in T-Mobile web2go home portal, I didn't notice any other T-Mobile or Motorola customized features.
You can use your finger to navigate around web pages, or use the D-pad to pan about them. You can zoom in and out, and perform basic browsing with the phone in portrait or landscape orientation. You can also perform pinching gestures to zoom the browser in and out.
A quick press of the menu key opens up a dock with most of the navigation items you expect, such as Go, Bookmarks, Windows, Refresh, Forward, and more. There is a full list of settings that let you customize how the browser operates (such as enabling / disabling JavaScript, managing passwords and privacy and more). The options are quite extensive.
My favorite feature is that the browser lets you open multiple windows at a time. This lets you jump around between different web sites quickly. The browser also supports Google's MyLocation feature, which will help provide local results when you perform searches.
One thing I'll say, with the CLIQ, browsing speeds were abysmal over EDGE. Since I was barely ever able to connect to T-Mobile's 3G network, I can't say we were ever able to give it a full test here. When I switched on Wi-Fi, browsing speeds were much improved.
Customize
You can customize the CLIQ about as much as you can customize any rich phone platform. Wallpapers and ringtones are easily altered. You can rearrange all of the menu items, clutter up the home screen with icons and more.
There are pretty robust ways to control the security of the CLIQ, how applications are managed, how the microSD slot is managed, how data is synchronized, how location information is reported and on and on.
Extras
Android Market
Yep, the Android Market is still alive and bustling. It is far more robust now than when it first launched in 2008. There are now about 10,000 applications to take advantage of. Many of them improve upon the features of the CLIQ and Android. According to Google, carrier billing support is on the way, so you won't have to rely on your credit card to pay for apps. One nice application that is pre-loaded is QuickOffice. That's a $40 piece of software and it lets you not only open, but edit Word, Excel and PowerPoint files.
Bluetooth
The CLIQ has Bluetooth and supports stereo headphones. Pairing was a snap with any sort of headset. Sound quality was good, but not super fantastic. It is worth pointing out that Android does not support a number of other Bluetooth protocols, such as PBA for integration with advanced car kits, no OPP, no FTP. It is a shame that these protocols aren't included yet.
Clock
Out of the box, the CLIQ does away with one of my favorite Android home screen features: the clock. Seriously, the nice analog clock that's included on Android phones is gone. Instead, the home screen is littered with Updates, Happenings and Messages. However, if you want to check the time quickly, the CLIQ lets you do that. When the phone is asleep, press any button and a nice large digital read out of the time is displayed at the bottom of the screen. Alternately, you can dig up the old-fashioned clock and add it to the home screens, though it won't fit with all the MOTOBLUR stuff that's on the central home screen.
GPS
The CLIQ has GPS and is married closely to Google's Maps for Mobile product. Maps works fantastically in the Android operating system. It was able to pinpoint my exact location within 15 seconds. It has Latitude, the new location-sharing feature built-in, as well. This lets you see where all your friends are on the map. The feature is opt-in, meaning users have to agree to use it. T-Mobile and Motorola were sure to throw in TeleNav GPS Navigator, too. But that costs money.
Social Networking
The CLIQ is a social networking phone, plain and simple. If this device doesn't satisfy your need to feel connected and important, you have other issues that need to be addressed.
Video Tour
Here is a video tour of the Motorola CLIQ, including a look at how MOTOBLUR works. You can watch it here:
Or visit YouTube for more viewing and sharing options.
Wrap-Up
This was a difficult phone to review. Motorola has obviously spent a lot of time developing BLUR, which is the most important aspect of this device. As excited as I was going into the review, I found daily use of BLUR (at east with respect to social networking) to be quite overwhelming. You may not.
"Social networking" is a powerful buzz phrase that is being applied to all sorts of different devices and services. The CLIQ lives up to this terminology better than any other device to-date. For me, it helped prove that I actually do have a limit to how much I can be bothered by other people's Twitter and Facebook updates. Silence may be golden, but with the CLIQ, there is no silence, and no gold.
One thing to consider, this is MOTOBLUR 1.0. I fully expect Motorola to continue to develop and refine it, hopefully in ways that make it more useful to the end user.
The sideways slider form factor is certainly appealing to many, especially those who prefer a real QWERTY keyboard for messaging. I am fine typing on glass, and wouldn't mind at all if Motorola halved the size of this phone and ditched the slider form factor completely. Less bulk would make me happy. But for those of you who need a keyboard, this is a notch in the CLIQ's favor.
If most CLIQs behave as poorly as my review unit did, then I'd caution users to stay away based on battery and signal performance alone. Any phone that can't make it through 12 hours is just no good. Neither is a phone that can barely connect to the cellular network. Hopefully, though, these faults are restricted to my unit and not all the production units.
In the end, I'd say you need to think about this phone a lot. Do you follow more than a few hundred people on Twitter? Have more than a couple hundred Facebook friends? Have hundreds or more people filling your Gmail contacts database? If you do, and can handle a non-stop stream of information pouring into your phone from all those people, then perhaps the CLIQ is for you.
Works fine for me!
I agree with most of the people on this topic. I think the reviewer got a hold of a bad one.
I have had this device for about a week now and I cannot complain about much. I live in a 3G area and have not experienced any of the switching between EDGE and 3G as frequently as reviewed.

The battery life is way better than the G1 or the MyTouch. 🙂

As far as the lag goes, none really. I have loaded over 50 apps on the phone and it still runs smoothly. Even when the phone is multi-tasking, I have no real issues. I can listen to music, browse the web (multiple pages), send and receive messages, and run other apps in the background, without a problem.

If you don't like the happenings widgets on one screen, then move them ar...
(continues)
Warranty Exchange
The reviewer definitely got a hold of a bad one because everything that was wrong with his is OK with mine. Not only that the signal and battery life are very good on mine. This is not a very good review, it is based off of a phone that is not working the way most of these phones do work. It's a little irresponsible to put that out there, because a lot of people use this website to see if they should get this phone.
👿
I think you got a hold of a bad one....
After using our store's demo model I can't do anything but praise it. The keyboard on ours is solid. The phone just feels solid. I have two personal complaints. The integration of your social networking sites into your phone contacts is abysmal and I hate that feature. I was using it and I removed all the standard widgets except for the weather.

The other complaint is the screan smudges super easily, but who doesn't put a screen protector on their phone the moment it comes out of the box?

The phone I have been using is fast, both browsing and using the phone functions. It's far better than the MyTouch and the G1.


I can't really say much about reception as our store sits in a dead spot but has a local repeater in house so it got ...
(continues)
Rough Review & High Hopes
Wow! Simply put. This was a rather big disappointing review. I too had high hopes for this phone. I wanted to upgrade my wife to it. She doesn't have "100's" of twitter and facebook contacts but this also means it could be a problem if/when it reaches that amount.

The calling and battery are the biggest issue for me here because she uses her phone every single day for all sorts of things. Recently its been a lot of GPS and Mapquest. She does do a lot of Facebook now more then Myspace and she does tons of YouTube. With the current battery issue she wouldn't make it through the day based on this review. The calling issue is simply, not acceptable on any level. This is, in the end, a cellphone. What good is such a device labeled as "cellphon...
(continues)
You might wanna check out other reviews for a more well-rounded conclusion. Not to put down Phonescoop's review, but not everyone has the same experience. CNET's review, for example, has a brighter outlook on the Cliq.
IF this is how the CLIQ is constructed...
...it doesn't give me high hopes for this phone. I especially like the demonstration of how the top half shimmies and shakes when messed with in the video.