Review: Motorola CLIQ
Form Basics Extras Video Tour Wrap-Up Comments 48
Is It Your Type? Body The Three S's
Oct 14, 2009, 8:43 PM by Eric M. Zeman
Motorola comes out swinging with the new CLIQ, its first Android phone. The CLIQ uses MOTOBLUR to stream social networking content to the home screen. Does Motorola hit a home run, or a foul ball?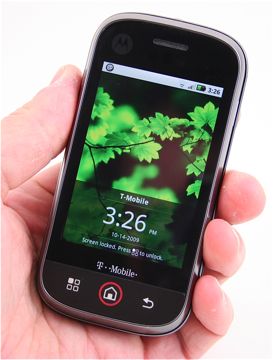 If you're a social networking butterfly and have an appetite for a constant stream of information flowing to the home screen of your phone, the CLIQ, from Motorola, could possibly be the phone for you. It marries a popular form factor with Android and the new MOTOBLUR platform, which delivers all your social networking updates in real-time. For some, this might be a dream come true, for others, a nightmare. Let's talk about why.
Works fine for me!
I agree with most of the people on this topic. I think the reviewer got a hold of a bad one.
I have had this device for about a week now and I cannot complain about much. I live in a 3G area and have not experienced any of the switching between EDGE and 3G as frequently as reviewed.

The battery life is way better than the G1 or the MyTouch. 🙂

As far as the lag goes, none really. I have loaded over 50 apps on the phone and it still runs smoothly. Even when the phone is multi-tasking, I have no real issues. I can listen to music, browse the web (multiple pages), send and receive messages, and run other apps in the background, without a problem.

If you don't like the happenings widgets on one screen, then move them ar...
(continues)
Warranty Exchange
The reviewer definitely got a hold of a bad one because everything that was wrong with his is OK with mine. Not only that the signal and battery life are very good on mine. This is not a very good review, it is based off of a phone that is not working the way most of these phones do work. It's a little irresponsible to put that out there, because a lot of people use this website to see if they should get this phone.
👿
I think you got a hold of a bad one....
After using our store's demo model I can't do anything but praise it. The keyboard on ours is solid. The phone just feels solid. I have two personal complaints. The integration of your social networking sites into your phone contacts is abysmal and I hate that feature. I was using it and I removed all the standard widgets except for the weather.

The other complaint is the screan smudges super easily, but who doesn't put a screen protector on their phone the moment it comes out of the box?

The phone I have been using is fast, both browsing and using the phone functions. It's far better than the MyTouch and the G1.


I can't really say much about reception as our store sits in a dead spot but has a local repeater in house so it got ...
(continues)
Rough Review & High Hopes
Wow! Simply put. This was a rather big disappointing review. I too had high hopes for this phone. I wanted to upgrade my wife to it. She doesn't have "100's" of twitter and facebook contacts but this also means it could be a problem if/when it reaches that amount.

The calling and battery are the biggest issue for me here because she uses her phone every single day for all sorts of things. Recently its been a lot of GPS and Mapquest. She does do a lot of Facebook now more then Myspace and she does tons of YouTube. With the current battery issue she wouldn't make it through the day based on this review. The calling issue is simply, not acceptable on any level. This is, in the end, a cellphone. What good is such a device labeled as "cellphon...
(continues)
You might wanna check out other reviews for a more well-rounded conclusion. Not to put down Phonescoop's review, but not everyone has the same experience. CNET's review, for example, has a brighter outlook on the Cliq.
IF this is how the CLIQ is constructed...
...it doesn't give me high hopes for this phone. I especially like the demonstration of how the top half shimmies and shakes when messed with in the video.