Palm Centro Comes to Verizon Wireless
Article Comments 25
Jun 12, 2008, 7:30 AM by Eric M. Zeman
updated Jun 12, 2008, 7:54 AM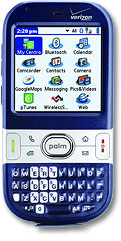 Today Verizon Wireless and Palm announced that Verizon will begin selling the Palm Centro for $99 with a new contract. The Verizon version of the Centro is identical to the version that's been available on Sprint's network since late 2007. It will be available beginning tomorrow, Friday, June 13.
source: Palm
$389 (or so) if you are a customer of Vzw already
Just called. It's actually cheaper if you want to leave Vzw and go to a company who isnt as assholey.

They should offer dedicing subsid costs for people who are up for renewal in a few months.

But I guess just going elsewhere is easier as well 🙂
so what are you actually complaining about....
i am confused
News on page says phone will be $99, but on verizons website and when i called customer service the phone is 269.99 with a 70 dollar rebate. When will it be 99 dollars?
Maybe they just changed it, but it now shows as $169.99 w/ $70 mail-in rebate.

And even though it's a late release date for this phone, this phone has gotten great reviews and gets great reception, so I'm sure the market is big enough for VZW to ma...
(continues)
In the stores there is also a 100 instant rebate if you up for the 29.99 data plan. Mine was 269-100=169-70(mail in rebate) to get it for $99.

Very confusing and most I spoke to at the store all gave me different answers. I took a printout of th...
(continues)
it is 269.99 with a 2 year but like mentioned previously you get $100 advanced device credit if you get the data package and minus the $70 MIR the final price is $99.99.But vzw does not tell cust about the advanced device credit because when you get t...
(continues)
WHO CARES!!!!! PALM IS DEAD!
Enough with the stupid Treo's! The Treo is DEAD! Palm has not updated it since 2003, but still feels the need to come out with stupid so-called updates and rip customers off. Now they are coming out with the Treo 800, then 6 months later the 850.

DO NOT WASTE YOUR MONEY ON FAULTY, OUTDATED, PALM TRASH! Palm doesn't even make their own PDA's anymore, they just hire some foreign company to do it. Just like they outsourced their tech and customer care. And just like they outsourced their PalmOS line.

If you waste your hard earned money on these pathetic attempts by Palm to milk customers over and over again, your feeding them. Let Palm die and let the Treo die!
Palm is definitely on the outs, but not dead...yet. Palm software has worked great, has a loyal fan base, but it's not sexy. I'd hate to see it go away forever...but if they drag their feet any longer, goodbye. I'd rather see a revival.
must only be me..
Yea I agree it is long overdue and doesn't have some features that other phones have but I'm excited about getting the Centro. 😁 I no longer have to carry two devices (current phone along with my PDA). They have sold over a million so far so there is a market for it.
wow that took long enough...
good job VZW. I guess better late than never. not only are yall way behind you got a crappy PDA too.
Irony...
Sprint has the RED Centro. Verizon has a blue one.

Shouldn't it be the other way around?


Oh... and I'll be the first one to make reference to the Bloods and the Crips.
I was thinking more of an Ohio State and Michigan thing...then again, the first Centro by Sprint was Black...
Very Nasty
I don't like the looks for a Blue Centro My Red Centro with Sprint is the Best.