Samsung Reveals Omnia Flagship Smartphone
Article Comments 29
Jun 8, 2008, 9:41 PM by Rich Brome @rbrome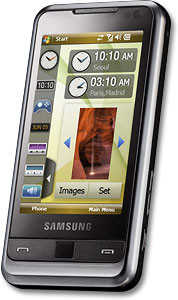 Samsung today announced the Omnia, a high-end smartphone that combines Windows Mobile 6.1 with Samsung's TouchWiz finger-touch interface. The Omnia supports quad-band GSM/EDGE, plus HSDPA 7.2 for Europe and Asia. Key features include a 3.2-inch wide touch display, GPS, stereo Bluetooth, WiFi, and up to 16 GB of internal memory plus a memory card slot. A 5-megapixel camera is also included, and sports auto-focus, geo-tagging, auto-panorama, stabilizer, face detection, smile detection, and video editing. FM radio and auto-rotation round out the features packed into the 12.5mm body. The Omnia will be available in Asia starting in June, followed by Europe in July. The Omnia's model number is SGH-i900; an SGH-i907 (with the "7" implying an AT&T model) was recently approved by the FCC.
source: Samsung
This looks like an absolute mess
I already dislike WinMo, but having suffered with an HTC Touch I can just flat-out say that these mediocre touchscreens and WinMo's stylus-optimized interface make for a nasty combination. These tacked-on launchers don't make it any better- they just consume more idle resources.
Yeah everyone thinks they can compete with the iPhone...
No one gets the fact that its the advancements, functionality, OS that makes the difference.
KICK ASS PHONE!!!
wow this is reallly nice phone... WM 6.1 plus touchwiz interface... wow 5.0 mega pixel, 16GB!!!!! internal PLUS MEMORY CARD SLOT?? holy cow!!! take that stupid iphone!!! how come T-mobile can't have something like t his??? stupid t-mobile....
There's a chance TM can pick this up, depends if they can talk Samsung into tossing in a 1700 radio.
Nice!
Just nice!! This'll show Apple where to stick the iPhone!
You have to be kidding.
What makes the iPhone YEARS ahead of any other is the OS, concept, as well as the feature rich touchscreen.

Hey your apparently anti Apple ok but I'm waiting for a product that is different and visually, feature, challengin...
(continues)
Browser and BT features
First, to those who think AT&T might not want this apparent iPhone competitor, remember that this is not 3G. The new iPhone will sell but the AT&T 3G coverage is still only in major metropolitan areas. That leaves HUGE portions of the customer base either buying up recirculated 1st gen iphones or buying the new one and paying the higher data rates even though there is no 3G signal. Plus, the iPhone still lacks a long list of features that THIS Omnia phone provides. I am looking forward to seeing this phone.

What I do not know, as I am not spec tech savvy and so hope someone will educate me, revolves around the BT profiles, the browsers and the contacts fields. There is a youtube video that says the i900 model comes with both IE brows...
(continues)
cdma shafted again..
instinct or omnia thing, which would you pick?

this is like, hey sprint we just made you this really cool phone, exclusive to you. nice huh? well BAM! we made something 10 times better for these other guys, good luck 😉
Couldn't agree more. Geez this phone could be better than the N96 with its touch screen interface. I just lost my interest for the instinct.
whoa...
I really hope AT&T gets this, but doesnt strip any of the features...

Instinct killer me thinks.
Why would AT&T get this this year, when this will compete with the iphone 2. Heck, this might have better specs than the iphone 2, since it has a 5MP camera and other features. yes, it may have WM6.1, but its still has other nice features. I don't thi...
(continues)