HTC Announces Touch Diamond
Article Comments 18
May 6, 2008, 6:28 AM by Rich Brome @rbrome
updated May 6, 2008, 8:44 AM
Updated: Added auto-rotate and YouTube info, added link to HTC site.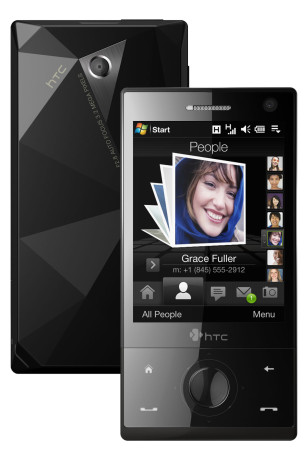 HTC today announced the Touch Diamond, a finger-touch device with a new HTC user interface based on Windows Mobile 6.1. The thin device has HDPSA/HSUPA, a VGA display with auto-rotation, and a custom YouTube application. It will be available from all major European carriers in June, and most of HTC's major carrier partners worldwide later in the year. The new TouchFLO 3D user interface includes an extensive interface with special finger-touch versions of major applications. Carriers can have custom themes and applications fully integrated into TouchFLO 3D. The Touch Diamond also has a 3.2 megapixel camera with autofocus, 4GB of on-board memory, Bluetooth 2.0+EDR, 802.11b/g Wi-Fi, and GPS.
Word on the street...
Word on the street is that T-Mobile USA is releasing an AWS version of the Diamond in July. We'll see. 😎
iPhone killer :p
Yeah, I said it. 😛 Someone has to say it for every phone like this. But seriously, it's damn close.
I think you are right...Now to really see hands-on functions (ex: touch screen text messaging and touch sensitivity). 🤨
This wont work in the US for 3G - it kills nothing, unfortunately.
this phone will be the battery killer. 🤣
this isn't going nto do anything to the iPhone while it's on GSM, especially WGSM bands.

put it on US CDMA, now we've got a lethal threat to the iPhone
Licked the UI More Than The Phone!!!
🤤 After all the hype ..i gotta say the phone looks like a Reg Hot phone , btu That UI is crazy somthing like a WM\Iphone\HTC hybird! All the little touches they put on this is crazy ...shaping up to be somthing hot
Learn how to articulate your feelings better - just some advice.
hyping May 6 for nothing!
i will wait for Sony X1 instead! with 3" WVGA at 800x480 compares to HTC diamond with 2.8" VGA at 640x480!
yet another hurry up and w8 for USA peeps 🤣
Dosnt matter - those phones wont be coming to the US for some time. Dont worry, and just buy a cheap flip phone, because none of you are important enough to own one of these - LOL
omg ...
... that thing is sexy.
Wow I submited this phone as missing on the site three days ago...

o_O
picture.
isn't the picture of the lady also used in some iphone ads or promo stuff?