Review: HTC Touch Diamond
Form Basics Extras Video Wrap-Up Comments 26
Is It Your Type? Body The Three S's Touch
Oct 3, 2008, 11:07 AM by Eric M. Zeman
HTC offers up a CDMA version of its Touch Diamond for Sprint. It is a mixed bag of HTC goodness and Windows Mobile madness.
Advertisements article continues below...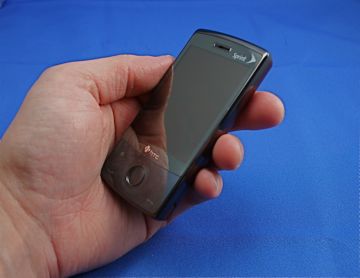 The Touch Diamond combines style and the powerful Windows Mobile platform that many business users need with the HTC TouchFLO 3D user interface. The Diamond does make a few concessions, however, that are sure to put some potential users off.
Its Finally here!!! The flawless Diamond
Ive been waiting a long time for this phone. So far its overall amazing touch-flo nav and 4gb internal memory, Opera browser. What more can you ask for from a phone this small 😁
-Still runs horrid WM6.1
-Only 4GB of internal memory(not expandable)
-On screen keyboard only(horrible if you send a lot of text or email.)
-Back cover looks cheap and horrible color.

I think I will go with my G1 with a huge screen, full keyboa...
(continues)
If anyone states the obvious about this phone in comparison the Pro i will make it my mission to set the record straight which is why im here anyway. The Diamond is the compact version of the full sized big brother the Pro. But this phone can easy tak...
(continues)
So kef27 I guess u completly over looked the fact that his name is tmo slave. Bottom line buy the phone because you like the phone and its features not because of some petty argument between to people who would clearly disagree on the color of the sky...
(continues)
battery
the review says 2.5 days battery with all that use. How did you manage that. I only get about 1/2 day battery with almost no use!? Did you configure something, or was this after letting the battery be used some time for several charges as some people say to let happen? Should I ask for a new battery ?
come on reviewer, can you explain this. I just recieved another device guessing it was mine, and still same crappy battery life. dies with little to no usage in less then 18 hours. how did you get 2.5 to 5 days standby with usage?
Couple of questions
When you were reviewing it, did you happen to use the stereo bluetooth on it? I don't have a bluetooth headset right now, accidentally broke mine and saving up for another one.

Also, you mentioned how much of a pain it is to use the headset adapter. It's not too bad if you are using it on the desk or something like that. I do see where it's a pain when you want to use a 3.5mm headset and not be at a desk. Did you try the mini usb headset that comes with it? They seem to work OK for me.
🤭 Oops, forgot to mention that the guys here at my store have used the stereo bluetooth and said it works very well and sounds awesome.
Worth Every last penny!!!
Finally a phone that can stand on 🙂 its own without help. 😁 Both the iphone and the g1 need to be outsourced. ☹️ They cant mms or take video alone. 🤣 No bluetooth transfer 😕 or television and depends on wifi access for internet and download speed. With the Diamond you can take and send video, watch live television, replace the battery, cut and paste, save directly to memory card, small size, flash support, cruise the internet (fast) watch movies (fast) download music in the blink of an eye all away from wifi. Do this and a whole lot more straight out the box! Wow! Thanks HTC! 😎This phone is the best 😉
I like Diamond's browser better
I can actually cut and paste. Enough said -.-
size comparison
I was wondering if we could get some pics of the treo 800w, treo 755 and some other pda phones to get an idea of the thickness in comparison to the daimond and the diamond pro... i like the pro but would like a phone alot less thick than my treo 755p 😁
Landscape Surfing
Quote from review "The screen is large enough to make the mobile Internet rewarding, bit I do wish that you can surf with the phone sideways. The Diamond only surfs the Web in portrait orientation. "

You can surf opera in landscape, just turn it sideways since it has the build in accelerometer. Granted sometimes it doesnt register, it will do it tho...
I tested this again this afternoon. It still won't rotate the screen. Could be the accelerometer in my review unit is faulty.
Bad Information
The review states you need the adapter to use the headphones. Completely false. The headphones plug right into the phone without the adapter. Great Job there Eric.

Retraction?
To use common 3.5mm headphones (Sony, Bose, RCA, etc) you do need an adapter. No retraction needed.
Not too shabby HTC
I have to say, after reading this review, the Diamond doesn't look too bad. Being that I already own the HTC Touch, I'm extremely happy that HTC decided to expand on the Touch Flo user interface. I only wish my touch could adapt it. Now on to a sprint store and to play with the new phone!