Review: Nokia Surge
Article Comments 40
Aug 13, 2009, 5:37 PM by Eric M. Zeman @zeman_e
Nokia's Surge for AT&T offers a full QWERTY paired with S60. If you're thinking this is a match made in heaven, think again. It gets most things right, but definitely makes a few concessions.
AD article continues below...
Form
Is It Your Type?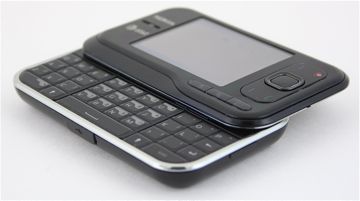 The Nokia Surge is a messaging phone. The full QWERTY keyboard gives it away as such. As with many lower-cost messaging phones, the Surge makes a few concessions in order to remain affordable. Some of them may be enough to give potential buyers cause. Still, there are plenty of positives to consider.
Body
The Surge is somewhat of a departure for Nokia. It has made sideways sliders in the past (most recently the E75), but this one is a bit of an odd-ball — at least as far as looks are concerned. It has a large-ish footprint and I felt it was a bit wide (when closed). It has a decent amount of heft to it. With that said, it will fit into a pocket easily enough, and doesn't feel too awkward to hold.
When holding it in portrait orientation, the display is off-center, and this really bugs me. It may not bug you. It gives the phone a weird look. The navigation cluster is positioned below the display, and consists of a D-pad that is integrated into four other keys surrounding it. The two soft keys and send/end keys are easy to find and use and have good travel and feedback. I thought the D-pad was a bit on the small side, and my thumb felt a little scrunched when using it. It offered good travel and feedback, though.
To the left of the navigation cluster you'll find three dedicated application keys that launch the browser, the main menu, and the messaging center. These buttons are a bit slim, and are positioned for easier use when the phone is open. They have minimal travel and feedback; I thought they were pretty mushy.
The slider mechanism that opens the phone works well. It has just the right amount of spring assistance. I found there to be very little give or side-to-side play with the slider; it felt solid. Opening the phone automatically unlocks the phone and changes the display to landscape orientation. (It also has an accelerometer on board — internal sensor that reacts to the direction a phone is held — that does the same thing, but it often got confused, and re-oriented the phone when I didn't want it to.)
Ah, the keyboard. Nokia QWERTYs seem to spark wildly different opinions from users, and I am sure the Surge will be no different. To me, the plastics feel cheap. On the other hand, the keys are much larger and easier to find than those of the N97. They also have much better travel and feedback than the N97's keyboard does. For my money, it is not as good as what Nokia was able to do with the E71 or E72, but it easily bests the N97 and E75. In other words, it will work well for most users. Perhaps the only item I'd nitpick about is that there are no dedicated keys for smilies, text messages, or other web-friendly text such as "www" or ".com".
The left side of the Surge houses the microUSB port, which is covered by a hatch. The hatch is no trouble to remove. The microUSB port can be used for data transfer. There is also a small charging pin located at the top of the Surge.
One bummer is that the Surge has a 2.5mm headset jack. This means it will require an adapter for most 3.5mm stereo headphones. On the right side of the phone, you'll find the volume toggle and dedicated camera key. Both of these keys are small and offer minimal travel and feedback. I also feel they would be easier to use of positioned higher on the side of the phone.
The microSD port is located under the battery cover, but thankfully not under the battery itself.
In all, the Surge gets some of the basics right, but there are a few oddities here that take a bit of getting used to.
The Three S's
Screen
The Surge's screen is decent, but not fantastic. It gets the job done. It's bright enough for outdoor viewing, is large enough that icons and other on-screen objects don't look squished, but it just doesn't have the pow or pizzazz that other devices offer. Given the Surge's mid-range positioning, it's not surprising that its display is somewhat lacking, but a couple more millimeters would have helped out a lot. Bottom line, it lets you do most things with the phone no problem, but isn't meant for media playback.
Signal
The Surge is a solid signal hound. It connected to AT&T's 3G signal no problem pretty much anywhere I took it. I noticed a few wobbly moments in the concrete canyons of New York City, but I didn't miss any calls or messages due to signal gaffes.
Sound
Earpiece volume of the Surge is perfectly acceptable. In a very noisy coffee shop, I had no trouble at all hearing callers and vice versa. Quality of the calls was also excellent. No crackling, no static, just clear phone calls. The speakerphone also works well. Nokia usually excels at the "phone" part of its cell phones, and the Surge doesn't disappoint.
Battery
As with all phones, usage will play a major role with respect to battery life. With a good amount of browsing, emailing, and calling (I'm talking hours worth of phone calls), I consistently got 2 full days of usage out of the Surge. You can probably get away without bringing a charger for a weekend getaway, although personally, I would bring it just in case.
Basics
Menus
The Surge runs S60 3rd Edition Feature Pack 2. The S60 menus are not the easiest thing in the world to master, but in this case, AT&T has customized the menu structure a little bit to make things easier. The main menu is chock full of things that you'd see on any AT&T feature phone. The more Nokia-centric items are buried a bit deeper down. I'd complain about how far you have to go to find basic controls for the Surge's settings, but there is a set-up wizard that guides you through the process when you first turn on the phone.
The main home screen of the Surge can be set to two basic configurations: Active Standby on, or off. Active Standby places a dock with shortcuts to six user-customizable applications. If you choose to turn Active Standby off, the dock goes away. Under the dock, you can also see some notifiers, such as a quick view of any unread messages or voicemails, quick access to the phone's media player, and so on. Out of the box, AT&T has configured the dock to have messaging and media features readily available, such as IM, navigation and the media player. The dock items can be re-arranged at will.
The menu can be set to grid, list, horseshoe or V-shaped. These latter two are just different ways to interact with the menu, and, to be honest, I didn't see the advantage of either. They are slower to interact with and make less organizational sense than the simple grid or list views of the main menu.
Unfortunately, S60 hasn't changed all that much in recent years. Depending on how you look at things, that's either good or bad.
Calls/Contacts
Calls
Hitting the green send button brings up a bulk list of all your calls. Scrolling to the left or right through some tabs lets you sort by Dialed, Received, etc. When in the calls list, pressing the left soft key opens up a list of options for each number. When in a call, the options menu lets you mute the call, switch to speakerphone and so on. You can also jump into your contacts and messaging applications during a call.
One thing I really can't stand is that the phone can't be dialed when closed. Unless you can find the contact/number you want to call from within the call history menu, you have to slide the phone open and dial on the QWERTY keyboard. Furthermore, when on the home screen, the keyboard defaults to recognizing the numbers and not the letters. This means if you start typing a contact's name from the home screen, it won't start sorting through your contacts. That's a pretty big minus.
Luckily, the address book is easily accessible from the home screen, which can be used to dial numbers in short order.
Contacts
Managing contacts with the Surge is a snap. You can use Nokia's software to quickly transfer your contact database from your PC (Nokia's software suite or Microsoft Outlook) to the Surge. Once there, it is easy to search through your lists for the person you want to contact. Simply start typing in a name in the search box, and the Surge will automatically search for that name as you type. With a contact highlighted, there is a little arrow key pointing to the right, pressing the D-pad to the right opens up a drop-down menu. This menu lets you quickly choose to call, send a SMS, email or audio message to that contact without having to open the contact up first. This is a nice little shortcut.
The contacts application can be reached via the dedicated soft key on the home screen of the Surge.
Messaging
The Surge is fairly adept at messaging, though S60 is definitely beginning to show its age. Email, SMS, MMS, audio messages, IM are all present and accounted for. If you need to send someone a message, the Surge is one device that can get it done.
First, email. The Surge's set-up wizard will walk you through the process to set up a new email account. has a dedicated email key on the front. This includes push email from your company (via Exchange), or IMAP or POP3 email from other types of accounts. You can also set up the dock in Active Standby mode to jump directly into your inbox, or initiate a new email. You can email to bulk addresses, add attachments, and address messages to your contacts directly from the mail application. The email application itself, however, is ancient and pales in comparison to what's offered by Apple, Google, RIM and Palm. On top of that, here is another blown opportunity for Nokia to recruit users for its Ovi Mail service. Ovi is nowhere to be found on the Surge. Instead, it's all about AT&T and AT&T's services.
SMS and MMS are similar to email, though stripped down to 160 character limits. One thing we wish Nokia would get on board with is threaded SMS conversations. The iPhone does it. Android devices do it. Most Palm devices — including the Pre — do it. Threaded messaging has been around for years, and is an absolute must for a messaging device. Quite a shame that Nokia hasn't been able to work this issue out. Nokia's beta labs offers a test version of a threaded SMS application that is free to download, but it is not a built-in app for S60. In fact, rather than part of the messaging applications, Nokia's "Conversations" is an add-on to the Contacts application. It does give users a threaded SMS option, but not a very good one.
New messages will show up on the Surge's screen in a little bubble along the bottom. Scrolling over that bubble will open a dialog box and you can scan the contents of whatever messages are in your inbox without having to fully open your inbox. This is useful if you're in a hurry and want to determine if the message is important enough to open all the way.
Looking for social networking apps? Better look online. Native apps aren't on board, at least not out of the box. For messaging phones, at least some sort of access to Facebook, Twitter, MySpace, etc., needs to be present. The Surge fails in this respect.
A Facebook app is available for the N97, but you'll have to go through the browser to get to Facebook on the Surge. The Surge will run Gravity (for Twitter), but again, it needs to be downloaded by users.
Extras
Music
The Surge is not a multimedia phone, but the native S60 music application gets the job done well enough.
A shortcut for the music player is already in the dock when you first get the phone. Opening it up brings you to the music player's main menu. This menu lists the artists, playlists, songs, albums, etc. Using the options menu (left soft key), you can access some options from here, which include some organizational tasks such as creating playlists or moving music around.
When music is playing, the options menu lets you access the shuffle or repeat functions, as well as the EQ. There are five pre-set EQs, but the Surge also allows you to add what appears to be an unlimited number of your own presets with a five-band EQ. This is more functionality than many dedicated music phones have. I was able to dial in the exact type of sound I wanted, and let the new Devil Driver album crush my ears for a while as I wrote this review.
The rest of the controls work as expected, and the D-pad is your main controller for playing, pausing, rewinding or advancing your music. If you exit out of the music player, the Surge adds a shortcut to the phone's home screen so you can quickly pause a track if need be. You can also set tracks stored on the phone as your ringtones if so desired.
Incoming calls pause music, which resumes after the call is complete.
The one bummer is, the Surge has a 2.5mm jack for headsets. So if you want to use your own stereo music headphones other than what's provided in the box, you're going to need to buy an adapter. But then, the Surge doesn't really purport to be a music device.
Camera
Camera
The Surge has a 2 megapixel camera, but lacks a flash and autofocus.
The camera software itself is not changed all that much from other Nokia phones. The menus and usability factor are about the same. Pressing the dedicated camera key on the side of the phone brings the Surge's camera to life in about one second. Pressing the D-pad up or down will zoom in or out, even if you have the camera set to its highest resolution.
Pressing the D-pad to the left will bring up the dock that houses all the camera's functions. There are tons of features on the dock. You can set the resolution, scene modes, a timer, white balance and exposure. The icons for the dock have been updated a little bit compared to S60 v3.1, and the features are compressed into fewer menus, but they are all still there.
Pressing the center of the D-pad snaps pictures and saves them almost instantaneously. Once a picture is taken, you get to review it before going back to the viewfinder.
Gallery
The Surge lets you sort through a list view of your pictures with a thumbnail of each and some data floating next to it. That data tells you the file name, the file size and where it is stored. Thrilling this is not. You can scroll down through your images quickly, though, with little to no lag.
Using the left soft key, you can get at the menu system for the gallery, which lets you rename, move and sort photos at will. You can perform all the same actions with an image open, as well as easily set it to your wallpaper.
There are some decent editing tools that allow you to do things such as adjust sharpness, contract, cropping, rotation and such after you've shot the image.
The gallery feature isn't "fun", but it works.
Photos/Video
Photos
The Surge captures average images. They are OK, but nothing special. The speed of the camera's performance is nice, but I wasn't overly impressed with the end results.
I took pictures in all sorts of settings. Indoors and out, in sunlight, at dusk, close up and far away. Colors and exposure were mostly right. Images were a little on the soft side and somewhat grainy. Would I blow any of these images up? Nope. Wold I post them to Facebook, I guess.
Video
Video was also of average quality. It you really need to capture a moment, it's there and ready, but it's not like you're going to want to watch it on your HDTV. There was lots of grain present, some weird shakiness, and other odd motion-capture issues. I'd barely call the video YouTube-worthy, but sometimes you have to post what ya gots.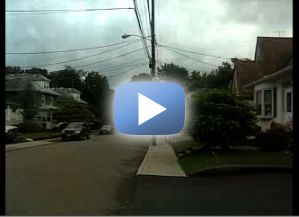 MPEG-4 format (viewable with QuickTime)
File size: 1.6 MB
Browse/Customize
Browser
The Surge comes ready to access AT&T's 3G network. It packs Nokia's S60 Browser, which is highly capable and does a good job of rendering html web pages. I was able to get good performance from the Surge when compared to several other phones. Many HTML web sites loaded in under 10 seconds, and more than a handful loaded in less than 5. Web sites that are optimized for mobile phones loaded even faster. Oddly, AT&T's own home portal was one of the slower performing web sites I encountered.
The browser also offers lots of rich features, including the minimap to let you see an overview of each page you are browsing. The "back" feature also lets you see multiple web pages, so you can choose the exact page to which you wish to navigate.
Lots of third-party browsers are also available for the S60 platform, including Opera Mobile, Opera Mini, and Skyfire. Each has its own pros and cons, and offers solid alternatives to the S60 browser.
Customize
S60 can be customized to such a large degree, that the sky is practically the limit. Just about every screen, menu, level, setting or option imaginable can be altered to better suit users' tastes.
The home screen can be viewed with nothing on it but wallpaper or with the Active Standby mode on. The main menu can be set to grid or list views, depending on your preferences. Ringtones are fully customizable for each contact, and can be set to music files that are on the phone. Wallpapers are easily set from the gallery application.
The ability to move applications and folders to other places on the phone is extremely helpful. You can go online to find free themes and wallpapers to download, as well.
Extras
Apps
Content for the Surge is definitely available, but apps are a different story. Plenty of wallpapers and such are available from AT&T's MEdiaNet site. What's amazingly lame is that the Surge can't access Nokia's own Ovi Store, which is rife with content for S60 devices. What gives? AT&T's MEdiaNet has access to some applications and games, but Surge users might feel left out of all the fun, as the number of applications available in the Ovi store borders on the ridiculous, and what AT&T offers is rather weak.
Bluetooth
The Surge supports tons of Bluetooth profiles, including those for mono and stereo headsets. Pairing worked as well as it with any other Nokia device. I was also able to pair with PCs and pass files back and forth. Call quality was excellent through mono headsets and music playback was also excellent through stereo headsets.
Clock
The clock can be set to analog or digital. It is always displayed in the upper left-hand corner. The analog clock can be a little tough to read from an arm's length, however. If you want to check the time quickly, the Surge — like other Nokia phones — is not going to help you out. With the display asleep, hitting any of the keys doesn't bring the screen to life. You have to unlock the keyboard first, which takes two steps. Only then can you read the time. In all fairness, the S60 screen-saver can be set to display the time and other notifications, but its practically invisible.
GPS
The Surge has GPS on board and comes with several GPS-enabled applications. The AT&T Navigator app certainly works well enough. The Surge also has the Where application, which can be used to located stuff that's near the end-user, no matter where that user is. I tested it out and was easily able to find local coffee shops, restaurants and shopping centers.
Wrap-up
I don't know what to make of this phone. The form factor suggests it is for messaging fanatics, but key components (social networking) are absent. On top of that, Nokia has done nothing to expand upon or improve the messaging features of S60. Despite the power of S60, the messaging applications feel antiquated and lack modern conveniences such as threaded SMS. Threaded SMS should be feature numero uno for messaging phones.
The camera is mediocre, as is the video quality. The music experience is OK, but is hindered by the 2.5mm headset jack.
Browsing is solid, as is the performance of the phone features.
I'd say if you're hooked on S60 and really like this type of form factor, than perhaps the Surge is a good choice. On the other hand, AT&T offers so many phones that cover the same ground — and do it better — that I'd have a hard time recommending the Surge to S60 rookies.
Sounds like an alternate version of...
The E71.

Same features, right?

My E63 is rather boring (S60 feels positively ancient after playing with the Bolds & iPhones of cow-orkers), but seems to have the Surge beat pretty well by just having Ovi access & a 3.5mm jack. Ovi sucks, but it's still better than the AT&T pool of programs.

I sort of understand Nokia's strategy of laurel-relaxation (ie - if it ain't broke, don't fix it), but they seem to have stood still while the whole mobile world has moved on to more exciting & innovative UIs and OSs (or would that be OSes? Or should I simply say "operating systems"?)
i have COW-workers too

lol