Review: Nokia Surge
Form Basics Extras Wrap-up Comments 2
Is It Your Type? Body The Three S's
Aug 13, 2009, 5:37 PM by Eric M. Zeman @zeman_e
Nokia's Surge for AT&T offers a full QWERTY paired with S60. If you're thinking this is a match made in heaven, think again. It gets most things right, but definitely makes a few concessions.
AD article continues below...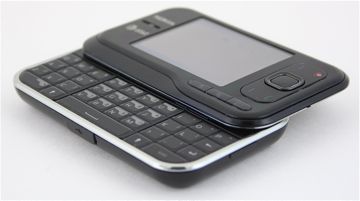 The Nokia Surge is a messaging phone. The full QWERTY keyboard gives it away as such. As with many lower-cost messaging phones, the Surge makes a few concessions in order to remain affordable. Some of them may be enough to give potential buyers cause. Still, there are plenty of positives to consider.
Sounds like an alternate version of...
The E71.

Same features, right?

My E63 is rather boring (S60 feels positively ancient after playing with the Bolds & iPhones of cow-orkers), but seems to have the Surge beat pretty well by just having Ovi access & a 3.5mm jack. Ovi sucks, but it's still better than the AT&T pool of programs.

I sort of understand Nokia's strategy of laurel-relaxation (ie - if it ain't broke, don't fix it), but they seem to have stood still while the whole mobile world has moved on to more exciting & innovative UIs and OSs (or would that be OSes? Or should I simply say "operating systems"?)
i have COW-workers too

lol