Nokia Introduces Two New Mainstream Phones
Article Comments
Feb 11, 2008, 4:15 AM by Eric M. Zeman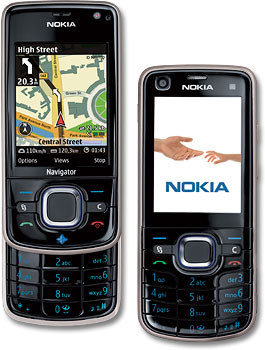 Nokia announced two new 6000 series phones, the 6210 Navigator and 6220 Classic. Both are S60 3rd Edition quad-band GSM/EDGE phones with GPS, stereo Bluetooth and microSD slots that support up to 8GB. Both have 2.5mm headset connectors.
6210 Navigator: The 6210 is a slider phone with compass for turn-by-turn pedestrian navigation. One version includes 850/1900 HSDPA 3G support for North America. It has a 2.4-inch QVGA display with a 3.2 megapixel camera and FM radio. It also has an accelerometer and will automatically switch from portrait to landscape mode when rotated. It will cost 300 Euros (about $435) and goes on sale in the third quarter.
6220 Classic: The 6220 is a bar-style phone with a 2.2-inch QVGA display. It has a 5 megapixel camera with xenon flash, Carl Zeiss lens and auto-focus. It captures VGA video at 30 frames per second. It will cost about 325 Euros (about $472) and supports European 3G networks. It will be available in the third quarter.
No messages