Motorola 3G W760r Passes FCC
Article Comments 16
Jan 28, 2008, 1:35 PM by Eric M. Zeman
updated Jan 28, 2008, 1:48 PM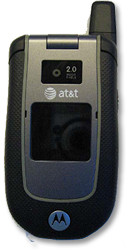 Documents seen on the FCC site revealed the Motorola W760r, an update to the V365. The W760r keeps the basic clamshell form factor of the V365, but adds a stub antenna and WCDMA 850/1900 3G to its quad-band GSM/EDGE radios. It also upgrades to a 2 Megapixel camera that also records video, and upgrades to stereo Bluetooth. It brings forward a microSD slot with support for cards up to 4GB. The W760r has not been announced by Motorola, but the FCC pictures show it with AT&T branding visible. No pricing or availability information was provided.
Release Date
Anyone heard anything?
anyone think..
that it's gonna be "durable" like the v365?

not promoted as being durable, hence the "s
all i know its a fug phone
haha at&t finally did something right, ive been saying for years if at&t came out with something durable like a nextel phone they would lay sprint/nextel down to sleep, good night sprint sleep well, you wont be missed....
Say what you will...
Don't care if you think its ugly or not...I'm just stoked to finally have a phone that I can take camping, fishing, biking, etc and not have to where white gloves while handaling it!! I was with nextel for awhile and have been waiting for att to come out with a decent looking rugged phone (at least i hope this is a rugged phone!)
jesus christ! its not a big deal!!!!!!
Could give Sprint/Nextel some heartburn
Properly positioned - AT&T could pick up a great deal of Sprint Nextel customers that are tolerating the changes there only for the Direct Connect functionality.