Review: Samsung Instinct S30
Form Basics Extras Video Wrap Up Comments 5
Is It Your Type? Body The Three S's Touch
May 4, 2009, 3:49 PM by Eric M. Zeman
Samsung takes another stab at the basic Instinct. The S30 is an all-around better phone than its predecessor, but it's still far from perfect.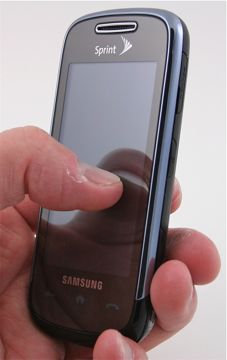 Samsung and Sprint offer up version number two of last year's Instinct with the S30. It's a touch phone with solid multimedia features and a classy design. The hardware and touch screen are vastly improved, but the software sees only moderate upgrades. Can the new Instinct manage to stand out in a me-too sea of slab-style touch phones?
Great...for the money
I posted a review of this phone as well, but I just wanted to say that for the money, I really like this phone. For the past 4 years, I have been with t-mobile and bought 2 or 3 phones per year. On average, I pay about $350 for my phones.

When I switched to sprint, which I couldnt avoid, their SERO plan saves me like $1k a year..literally, I was really concerned that I would have to stick with a crappy selection of phones. After a little research (mainly on this site) I decided to go with the S30. I have to say, for being less than 1/3 of what I normally pay for my phones, it has only slightly less functionality. My biggest complaints about this phone are the poor camera quality (so poor it might as well not even exist) and the sho...
(continues)
the camera is bad? wow that's suprising since the instinct m800 had such amazing picture quality for a 2.0mp camera (WAY better then my 2.0mp bbery curve camera); funny that they'd downgrade so much. i haven't had a chance to play with the s30 yet.

...
(continues)
How about full-disclosure?
Your first review of this device wasn't much more than a complete trainwreck.

You complained about how terrible the touch display was, yet none of you were ever willing to admit that you were in fact using a pre-production device and never calibrated the display? As such, your findings were laughable at best, delusional at worst. There was zero reasoning given why your findings were completely disjoint from virtually ALL OTHER reviews at the time.

And here we are, almost a year later, and you are still peddling the same nonsense about the first Instinct having a "poor touchscreen". It shouldn't really come as a suprise, you also promised you'd retest a Glyde after it came out to see if you had a bad unit - never did.

So how about ...
(continues)
No, I stand by our original review of the Instinct.

It definitely had a resistive touch screen. It may have had three capacitive touch keys below it, but the touch screen part was resistive. Some touch displays are much better than others, regardle...
(continues)