Review: Sanyo SCP-2700
Article Comments
Apr 22, 2009, 8:12 PM by Eric M. Zeman @phonescooper
Sanyo kicks out a slab-style texter for Sprint. The low price will appeal to the budget-minded, while its feature set will appeal to the messaging freak within.
AD article continues below...
Form
Is It Your Type?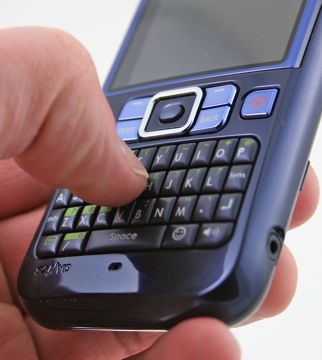 There's no doubt that messaging devices have become popular. Not all of them are affordable. Many cost $100 or more, and can be out of reach for the budget-minded. Enter the Sanyo SCP-2700. The 2700 offers Sprint customers an inexpensive option to get their messaging fix while on the go.
Body
The SCP-2700 has nearly the perfect footprint for the teenage messaging freak. It is small, somewhat sleek, relatively attractive, and very light weight. In other words, it is easy to carry around. The sides and edges are rounded, making it comfortable to hold in your hand. The back plate covering the battery has some slight texture to it due to the checkered pattern, but the rest of the plastics are smooth. This phone was made to fit in your jeans pocket.
The front has a pretty good sized screen, navigation controls, and a full QWERTY keyboard. The navigation controls are one of the phone's weaknesses. The D-pad is a small rectangle that has a high edge to it. It's just a hair too high, in my opinion. It sticks out noticeably from the surface of the phone. The real problem is the center button. It was very loose. I could wiggle the button all over the place. Travel and feedback of this button was less than I'd like for such an important and oft-used button.
Immediately next to either side of the D-pad are the soft keys and "text" and "back" keys. All four keys have good travel and feedback. The proximity of the soft keys to the D-pad make navigating quick. The "text" button is a dedicated button to initiate a new text message. I like the idea, but would prefer to see this key placed somewhere on the QWERTY keyboard itself. The send/end keys, placed closer to the outer edges of the phone, are easy to find, but felt a bit on the mushy side.
The full QWERTY keyboard on our production review unit shows remarkable improvement over the units we saw at CTIA just a few weeks ago. The keyboard is well executed. It is very tiny, and I feared for a moment that I would have trouble using it. Instead, I adjusted to it faster than most other keyboards I've used in recent memory. The keys have a great shape to them and the perfect amount of travel and feedback. The only criticism I'd voice is that there's a little bit too much side-to-side wiggle with the keys. This is only noticeable if you wiggle them on purpose. I didn't notice it when typing out messages.
The volume toggle is placed on the left side of the 2700. It stands out well, and has good travel and feedback. The dedicated camera key is below it. It doesn't feel as good as the volume toggle, and comes off a bit mushy, with no firm click until you're really pressed it down. There is a microUSB port on the left side of the phone for charging and data transfer. The right side of the phone has only a 2.5mm headset jack.
The battery cover comes off easily enough, but there's no real need to remove it given that there's no microSD slot hiding under there.
The Three S's
Screen
To be honest, the screen is about exactly what I expected to find on a budget-level device. It's plenty bright, with decent resolution, and looks good for the most part. I can't offer any complaints about how text or icons look, because they're all smooth, clean, sharp and colorful. The real estate is put to good use, and the screen is plenty visible out in the sun. In all, it's good, but don't expect to be blown away.
Signal
I'll grant Sprint this: Its signal is amazingly consistent where I live. Nearly every phone I test on the Sprint network exhibits the same signal coverage, and the 2700 is no different. It shows two bars of coverage in most of my house, but drops to zero bars or one bar in my basement. This is on par with most other Sprint phones. In my travels around the metro NYC area, the 2700 did an acceptable job of gathering signal, though it rarely showed me a full five bars. What really mattered was that the phone didn't drop any calls while I was testing it. It didn't, however, survive the NJ vault test. It came up empty in there. I also experienced several data calls that timed-out and a host of web pages that just refused to load. This is typical of Sprint phones, though.
Sound
Call quality was downright excellent. In my time with the 2700, I didn't hear so much as a burble, bleep or hint of static. Calls were crystal clear, and I could easily hear callers in the earpiece even when in moderately noisy environments. Ringtones and other notifications could be set to insanity-inducing levels. In other words, the 2700 is plenty loud, and you're only going to miss calls if you're in the loudest environments.
Battery
Battery life was good. I managed to eke out a full 4 days on a single charge. That was with moderate SMS and voice usage, but not a whole lot of web browsing. With heavy use of the browser, you can expect to lose a half-day of battery life. Unless you plan to send hundreds of messages per day, you should be able to get through a weekend without bringing your charger.
Basics
Menus
Oddly, the SCP-2700 is yet another device to come from Sprint without its newer OneClick user interface. Instead, it borrows heavily from other lower-tier devices we've seen from Sprint.
The home screen has links to your inbox and contacts via the soft keys. If you want to get at the main menu, press the center of the D-pad. The main menu is a 12-icon grid that can also be viewed in list form. Rather than make you jump through hoops to change the way the main menu looks, the left soft key does it automatically. For my money, the grid view is easier to use on a day-to-day basis.
The 12 icons don't offer any surprises and are composed of the requisite mixture of phone tools and Sprint service offerings. Similar to other Sprint phones, it uses the My Stuff folder to centralize all your media and apps and games. The "Shopping" icon doesn't take you to an on-board apps store. Instead, it fires up the browser and loads Sprint's content portal.
Once you move deeper into the menu system than the initial grid, the default view of the menus switches to a list.
Calls/Contacts
Calls
The SCP-2700 doesn't offer any surprises in the phone call department. Press the green send key to get at a list of all your calls. The most recent call in the log is highlighted with enlarged text, so it stands out nicely. Use the left soft key or text key to automatically send the highlighted number a message. The right soft key lets you select from several other options.
You can also choose to dial numbers on the keyboard, though the reduced size of the number keys may frustrate some users. You can set up to 98 speed dials if you wish, to make dialing easier.
Contacts
The contacts applications is simple and straight forward. A search bar at the top of the contact list lets you scan through your database. It searches in real time, and sorts as you type. I always like phones that do this, as it cuts down on the time it takes to find a particular contact.
From the contact list, the left soft key automatically initiates a text message, as does the dedicated text button. The right soft key brings up a short list of options, such as edit, pre-pend, delete, etc. The one feature I really like is the "set as secret" feature. When enabled, this feature will show the name of the contact, but not the number associated with it. In other words, if someone grabs your phone, they won't be able to steal the number from you very easily.
The problem here is that there's no intuitive way to protect this setting. Anyone who knows how the 2700 works can simply go into the contacts program and turn off the "set as secret" feature, which will then reveal the number. Turns out, if you dig into other settings of the phone, you can completely hide the "secret" numbers / contacts from view, but it's a bit weird that that particular switch is paired with the feature itself.
Messaging
The 2700 is an apt messaging device, as long as you don't care for the most robust feature set. As noted earlier, the dedicated "text" button is a nice touch if you're in a hurry to compose a text message. Pressing it takes you to a screen where yo can choose to address it to your contacts or a new number. Pecking out messages is simple, though I wish the "back" key were on the keyboard and not above the keyboard. Reaching your thumb up to delete text gets old when you're used to a delete key being on the keyboard.
There are 20 pre-loaded messages, as well as an easy way to insert "web shortcuts", which are standard Internet language such as "https://", "www", or ".com". You can also control the behavior of the predictive text software and add custom words to the phone's dictionary. What I don't like is that you can't insert media into a text message. If you want to compose a "picture mail", as Sprint calls it, you have to choose that option first.
As for email, it is pre-loaded with a number of webmail clients: AOL Mail, AIM Mail, Hotmail, Yahoo, Gmail, Work, PCS Mail, and the ability to configure your own IMAP or POP3 accounts. Set up is a snap. Once you're signed in, you have access to a mobile version of your email, complete with options that let you call the sender (if a number is embedded in the email), see your full email contacts list and manage folders. Every so often I found the email system wanted me to sign back in, but most of the time it remembered my credentials and didn't ask for my password when I wanted to check email.
On the IM side of the table, you have AIM, Windows Live and Yahoo clients built in. The IM client is identical to that of other Sprint feature phones. Seeing your online buddies and sending them messages is no more difficult than on any other phone.
Where's the social networking integration? Facebook, MySpace and Twitter are conspicuously absent.
In sum, the messaging features of the 2700 are simply average. They don't provide any over-the-top new ways to interact with your messages, but the 2700 gets the basics right.
Extras
Music
There is no music client on the 2700. If you're looking to rock out while your get your messaging action on, move along. It ain't happening with the 2700.
Camera
Camera
The 2700 has a 1.3 megapixel camera. No flash, no autofocus. Press the dedicated camera key once to open a short list of camera-related options, or press it twice quickly to open the camera itself. The camera launches quickly (~1 to 2 seconds), and it takes a second or so to shoot and process an image. It's certainly not bad in the speed department.
You can adjust all that you'd expect with a cameraphone, such as brightness, contract, color, and so on. I'd guess most users won't bother with these controls, however. There are some fun frames, some image tools, such as making them black and white or sepia tone, and you can also dial the resolution down if you want to.
The camera software is pretty basic. My major beef with it is that there's just not enough memory. Set to the highest resolution, the 2700 can only store 25 images. That jumps up if you reduce the resolution, but you're losing picture quality if you do that. In addition, since the 2700 doesn't support memory cards of any type, you can't add more storage to the phone. Having to choose between quality versus quantity when the resolution is already lower than many other cameraphones is not a winning combination in my book.
The 2700 cannot record video.
Gallery
The gallery app is pretty good. You have the album that's in the phone itself, plus those that you've uploaded to Sprint's online picture storage service. The gallery shows a simple grid of thumbnails. The D-pad lets you add a "check" to whatever image is highlighted. This lets you perform edits and/or other actions en masse if you wish. You have to press the left soft key to expand/open the picture.
The options menu lets you send the pictures via Picture Mail message, upload them, order prints, set as a picture ID or wallpaper and even edit. The editing features include the ability to add text captions, which I think is cool, as as well as add special effects, re-size, crop, or trim the photo. You also have the ability to adjust how the slide show works.
Photos
Images I captured with the 2700 are MMS, MySpace and Facebook worthy, but not much beyond that. Colors looked good, and images were sharp...enough. Shots taken inside were full of grain and digital artifacts, though. With no flash, you're pretty much out of luck if you try to take shots in dark environments such as a club or bar. One benefit of a 1.3 megapixel camera is that the files are smaller, and uploading them to photo services is faster than I anticipated it would be.
Browse/Customize
Browser
The 2700 is limited to 1X data, so that means no speedy mobile Internet for you. It has a WAP browser on board that takes its sweet time to load pretty much any web site that you might wish to view. The default home page is Sprint's portal. You can choose to visit other web sites, which the browser terms "external links". You can type in the URLs easily enough via the address bar at the top of the home page.
The one thing I really like is a toolbar that the web browser has. Press the right soft key, and you get a small little controller module. It lets you jump back and forward, as well as to your home page, a Google search page, a list of your recently visited pages and some very limited options. The options do let you increase or decrease the size of the font within the browser only, to help make web pages easier to read. I like that you can choose to automatically generate an SMS from within the browser and insert the current URL into that message.
Curiously, the main search client for the phone is Google, but the "local" search client is powered by Microsoft's Live Search product. It's odd that Sprint has chosen to pair both together, when either one could handle both general and local search at the same time.
The 2700's browser gets the job done, but it does so slowly, and with little flair.
Customize
The 2700 only allows you to customize some of the really basic things, such as ringtones, ringer IDs, screen savers, etc. As noted, you can alter the main menu between grid and list views, but further customization to the way apps and folders are organized is not available.
You can also change the input font (what you type with) between normal and large. The size increase is just enough to make a difference, but it doesn't go far enough for those who need very large fonts.
Extras
Apps
The 2700 can download the simplest applications via Sprint's online portal. The apps available include things such as games, organizers, etc. The most interesting set of apps is in the Sprint "Social Zone", which is a newer place to find some types of social networking applications. Options include things such as PhotoBucket, Rabble, Xanga and a MySpace application that you have to pay for. I attempted to purchase it just to see how much it would cost, but the phone wouldn't permit me. I think it is uncool for Sprint to charge users to access MySpace (outside of already existing data fees).
Bluetooth
The 2700 supports mono Bluetooth headsets and a few other profiles. Pairing was no problem, and call quality via mono headsets was very good. Pairing with other phones to push contact data or photos was also a snap. I had no issues in testing out the Bluetooth at all.
Clock
The clock can be customized in a number of different ways. The default view of the phone (when keyboard is locked) shows just the date with no time. You have to go into the phone's settings and change the "Foreground" settings and adjust the clock to one that suits you. It can do large and small analog/digital readouts, a world clock, or also show your calendar in big and small sizes. I found "Large Digital" to be the best for quickly checking the time.
Video
Here is a short video tour of the SCP-2700:
Wrap Up
For what it is, the 2700 covers the basics of messaging and phone functionalities well. Its target customer — pre-teens, Tweens, young teens — will be happy with how easily they can keep in touch with t heir posse via SMS, IM and emails. They'll also appreciate the smaller size of the phone and the relatively good looks. What they may miss, however, is a lack of good social networking services, such as Facebook or MySpace.
People looking for even slightly more advanced features, such as a music player, video capture and 3G web browsing, will be sorely disappointed, as none of them are present.
The people most likely to buy this phone (or have it bought for them) will appreciate its virtues, and probably won't miss what it doesn't have. It's a good first phone for the kid who wants to reach out and message someone. Seasoned users may find it a bit too simplistic.
No messages