Review: Samsung Impression
Form Basics Extras Video Wrap-Up Comments 9
Is It Your Type? Body The Three S's Touch
Apr 14, 2009, 9:17 PM by Eric M. Zeman @zeman_e
Samsung gives AT&T a touch phone that packs a full QWERTY, 3G, TouchWiz and a 3 megapixel camera. Is there anything unimpressive about the Impression?
AD article continues below...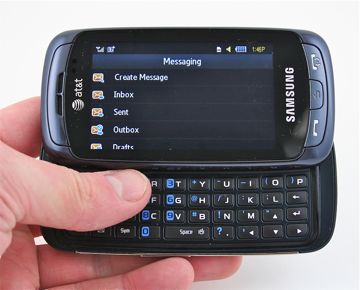 The Samsung Impression would appear to have it all: Good looks, large touch screen, solid keyboard, and a host of attractive features. If you're the heavy messaging type and want a physical QWERTY keyboard, but still like the appeal of a touch screen, the Impression, well, impresses... for the most part.
Software Glitches - Lacking Security Lock Feature
Overall very impressive phone. I've noticed some glitches specifically with the messaging application. I have two impressions and they are both doing the same thing. The messaging application is slow to launch. Messages some times get hung and/or will not send until the offending message is deleted and reconstructed. I've even had particular key sequences that have totally locked the phone down and required a battery out restart.

I do not like that you cannot set an overall lock that re-engages when the keyboard locks rather you must lock particular programs only. the phone will lock upon power on but will not lock again overall. Sucks for hiding saucy text messages or pics. In this mode when you attempt to place a call to a number...
(continues)
Very nice phone
In response to the review. I have had the phone for only 3 short days and my comments are this: I agree that the lock/ unlock button on the side is one of the downsides of this phone, although you can also unlock it by simply sliding it open. I also agree that the call volume can be a bit louder, something I have noticed this common with Samsung phones. Coming off of a Motorola V3xx which is LOUD this phone is not as loud but certainly NOT too low.
Another thing to be careful of is that is you do not have an Internet package it is much too easy to go on line inadvertently. Keep that in mind.
One last comment, I have to disagree with the reviewers comments on the display. This phone is the first in the USA with the AMOLED display. At least...
(continues)
from the impression forum under impression's specs

"AMOLED = OLED

It's in the specs.

AMOLED is a strange abbreviation. Almost any OLED used as a main display is technically AMOLED, but it's usually just called OLED. I don't know why Samsung i...
(continues)
I always thought they made the lock button like that so the phone isn't easily unlocked. If its in your pocket or bumping up against something, its less likely to get unlocked.

Try it for a few more days and see if you get used to the positioning (...
(continues)
Word Docs
Is there the ability to open (and edit) Word docs? I'm unsure by the review. Also is it possible to set up multiple e-mail accounts, simiilar to a typical "smartphone"
Rich Brome & Eric Zeman!!!
Great Review! One suggestion with messaging devices so popular these days is there a way for you guys to post if a device has "Threaded Messaging"? This not only is a great feature for a messaging device but adds to both usability and the"Flare" of a new device...