New Samsungs Appear at Regional Carriers
Article Comments
Jan 6, 2008, 7:18 PM by Eric M. Zeman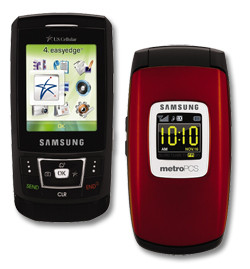 Two unannounced phones from Samsung recently went on sale at different regional carriers. The R610 is a higher-end slider for US Cellular and the R300 is a basic clamshell for MetroPCS.
R610: The R610 has the looks but not the features of the D900. This slider trades GSM radios for CDMA-EVDO and features a 1.3 Megapixel camera that also supports video recording, an MP3 player, stereo Bluetooth, and it has a microSD slot for storage.
R300: This entry-level flip has 1x data. It does offer a speakerphone, and basic web access, but it does not have a camera or more advanced features.
source: Samsung
No messages