Review: Motorola i9 Stature
Form Basics Extras Video Wrap-up Comments 2
Is It Your Type? Body The Three S's Touch
Mar 25, 2009, 1:32 PM by Eric M. Zeman
Motorola stuffs PTT capabilities into the RAZR2 and calls it the i9. As a communications device, it performs well and looks pretty good at the same time. But does Motorola do enough to extend the i9's veneer beyond the surface?
Advertisements article continues below...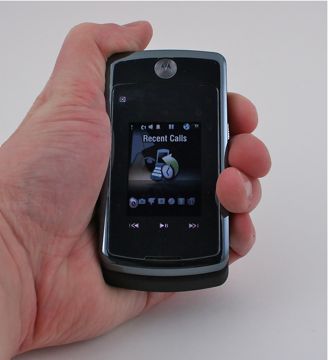 If you're a Nextel customer, you're probably used to chunky, industrial-looking handsets from Motorola. Motorola has taken its iconic (or tired, you decide) RAZR2 design and stuffed a PTT-capable phone inside. The result is the i9, which is by no means a small phone, but is certainly a better-looking iDEN phone than we've seen in the past. Can the i9 survive on its looks alone?
It seems...
...as if the i9 holds up well if we're just talking about the phone itself, aside from the problems with the camera that the reviewer mentioned. All the other problems that the reviewer had - lousy call quality, hit-and-miss reception, horribly slow web browsing, etc. - come directly from the iDEN network, and is the same no matter what iDEN-only phone you look at.

I personally cannot wait until Sprint shuts down iDEN for good. I will say GOOD RIDDANCE. 😈
Well.... iDEN is here to stay, Sprint decided that a few months ago, that's why we're seeing such a push on this new device, the new Blackberry Curve for iDEN and Boost Unlimited. The main problems is that iDEN is not made for entertainment, it's for...
(continues)