Samsung Showcase 2004
Article Comments 100+
Nov 10, 2004, 7:00 PM by Rich Brome
Report from Samsung's Consumer Lifestyle Showcase event in New York City, plus additional photo galleries of Samsung phones from other recent events. Hot info on the i645, i730, i550, A760, and more.
Intro
Samsung held a product launch event this week in New York City. As usual, Samsung was not officially announcing any phones, leaving that honor instead to its carrier customers (as they prefer). But they were "previewing" several new devices that weren't previously public, including their first EV-DO devices for North America.
Some of the photos and info on the following pages are from a variety of other recent events where Samsung was exhibiting, and also from the permanent Samsung Experience showroom in New York City.
CDMA Phones
i640 / i645
Just revealed via FCC documents earlier this week, the i640 / i645 smartphone is the follow-up the SCH-i600. It's a Windows Mobile Smartphone with several key upgrades.
As revealed earlier, the i640 / i645 runs Windows Mobile 2003 for Smartphone 2nd Edition. This is the most recent version of the platform at the moment - one version newer than the Windows Mobile 2003 that ships in new i600s. The i640 / i645 also features dual color displays.
What wasn't known until now is that the i640 / i645 will include EV-DO high-speed data. This may actually be the first non-PDA smartphone to include this key technology.
Verizon has already launched EV-DO in 14 cities, and Sprint plans to start it EV-DO rollout by the end of this year. Both carriers plan to expand EV-DO coverage nationally during 2005.
EV-DO will allow the i640 to download files and email attachments very quickly. And thanks to the standard Windows Media Player that comes with all Windows Mobile devices, the phone will also be able to access high-quality live streaming video and audio from a variety of sources. High-quality music downloads will also be possible.
The i645 variant (shown in the photos above) adds a megapixel camera with LED flash. The i640 version is camera-less, which should appeal to business users who have to deal with no-camera policies in the office. The two versions are otherwise the same.
Other specs of the i640 / i645 include 32 MB of RAM, an SDIO card slot, speaker-independent voice dialing, and speakerphone. A Samsung rep confirmed that the i640 / i645 does not have Bluetooth, although it does have infrared.
A snap-on keyboard accessory is also planned for the i640 / i645, shown below:
Although Samsung wouldn't comment on what carriers will offer the i640 / i645, the FCC documents for it include multiple references to Verizon.
i730
Samsung this week also revealed the i730, the successor to the i700 Windows Mobile Pocket PC device.
This feature-packed PDA-phone will compete head-to-head with the Audiovox 6600 (AKA the HTC Harrier). Both devices include EV-DO high-speed data, camera, Bluetooth, a sliding QWERTY keyboard, and an SDIO slot. Both devices will also run Windows Mobile 2003 for Pocket PC 2nd Edition, which supports landscape display mode.
The Samsung gains an edge by including a megapixel camera with a sliding lens cover, compared to the lower-resolution VGA camera of the 6600. The Samsung also includes built-in stereo speakers. The Audiovox, however, has the advantage of an internal antenna. I believe the Samsung is also smaller, although I don't have exact size measurements, and haven't held them side-by-side.
Unfortunately, Samsung wasn't allowing photos of the i730's slide-out keyboard, so you'll just have to settle for my description of the keyboard for now. The keyboard is kind of like a cross between a Blackberry and the Treo 600, except squished to be narrower. The pill-shaped keys are "domed" exactly like a Treo 600, so they are very easy to feel and tell apart. They are also very narrow and close together side-to-side.
The keys are narrow and cramped enough that - at first glance - the keyboard looks unusable. But after spending a few minutes taking it for a test drive, I found it to work surprisingly well. Unfortunately, Samsung intentionally put a dead battery in the demo unit, so I couldn't verify it, but it certainly felt like I was hitting all the right keys with no problem, tapping away at a good clip. Those with larger fingers will want to make their own judgment, however.
i550
I first reported on the SPH-i550 in my CTIA article this spring. It's the successor to the SPH-i500 Palm OS PDA-phone for Sprint. Upgrades over the previous model include a high-resolution main display, a megapixel camera with LED flash, and an industry-leading OLED outer display.
The niftiest part is the OLED display. It's divided into two parts: an upper status/icon and time/date section, which stays lit all the time - and a lower section that is full-color, and only comes on when needed. It's all one big OLED display, just with different elements on the top and bottom, similar to old-school black & white LCD phone displays that had a fixed icon row at the top.
OLED has several advantages over LCD. One is brighter colors, and this is a fine example. Colors look amazing on this. Another advantage is viewing angle. With an LCD, colors become distorted and even reversed at certain angles, and brightness is lost. OLED has no such effects, as you can see in these photos:
The outer display can be used for a viewfinder for the camera, and also for various menus and media controls, when used with the keys just below it. This gives the i550 the same convenience as a standalone MP3 player, for example.
A760
The SPH-A760 will be Samsung's first PTT (push-to-talk) phone for Sprint. The best word to describe it would be "practical". It's designed to offer a good value for the business person who doesn't need all the extras.
The design is a standard clamshell form factor. The external display is large and black-and-white, which makes it very easy to read in any lighting. There is no camera, or other unnecessary frills.
The large speaker on the front is naturally used for PTT calls, initiated via the dedicated key on the left. But the speaker can also be used as a full-duplex speakerphone for regular calls as well, and that function has it its own dedicated key on the right side of the phone.
The A760 is expected to launch with Sprint within several weeks.
A Samsung representative mentioned that the company is also planning more full-featured PTT phones for Sprint in 2005, including models with cameras and full multimedia capabilities.
GSM Phones
D710
Samsung is the only major manufacturer to license all of the major smartphone platforms, including Windows Mobile, Palm OS, and Series 60. Samsung has been shipping Windows Mobile and Palm devices for some time, but the company has yet to actually ship a Series 60 device. Their first try, the SGH-D700, never saw the light of day. Their second try, the SGH-D710, was announced earlier this year, and is finally looking like it might be released soon.
The D710 is notable for having a sliding design, a megapixel camera of the CCD variety, and an excellent 262,000-color display. The camera can also record video, is aided by an LED flash, and has a macro switch for close-ups.
Above are photos from earlier this year of a pre-production D710 unit. Since then, the design has been tweaked slightly. A newer revision of the hardware is shown below:
The most obvious difference is that the sliding lens cover has been removed. That's a shame, but then again I do recall thinking that the lens cover felt cheap and flimsy on early units, so it might not be such a bad thing that it's gone. The color has also been tweaked - the darker part is now dark blue, instead of the brownish-gray on previous units. The design is otherwise similar.
The fact that the hardware is actively being tweaked and refined is an excellent sign that the D710 is still alive and on its way to market.
Nokia allows the Series 60 interface to be tweaked by licensees like Samsung, so they can differentiate their phones from other Series 60 phones. Below is a close-up of the home screen on the D710, which has been tweaked by Samsung.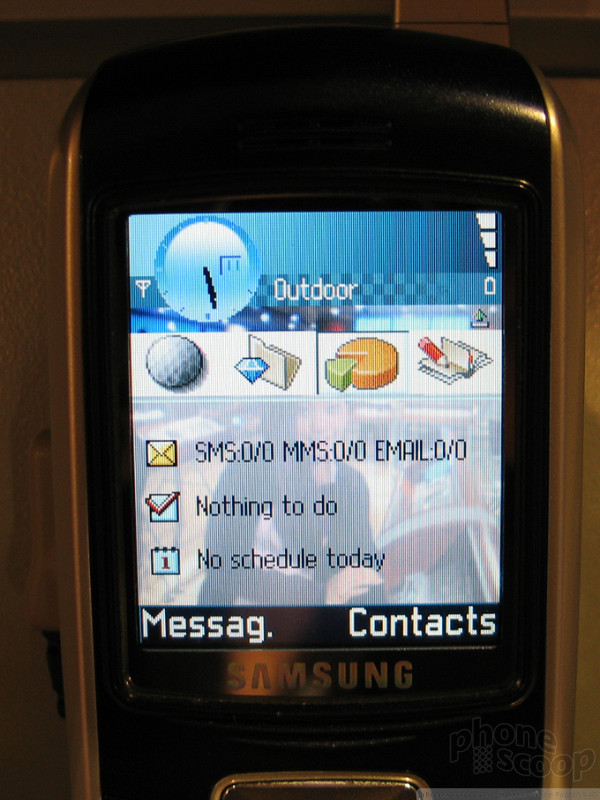 What's interesting is that this home-screen layout is almost identical to the standard home screen on Windows Mobile Smartphones. It has the same row of program icons across the top, and below that, a summary of current messages, to-do tasks, and calendar events.
The D710 is tri-band GSM, (900/1800/1900 MHz,) so it will work in the U.S., but don't expect it to be offered by any carriers here - it's targeted squarely at Europe, where Series 60 has a much stronger following.
C207
The C207 is an entry-level phone for Cingular. It has color display and internal antenna, but that's about it. It's small, thin, and lightweight, which will put it right in the same category as the Nokia 3120 and Siemens CT66. That also means it's pretty similar to the C225 for T-Mobile, except for the antenna.
The C207 should be out any day now.
E610
What's notable about the SGH-E610 is the unusual proportions. The E610 is noticeably thinner and lighter than most other clamshell phones with similar features. Yet it's also slightly wider, allowing a roomier keypad and larger display.
The features are quite respectable, including dual TFT color displays, a VGA camera with flash and video capture, and Java 2.0. The main display is wonderfully crisp and bright, supporting 262,000 colors and measuring 176 x 220 pixels.
But again, it's the shape and weight that stand out. This is a phone for people who like clamshell phones, but not the lump they make in your pocket. If you've been eyeing the Motorola V3 for that reason, but can't justify the price, this might be an alternative to consider.
Like the D710, the SGH-E610 most likely won't be coming to the U.S. by way of a major carrier. But it is tri-band, so it could be purchased from an importer and used with T-Mobile here in the States.
E850
This is the Samsung SGH-E850. Unfortunately, like most of Samsung's E800-series phones, it's a dual-band model for Europe and Asia only. But it has one interesting feature that I thought made it worth mentioning anyway...
This is very similar to the super-small E800, E810, and E820 GSM slider-phones for Europe, except that the design is a bit more aggressive and stylish, in my opinion.
But more importantly, the camera has been moved to a very unique "pop-out" design, that combines full swivel action with an effective lens cover mechanism. Surprisingly, the pop-out mechanism doesn't seem to add much bulk to the phone - it's still quite small.
Like most well-designed camera lens covers, opening it automatically activates the camera function. It's actually a push-in / push-out mechanism, so a simple push right on the large camera "button" both reveals the camera and activates it.
Lack of American GSM support
I'm rather disappointed to see so little in the way of GSM 850 here - especially when it comes to the D710. Too bad Series 60 isn't bigger in the USA, I'd love more choice when it comes time to upgrade my Nokia 3620.
The big, ugly "Samsung" stickers
Just FYI: the big, ugly grey oval "Samsung" stickers on some of these phones are just something Samsung does to cover up the carrier logos before the phone is "officially" announced. The final phones won't have that.
When is it available?
When will the Samsung a760 be available to Sprint customers. 😁