Review: LG Versa
Form Basics Extras Video Wrap-Up Comments 26
Music Camera Photos/Video Browse/Customize Extras
Photos
Combining autofocus with 2 megapixels goes a long way to taking better pictures. Most images I shot were sharp and in perfect focus. Where the Versa fails is white balance. When set manually, it was pretty good, but left to automatic mode, and the white balance was way off in many shots that I took. Sure, this can be corrected somewhat after the fact, but it would be nice if the Versa got it right.
Indoor shots were reasonably free of grain and other noise. Outdoor shots were much clearer. In all, it is a decent 2 megapixel shooter. It would be great were it not for the white balance issue.
AD article continues below...
Video
Video captured with the Versa was pretty good. The Versa doesn't have the slow-motion capture capability of the Dare, but that's not really missed. Resolution can be set to 176 x 144, 320 x 240, and 640 x 480. Video length can be optimized for MMS, or you can record for as long as you wish (well, until the memory fills up). It did, however, have the same white balance issue that the still camera had. If you set it manually, video turns out well. If you don't, the colors will look off.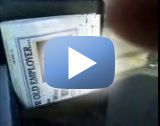 3GPP / MPEG-4 format (viewable with QuickTime)
File size: 388 KB