Samsung Refines its Foldable Phones
Article Comments
Aug 10, 2022, 8:01 AM by Rich Brome
updated Aug 11, 2022, 11:01 AM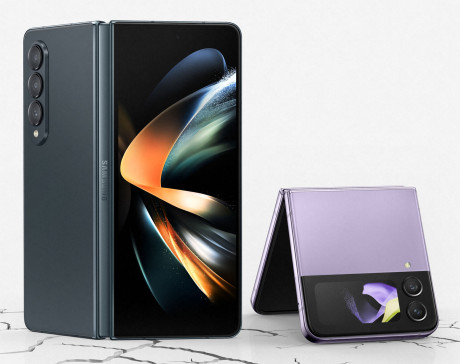 Samsung has announced its newest generation of foldable phones: the Galaxy Z Fold4 and Galaxy Z Flip4. Both have similar designs and features compared to their predecessors, with a slew of small updates and refinements across the board. Both have been updated with Qualcomm's newest, best Snapdragon chip: the 8+ Gen 1. Both also have upgraded main cameras that perform better in low light. Both have a "slimmer hinge", although the difference appears to be slight. Both are constructed from Armor Aluminum and Gorilla Glass Victus for durability, in addition to IPx8 water resistance.
The Galaxy Z Flip4 has slightly slimmer bezels on the main display, a larger (3,700 mAh) battery, and 14% faster charging. The cover display has been enhanced with more functionality, including SmartThings home controls and Quick Shot in camera mode. Similarly, Flex Mode — when the phone is half-folded — now provides a special split-screen interface for more apps, particularly third-party social and video apps. Like the Z Flip3, it has dual 12 megapixel rear cameras, display refresh up to 120 Hz, mmWave 5G, and two-way wireless charging. Also like the Z Flip3, the Z Flip4 will start at $1,000 for the base model with 128 GB storage (and 8 GB RAM). A 256 GB version will also be available, as well as a new 512 GB option. It will come in Bora Purple, Graphite, Pink Gold, and Blue. On samsung.com, a Bespoke Edition will allow users to mix and match frame and cover colors in 75 different possible combinations.
The Galaxy Z Fold4 is slightly lighter and more compact than the Z Fold3, while offering wider displays inside and out. The 7.6-inch main flexible display panel is brighter, 45% "stronger", and better hides the under-display camera. The main camera is upgraded to 50 megapixel, while the telephoto camera is now 10 megapixel instead of 12. The software has been overhauled thanks to Android 12L, Google's new version of Android optimized for foldable and large-screen devices exactly like this one. A new task bar floats at the bottom of the main display, and there are new options for split-screen multi-tasking and Flex Mode. Some apps can now be opened in two side-by-side instances of the same app. Other features and specs are similar to the Z Fold3, including the 6.2-inch HD+ AMOLED outer display with 120 Hz refresh, UWB, S Pen compatibility, 12 GB RAM, and two-way wireless charging. The Galaxy Z Fold4 will start at $1,800 with 256 GB storage. It will also be available 512 GB or a new 1 TB option. It will come in Graygreen, Beige, and Phantom Black, as well Burgundy exclusively from samsung.com.
Both phones — along with
Samsung's new smartwatches and earbuds
— will be available August 26th. All major US carriers will offer both phones. Customers who pre-order will receive a free storage upgrade and a free case. Pre-orders for the Z Fold4 will also come with a $100 Samsung Credit. Various trade-in offers are available depending in where you buy from. AT&T's is the most generous, at $1,000 off either phone when trading in any Galaxy phone, in any condition. That offer is available to all customers and makes the Z Flip4 free.
source: Samsung
No messages