Sonim Revamps its Rugged Flip Phone
Article Comments 1
Sep 13, 2021, 12:17 PM by Rich Brome @rbrome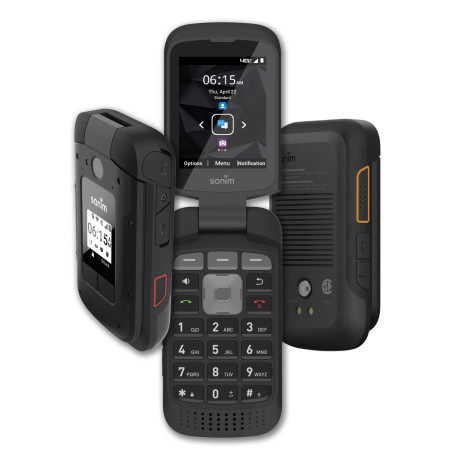 Sonim's newest rugged flip phone is the XP3plus, launching today with T-Mobile. This new model is a significant upgrade over the original XP3 from 2019, featuring larger displays and a battery that's over 50% larger (2,300 vs. 1,500 mAh). It introduces a new button configuration and interface with three soft-keys below the main display. It also adds the unique feature of two soft-keys below the outer display, one of which can be customized to user functions. The processor, memory, and (optional) camera have also been upgraded compared to the XP3. Like all Sonim phones, the XP3plus is ultra-rugged with IP68, military, and Non-Incendive ratings. It also has large, glove-friendly buttons — including dedicated push-to-talk and SOS buttons — and a 100dB+ ultra-loud speaker for noisy environments. Sonim offers a range of accessories for the phone, including vehicle kits, rugged headsets, and charging docks. The company also offers a three-year warranty. T-Mobile is selling the phone for $210. Sonim's web site says the phone will be "available at other carriers in Fall 2021."
Which PTT Solution, if Any, Will T-Mobile Use?
Will T-Mobile continue using Direct Connect Plus, ESChat, both or neither? Does anyone know?