Cricket Launches Two New Nokia Phones
Article Comments
May 28, 2020, 12:04 PM by Rich Brome @rbrome
updated May 28, 2020, 2:43 PM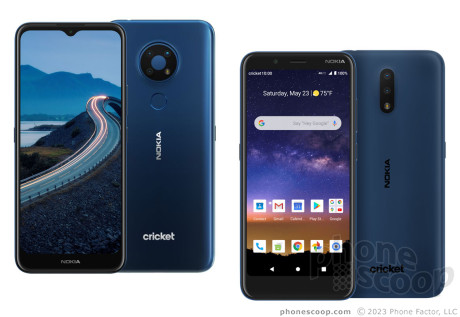 Nokia has two new affordable phones for Cricket: the Nokia C5 Endi and C2 Tava/Tennen. Both offer HD+ display resolution, multiple rear cameras, a dedicated Google Assistant button, Android 10, 3.5mm audio jack, and USB-C.
Nokia C5 Endi: Sports a 6.5-inch notched HD display, MediaTek Helio P22 processor, 4,000 mAh battery, 3 GB RAM, 64 GB storage, memory card slot, fingerprint reader, and a polycarbonate unibody design. Cameras include a 13 megapixel main camera, 5 megapixel wide camera, depth camera, 8 megapixel selfie camera. The camera app has AI scene detection and optimization, advanced portrait mode, and automatic multi-frame night mode. The Nokia C5 Endi will be available June 5th from Cricket for $170.
Nokia C2 Tava: Unlike the rest of Nokia's current global lineup, the C2 does not have an all-screen design; its display measures just 5.45 inches. Other specs include a removable 3,000 mAh battery, 2 GB RAM, MediaTek Helio A22 processor, 32 GB storage, and a memory card slot. It has an 8-megapixel main camera, depth camera for portrait mode, and a 5-megapixel selfie camera. The C5 Tava goes on sale with Cricket tomorrow, May 29th, for $110. The Nokia C2 Tennen is the same exact phone as the C2 Tava, but in a different color (Steel instead of Tempered Blue) and with different pricing for different sales channels. It will cost just $70 and be available from "select National retail stores" starting June 15th.
No messages