Hands On with the OnePlus 8 and 8 Pro
Article Comments 1
Apr 27, 2020, 1:41 PM by Rich Brome
updated May 2, 2020, 11:28 AM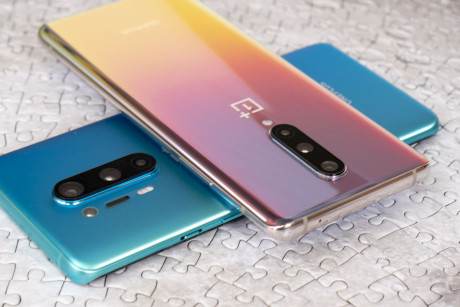 The new OnePlus 8 and OnePlus 8 Pro bring 5G, an updated design, and updated specs to OnePlus's lineup of high-end phones. For the first time, the standard and "Pro" models are being launched at the same time, making for a more rational lineup. Since checking out phones in person is particularly difficult during a pandemic, we're here with a full hands-on report / mini-review to tell you everything a spec sheet can't.
Size & Design
With the 8 series, OnePlus has adopted what is quickly becoming the standard design for nearly all high-end Android phones. It's the design Samsung pioneered with the Galaxy S8. The front and back are both curved glass, the screen curves at the sides, and a sinewy rounded metal frame thins out into a narrow ribbon at the sides.
But while the design may not be original, there's a reason it's so popular; it's a good design. Bending the screen really does help fit a large screen into a slightly narrower body, and the curve helps it feel even narrower and more comfortable. Whereas the OnePlus 7T (with its flat screen) felt noticeably wide and thin, the OnePlus 8 fits in your hand more naturally. It's technically only a hair narrower, but it feels much narrower.
7T / 8 / 8 Pro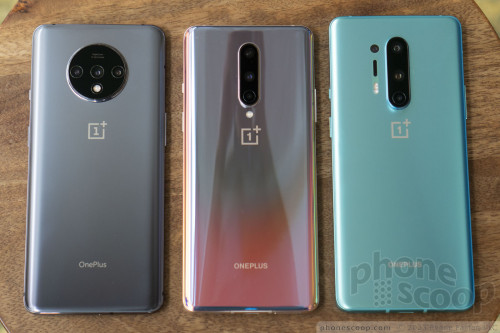 7T / 8 / 8 Pro
By ruler and by sight, the 8 Pro is only a hair larger than the standard model. But since the standard OnePlus 8 is already dancing at the edge of acceptable phone size, the 8 Pro feels noticeably larger in hand. Those with smaller hands might find the 8 Pro to be too large.
The vertical, centered camera arrangement on the back is hardly original, but it's quite tasteful. I give OnePlus credit for not following the bizarre trend of "camera rectangles" that so many other high-end phones have adopted recently. The camera "hump" is modest on the standard 8, but really sticks out on the 8 Pro. Most cases need an extra ring of material sticking out to protect the camera lenses of the 8 Pro.
On the standard 8, the case cut-out for the camera leaves an extra area below the lenses for the flash, which ends up being a perfect place to rest your index finger when holding the phone. It's a great way to avoid getting finger smudges on the lenses. If that was an intentional design touch, I love it. Unfortunately the 8 Pro has the flash in a different location.
I love frosted glass, and OnePlus keeps that smart design element with its Glacial Green and Ultramarine colors for the 8 series. The other colors have glossy glass, which collects fingerprints. That's the main reason I didn't care for the eye-catching, color-changing "Interstellar Glow" option.
Unfortunately, no US carrier is offering Glacial Green or Ultramarine at launch. T-Mobile is only selling the 8 in Interstellar Glow and Onyx Black, both of which have the fingerprint-magnet glossy finish. Verizon is offering an exclusive "Polar Silver" color (basically steel blue) with a matte finish; that's the one I'd pick, if buying from a US carrier. You have many more color and finish options when buying unlocked.
Green is my favorite color, so I was really excited to check out Glacial Green, which looked amazing in the press photos. Unfortunately, it looks completely different in person. It's blue. I just don't get "green" from this at all. As you turn the phone in your hand, it's simply 100% blue from most angles. As you reach the angle where the back of phone is directly facing you, it does turn green. But because it's only green at that specific angle, it looks more like a blue surface reflecting something yellow. That's all I can see — not green — because my brain knows it's blue at other angles. It's a really odd effect.
Cameras
Comparing the standard 8 with its predecessor the 7T, one spec that stands out is that they've replaced the dedicated 2x telephoto camera with a macro camera, a feature I'm not sure many people care about. At first, I was pretty annoyed by this. However, OnePlus did this because the main camera has a 48-megapixel sensor, which means you can get a decent telephoto photo by simply cropping to the center of the main sensor. Adopting that strategy for the 2x zoom leaves room for a different third camera, so why not a macro?
And you know what? The "new" 2x zoom works pretty well. There's still a telephoto icon in the camera app, so in practice it's no different from using the 2x zoom on the 7T. Comparing the resulting photos, the 8 actually produced better 2x zoom photos most of the time (with one exception, but that seemed to be an outlier in my test photos).
In general, the 8 produced slightly better photos compared to the 7T at all three zoom levels, but the difference was small.
So how is that dedicated macro camera? Unfortunately, it's garbage. I was able to get far better macro photos using just about any phone without a macro camera. I don't know why OnePlus included such a useless bit of hardware.
Ignoring the macro camera, the OnePlus 8 is an OK camera, but not great.
The 8 Pro, on the other hand, is a big step up. It does have a dedicated telephoto camera, and it's great. Not only is it 3x instead of 2x, but it takes really high-quality photos, especially compared to other OnePlus phones. The other cameras also produce photos that are noticeably better than those from the standard 8, and all previous OnePlus phones. If you really care about photo quality, you'll want to take a hard look at the 8 Pro instead of the 8.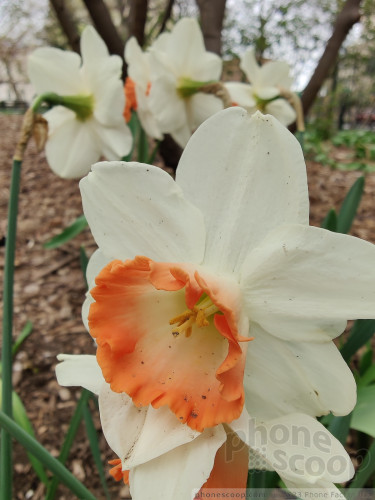 The 8 Pro even takes better macro photos than the 8, even though the 8 Pro lacks a dedicated macro camera.
What's utterly confusing to me is the fourth camera on the 8 Pro. After taking a bunch of test photos, I'm convinced that it's an infrared camera. (Not to be confused with a thermal camera; that's different.) If it's technically not an infrared (or near-infrared) camera, then it approximates one well enough that it could be marketed as one, and no one would know the difference.
Three things are confusing to me about the fourth camera:
First, that OnePlus calls it a "Color Filter Camera" in marketing, but "Photochrom" in the camera app. This inconsistency adds unnecessary confusion.
Second, that OnePlus would use either/both of those meaningless terms instead of "infrared camera", which is both more accurate (I think) and sounds better.
Third, that OnePlus would bother to put this dedicated hardware in the phone, but bury the feature so deeply in the camera software. You need to tap a mysterious three-circle icon, then scroll to the very last filter option.
My guess is that the infrared camera is also active when using the regular main camera, and helps improve exposure and/or color of standard photos. There have been phones in the past that did this. Therefore the "Photochom" filter mode is something of an afterthought. That's too bad, because I think it's a fun feature that could be a bigger selling point.
Software
In general, I like OnePlus software. The company's "OxygenOS" stays very true to Google's excellent default design for Android. Where it adds features, they tend to be quite useful. I'm a big fan.
But there are a couple of minor software glitches that annoyed me in the 7T, that have unfortunately not been fixed in the 8 series.
First, the automatic display brightness is terrible. In fact, it's somehow gotten much worse, despite OnePlus insisting that they worked hard to improve it over the past year.
On the 7T, I was constantly "fighting" with the brightness control. The software was constantly lowering it, and I was constantly have to brighten it manually. These days it's a basic thing that the software should learn your brightness preferences and keep it adjusted relative to that, so you never have to worry about it. The 7T failed miserably at that, and the 8 series doesn't seem to improve this at all.
But there is a new bug where a sudden change to brighter ambient light doesn't seem to register at all. If I walk into a room and turn on the light, sometimes the screen will stay very dim. Or if I'm using the phone and walk outside, the screen will simply fail to brighten accordingly. This really seems like a bug that will get fixed, but I think the more general brightness issues will take longer for OnePlus to resolve; they really need to start from scratch on this algorithm.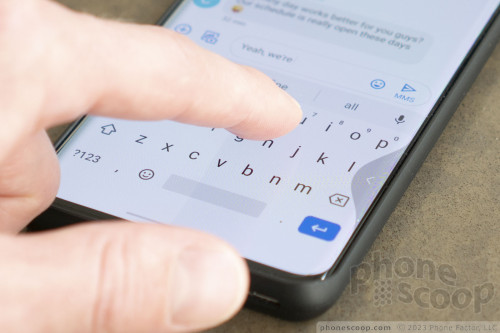 The second software glitch carried over from the 7T is that the "back" gesture (swiping in from the left or right side of the screen) sometimes triggers when swipe-typing on the keyboard. That's something that Google specifically says should not happen in Android.
Neither of these software glitches are deal-breakers, but they are annoying. Mostly, I'm just very surprised they haven't been addressed, because I know that OnePlus has been aware of these issues since the release of the 7T.
Wireless Charging
One of the big new things in the 8 Pro is wireless charging. This is a first for OnePlus. The special aspect is a 30W mode, which means wireless charging that's as fast as some of the fastest wired charging out there. That's very impressive. I've tried it, and it works as advertised.
The downside is that it requires a special, relatively huge wireless charger that must be purchased separately. It's not a small, flat disc, but rather a large, angled "cradle"-style charger. Frankly, I don't see the advantage of this charger over wired charging.
Fortunately, it also works with standard wireless chargers, (just not as quickly). That is a nice selling point.
Bottom Line
I called out a few negatives above, but on balance, I like the OnePlus 8 series. They nail a lot of fundamentals. It's a great physical design, the screens are great, and of course the Qualcomm Snapdragon 865 chipset delivers blazing performance on both models. I'm impatient, and these phones never kept me waiting. I've been happy with battery life. These phones are competitive, and a good value.
In choosing between the two, personally, I'm torn between the smaller size of the 8 vs. the superior camera quality with the 8 Pro.
If you're in the market for something like the OnePlus 8 Pro, go for it. If you can afford the $900 and like larger phones, it's an easy one to recommend.
The smaller 8 model is a bit more compromised. The camera quality isn't terrible, but it's a bit below where I think it should be. It's a decent size, but if you're going to make a "small" model, I think it should be smaller than this. Many competing phones include wireless charging. The Snapdragon 865 inside is amazing, but probably overkill and certainly adds a lot to the price. I actually would have put a 765 in this model, and used the savings to either lower the price or put better camera hardware in there. The OnePlus 8 is still a pretty good $700 phone, but not one I can recommend as whole-heartedly as the 8 Pro.
On Verizon, the math is even tougher, since they're charging $800 for the 8. That extra $100 gets you faster mmWave 5G, which is nice if you'll use your phone where there's mmWave coverage. But when $900 gets you the otherwise-superior 8 Pro....
I don't think I'm upgrading my 7T
I don't think it's compelling enough of an upgrade, for me to trade in and get the 8. I don't see any advantages.