Hands On with the Samsung Galaxy S20 Series
Article Comments
Feb 11, 2020, 2:00 PM by Rich Brome
updated Feb 11, 2020, 3:02 PM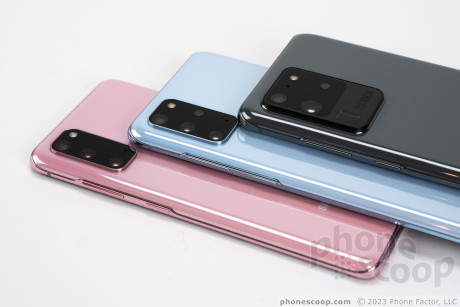 Samsung's new flagship Galaxy S phones for 2020 are somewhat predictable in appearance and features, and they've leaked like crazy, but there are a few surprises. There's no smaller, more affordable model like last year's S10e, nor is there a separate 5G model. They're all large and expensive, and they all have 5G. A new top-end option has been introduced beyond the "plus" model: the S20 Ultra. The Ultra seems to be stepping on the toes of Samsung's Note series, offering a huge screen and everything-but-the-kitchen-sink feature list for people willing to pay a premium. All three models have an all-new camera system with some new tricks. How well do the few features work? How do the phones feel in person? We have your hands-on report right here.
Article
Hardware
The design looks a lot like last year's S10 models, but Samsung has followed Apple and Google in putting all the cameras in one big rectangle in the corner. Why these companies feels the need to copy each other on such an unpopular design choice is beyond me. The camera area is a hump that sticks out from the back. It only sticks out a little bit on the S20 and S20+, but it's substantial on the Ultra.
That large hump on the Ultra makes room for the unprecedented 10x optical zoom lens. Normally, such a long zoom lens wouldn't fit in a phone at all, but Samsung has employed a "folded" design, which means they've put a prism in there so they can stack the lenses sideways inside the body. That flattens the assembly quite a bit, but the large hump is still necessary.
The rest of the body is what you probably expect from a Samsung Galaxy S these days. The edges of the display are slightly curved, and that display fills almost the whole front of the phone. The glass is curved on both the front and back. The metal frame gets extremely thin at the sides; this is the most all-glass Galaxy S yet. That makes it feel luxurious and well-made, but also slippery and fragile.
The new models feel thinner somehow than last year's models, even though they're not. They are very slightly narrower. Keeping the width in check is crucial for how well they fit in your hand, and these feel pretty great. Even with my relatively small hands, the S20+ didn't feel too big. The Ultra is a big one, though.
They are taller, which allowed Samsung to slip in slightly larger displays, as well as significantly larger batteries.
no 3.5mm headset jack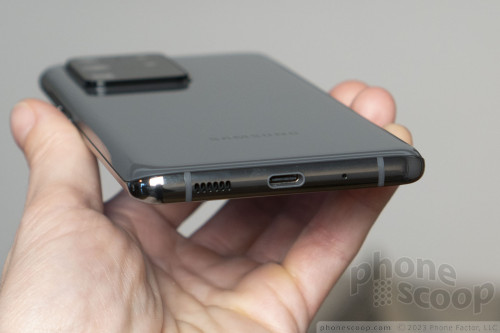 no 3.5mm headset jack
Unfortunately, Samsung also removed the beloved 3.5mm audio jack that the company offered on its flagships for so long. This is quite the bummer, but at least they're kind enough to include wired (USB-C) earbuds in the box. And to be fair, true wireless earbuds have really taken off in the past year. Naturally, Samsung has their own: the new Galaxy Buds+, which are a reasonable $150. And Samsung is offering a special pre-order deal on the S20 series that covers most or all of the cost of the Galaxy Buds+. And the S20 supports Wireless PowerShare, which lets the phone charge earbud cases that support wireless charging.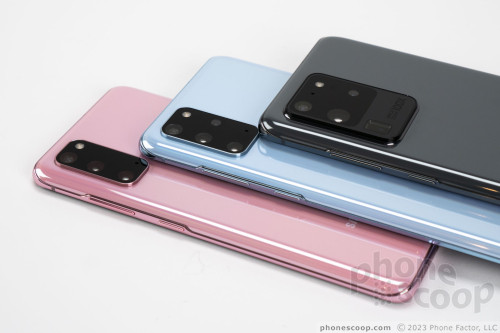 Surprisingly, Samsung isn't doing anything particularly new or interesting with the colors or finish, sticking to glossy black, gray, baby blue, and pink. While I don't care for the eye-searing prismatic effects Samsung and others have toyed with over the past year, the company definitely could have done something more interesting than this. No green? No ceramic? No matte finish? Weird.
The ultrasonic in-display fingerprint sensor is the same as that on the Note10, which is a little larger than the one on the S10, but unfortunately not the huge one Qualcomm recently demonstrated.
The S20+ and S20 Ultra have an extra camera the standard S20 doesn't: a ToF depth camera. This is a really neat technology, hardware-wise. It can instantly create an accurate 3D depth map of everything in front of it. Samsung uses it for its "Live Focus" video portrait mode, but that's about it. There are so many interesting things this hardware can do, paired with the right software. It's disappointing Samsung lets it languish, so under-utilized.
Check out the full specs here:
5G
The S20 series will come in unlocked versions from day one, and they will support all US 4G LTE networks, as well as most US 5G networks. But there's one crucial difference between the models. All of the S20 models support sub-6 GHz 5G, which will have coverage similar to the 4G, but isn't the fastest kind of 5G. But only the S20+ and S20 Ultra will also support mmWave 5G. (Except for Verizon's S20, which will support mmWave as well.) mmWave is the faster, short-range flavor of 5G offered in downtown areas of major cities, as well as stadiums, etc.
Samsung's 5G phones last year only supported one or the other: mmWave or sub-6. But the S20+ and S20 Ultra are the first to support both, offering a complete 5G experience. They also support specific features of 5G that will be a big deal in the next two years: DSS and SA. That means these models are uniquely future-proofed compared to most other 5G phones on the market right now. Last year's 5G phones were strictly for early adopters; these are the first 5G models I don't hesitate to recommend based on technical limitations.
Google Duo integration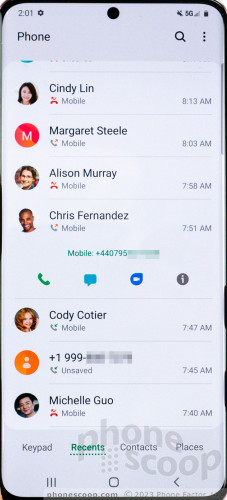 Google Duo integration
What might you do with 5G on the S20? How about video calling? Samsung has smartly integrated Google's Duo video calling right into the Phone app. (Unless Apple makes good on its ancient promise to make FaceTime an open standard, Google Duo is the closest thing we have to a video calling standard on Android.) Samsung has an exclusive on full-HD resolution Duo calling. No one really needs 1080p on a video call, but it's a great way to show off 5G on your fancy new phone.
Software
The S20 series comes with Android 10, with Samsung's software layer on top. It's changed little since last year. You can choose between a traditional button bar at the bottom or Android 10's new full-screen gestures. There's still the Edge Screen widget, which lets you summon a shortcut bar from a small, customizable tab on the side of the screen. Samsung has created several gorgeous new "living" wallpaper options that slowly change in subtle ways. You'll still find all of the fancy software features introduced on past Galaxy S models, like Bixby Routines and Link to Windows.
The minimum amount of RAM on the S20 series is 12 GB, which is a lot. But as games — and camera apps — get more ambitious, all that RAM is put to good use. 12 GB is enough that many memory-hogging apps should stay running at once. But a new feature lets you "lock" selected apps in RAM, so they're always running. That's great if there's an important app you need guaranteed quick access to; "lock" an app and you'll never see it's slow startup screen ever again. Neat!
The S20 series also offers faster refresh rates on the display. You can choose standard 60 Hz refresh, or manually switch to 120 Hz mode. Unlike on some competing phones, 120 Hz mode stays on 100% of the time while it's enabled. Also, 120 Hz mode is only available when using full-HD resolution mode; you can't use quad-HD mode and 120 Hz mode at the same time. I can't really tell the difference between 60 and 120 Hz refresh (on any phone), but some people swear it makes everything feel smoother and faster. Samsung has also upped the touch response rate to 240 Hz. That matters for serious gamers, and it's a mode that turns on automatically any time you start a game.
Cameras
The cameras are all-new, and what Samsung has done with them is interesting. Each model offers at least one standard, telephoto, and wide-angle lens. On each model, at least one of those has a crazy-high resolution, enabling true 8K video capture (at 24 fps).
On the S20 and S20+, the so-called telephoto camera doesn't actually have a telephoto lens; instead, they achieve an "optical 3x zoom" by just cropping to the center of the sensor. That still produces a sharp, hi-res image because the sensor is 64 megapixel to begin with.
On the S20 Ultra, the 10x optical zoom is done with a serious telephoto lens, using the special "folded" lens system mentioned above. It's impressive. Having a true 10x zoom on a phone is pretty great. And the main camera is the hi-res one here. Very hi-res: 108 megapixel. By default, it uses unprecedented 9-to-1 pixel binning to produce higher-quality 12 megapixel images.
Samsung also has a new 10x digital "Space Zoom" that it claims uses AI to produce better digital zoom. I was not impressed. Going all the way to 100x on the S20 Ultra produced a blurry mess when I tried it. Too often, it couldn't focus at all and the whole screen was one big blur. When I could get it to produce an image at all, the image in the viewfinder was still quite blurry. I'd stick to the standard optical zoom, thanks.
More interesting are some of the new camera modes. There's a Night Hyperlapse which looks very fun for creative types. The night mode has also been improved to combine frames takes with multiple ISO settings. That basically means it can take a bright shot and a sharp shot, then combine the best of both. It's borrowing technology from HDR modes to make better night shots. Smart. They've also improved the Super Steady video mode with stabilization on an additional axis (roll).
There's also the new Single Take, which captures photos and video over a several-second period, and uses AI to generate a collection of interesting stills and video clips, suggesting the best ones and offering filter ideas. You can also go back and make different choices after the fact. It's a neat idea.
Samsung claims its new camera system in all three models will take all-around better photos thanks to larger sensors, plus the crazy hi-res sensors. We'll have to wait for the reviews to see how the quality of this new system stacks up to the competition.
Bottom Line
Price is another major factor with the S20 series. Last year, you could get an S10e for $750. This time around, the S20 starts at $1000. Ouch. The S20+ clocks in at $1200, and the Ultra will set you back $1400.
At the end of the day, it was the S20+ that impressed me most. If you're going to spend $1000 on a phone, you might as well spend the $200 more to get mmWave 5G and a larger battery. As a smaller dude, I never thought I'd prefer the "plus" model, but Samsung has made it manageable with the right width and enough curves.
The smaller S20 is still a great phone, with a decent-size battery. I'd recommend it to anyone that definitely wants the smallest of the series and doesn't use their phone in areas with mmWave coverage, or just doesn't care about mmWave.
The decision is tougher if you're a Verizon customer. Only Verizon will offer a special version of the smaller S20 that does support both sub-6 and mmWave, at no extra cost. But you'll have to wait a few months, as that version won't launch with the rest.
The S20 Ultra is a bit much more me, in terms of both size and price. But if you prefer larger phones and can afford it, that huge screen and 10x optical zoom are pretty great reasons to give the Ultra a look.
No messages