Galaxy S20 Series Pushes Samsung Flagships Faster, Larger, Pricier
Article Comments
Feb 11, 2020, 2:00 PM by Rich Brome
updated Feb 11, 2020, 3:05 PM
Updated: Added new info on special mmWave version of S20 for Verizon.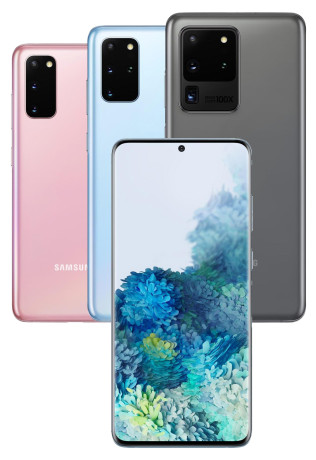 Samsung today announced its new flagship phones for 2020: the Galaxy S20, Galaxy S20+, and Galaxy S20 Ultra. In the US, all three models support 5G and are powered by Qualcomm's newest top-end Snapdragon 865 chipset paired with 12 GB of LPDDR5 RAM. The base model S20 supports sub-6 GHz 5G; the S20+, S20 Ultra, (and a special version of the S20 for Verizon) are the first phones in the US to support both sub-6 and mmWave flavors of 5G in one phone. The S20 series also supports DSS and SA 5G networks, technologies US carriers are moving quickly to deploy. Compared to last year's S10 and S10+, the S20 and S20+ are a bit taller, allowing larger batteries and slightly larger QHD+ displays. The new Ultra model is larger still, sporting Samsung's largest phone display yet at 6.9 inches diagonal. The cheapest S20 model costs $1,000, while the S20 Ultra starts at $1,400. All three have an all-new triple-camera system on the back (with standard, wide, and telephoto cameras), 120 Hz display refresh, and 8K video capture. The phones can capture 33-megapixel stills while recording 8K video and can upload 8K video to YouTube. The camera app also has improved night and Super Steady modes, as well as a new Night Hyperlapse mode, and a new "Single Take" mode that captures a variety of still and video clips at once and uses AI to suggest several best output options. The design of the S20 series is roughly similar to the S10 series, and carries forward most of the same features, such as a curved-edge display, curved glass on both sides, in-display fingerprint reader, Wireless Power Share, wireless and wired fast charging (25W fast charger included), Samsung Pay, and a memory card slot. The new S20 phones do not have a 3.5mm headphone jack, but wired (USB-C) earbuds are included. A "Space Zoom" feature offers 10x digital zoom using new AI algorithms. Google Duo video calling has been integrated into Samsung's phone app, and — exclusive to 5G Samsung Galaxy phones — supports full-HD resolution.
Galaxy S20: 6.2-inch display, 4,000 mAh battery, 128 GB of storage, 12 megapixel main camera (f/1.8, 79º), 12 megapixel wide camera (f/2.2, 120º), 64 megapixel telephoto and 8K video camera (f/2.0, 76º, 3x zoom via crop). 10 megapixel selfie camera. Available in Cosmic Gray, Cloud Blue, and Cloud Pink for $1,000. The Verizon version will also support mmWave 5G, but doesn't ship until Q2.
Galaxy S20+: 6.7-inch display, 4,500 mAh battery, 128 or 512 GB of storage. The same cameras as the S20, plus a ToF depth camera. Both sub-6 and mmWave 5G. Available in Cosmic Gray, Cloud Blue, and Cosmic Black starting at $1,200.
Galaxy S20 Ultra: 6.9-inch display, 5,000 mAh battery, 128 or 512 GB of storage, and the option for up to 16 GB of RAM. The same wide-angle camera as the other models, but upgraded main and tele cameras: The main camera sports 108 megapixels (f/1.8, 79º), using 9-to-1 pixel binning to produce high-quality 12 megapixel images by default. It also handles 8K video. The unique telephoto camera (48 megapixel, 24º, f/3.5) accomplishes a 10x optical zoom using a "folded" design with a prism to arrange most of the necessary lenses sideways. Supports 45W fast charging. Available in Cosmic Gray and Cosmic Black starting at $1,400.
The Samsung Galaxy S20 series will be available from most major US carriers and retailers, as well as unlocked, starting March 6th. Pre-orders start February 21st. Pre-orders include a credit with Samsung: $100 credit toward a Samsung product with a pre-order of the S20, $150 credit with the S20+, or $200 with the S20 Ultra. The $150 credit for pre-ordering an S20+ is enough to cover the cost of the new Galaxy Buds+, new Bluetooth true wireless stereo earbuds that have 11 hours of battery life
before
needing the included charging case.
source: Samsung
No messages