Hands On with the Motorola One Hyper
Article Comments 5
Dec 4, 2019, 8:00 AM by Rich Brome
Motorola has a new One series phone it will be selling unlocked in the US. The Motorola One Hyper has an all-screen design with a pop-up selfie camera. Its main camera is 64 megapixel, while the selfie camera is 32 megapixel. It also has an 8-megapixel wide-angle (118º) camera on the back. The display is a 6.5-inch LCD with full HD resolution. The One Hyper is powered by a Snapdragon 675 chip and 4 GB of RAM. It has 128 GB of storage and supports memory cards up to 1 TB. The large 4,000 mAh battery charges quickly with the included 18W fast charger, and the phone supports 45W chargers. The fingerprint reader on the back is surrounded by a customizable circular notification light. It ships with Android 10. It has basic support for AT&T and T-Mobile networks in bands 2, 4, 5, 12, and 66. The One Hyper is available starting today from motorola.com for $400 in Deep Sea Blue. A Dark Amber color will available at a later date. Read on for more details, hands-on photos, and first impressions.
source: Motorola
Motorola explains its One series as being about putting out new technology whenever it's ready. In this case, that technology seems to be the pop-up selfie camera. It feels like Moto asked itself if it should do the pop-up camera thing, and the answer was "why not?"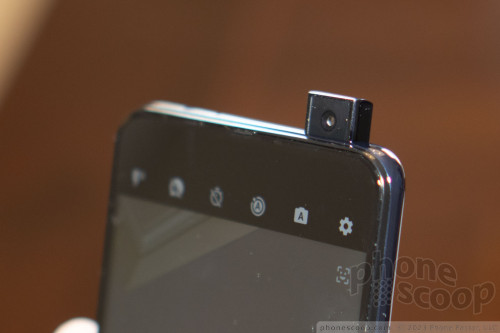 There is a serious focus on the cameras here, though. That's why Moto has used a 64-megapixel main sensor and a 32-megapixel selfie sensor, both employing pixel binning technology (which combines four pixels into one for better image quality). All of the latest phones in this class are using these types of sensors. It has several standard benefits, but here it also enables a Night Vision mode. That's a first for a Motorola selfie camera. The full resolution is also available for the selfie camera. For unknown reasons, full 64-megapixel resolution did not seem to be available for the main camera.
There's also a wide-angle camera with a 118º field of view. That's great, but unfortunately it's a bit limited with only 8 megapixel resolution, making it a bit of a toy. That was common with the first phones with wide-angle secondary cameras, but today's better phones are more likely to offer more resolution in their wide-angle cams, not less, and for good reason.
The "dark amber" color may look more red in photos, but it's definitely a unique color... mostly warm red, but veering amber in bright light.
The back is plastic, with the advantage of not being fragile like a glass back. But, disappointingly, the sides are also plastic. Metal frames that include the sides are now common and even expected at this price point. Plastic really cheapens the feel of the phone. It also affects the fit and finish, which is especially noticeable around the selfie camera when it's retracted. It doesn't quite match in color, and doesn't sit perfectly flush. Phones with metal frames are able to make the pop-up selfie camera almost disappear into the frame. The side keys also feel a tad cheap.
The size is fairly typical. I don't really care for the design, although that's a highly subjective thing. I like Motorola design in general, but this doesn't look very Motorola-like to me.
The rear fingerprint reader is surrounded by a light-up ring that serves as an indicator light. Its behavior is customizable, but only when it lights up, not the color. It can auto-adjust brightness based on ambient light, which is kind of crazy, but it's just a white LED behind the colored plastic back, so it only lights up blue on the blue version, etc.
I appreciate that this phone has a 3.5mm headset jack, USB-C, and memory card slot. In that — and other ways — it's practical, at least.
I'm disappointed to see only basic support for US networks. There's no LTE 14/29/30 for AT&T, nor band 71 for T-Mobile. So you won't see the best speeds and service quality. And there's no support at all for Verizon, nor Sprint, which means it's not fully ready for a post-merger T-Mobile, either.
It seems like this phone is designed for other markets but brought to the US as something of an afterthought. For $400, you can do better.
Will be interesting
To see how a protective case is designed around that phone.
Seems to me the band selection for the USA is poor at best.